Jerry Falwell Jr. Urges Virginians to Get COVID Shot to Stop Lockdowns From 'Nutcase' Gov. Ralph Northam
Former Liberty University President Jerry Falwell, Jr. is urging his followers to inoculated with COVID-19 vaccines to prevent "nutcase" Virginia Governor Ralph Northam from imposing new public health restrictions.
Falwell said that getting the shot would give Northam "less reasons" to impose restrictions while sharing that he had received the first of two Moderna vaccine doses in an Instagram post on Wednesday. Northam, a Democrat, has not recently indicated that he intends to impose any new COVID-19 restrictions.
"Got the 1st Moderna vaccination today!" Falwell wrote alongside a selfie showing him smiling with a "I Got My COVID-19 Vaccine!" sticker affixed to his shirt.
"The place at Candlers Station (old TJ Maxx) was almost empty," he added. "Please get vaccinated so our nutcase of a Governor will have less reasons for mindless restrictions!"
Instead of imposing new restrictions, Northam has eased public health measures during April. While some restrictions remain in place, the governor increased capacity limits at large outdoor entertainment and sporting venues, graduation ceremonies and social gatherings.
An Instagram post from last month showed Falwell recovering from a pulmonary embolism, or blood clots in the lungs, at New York University Langone Health hospital in New York City. Falwell doctors had prescribed blood thinners and that it was his fourth hospital visit since first being afflicted with the clots last August, the same month that he left Liberty University amid fallout from an escalating sex scandal.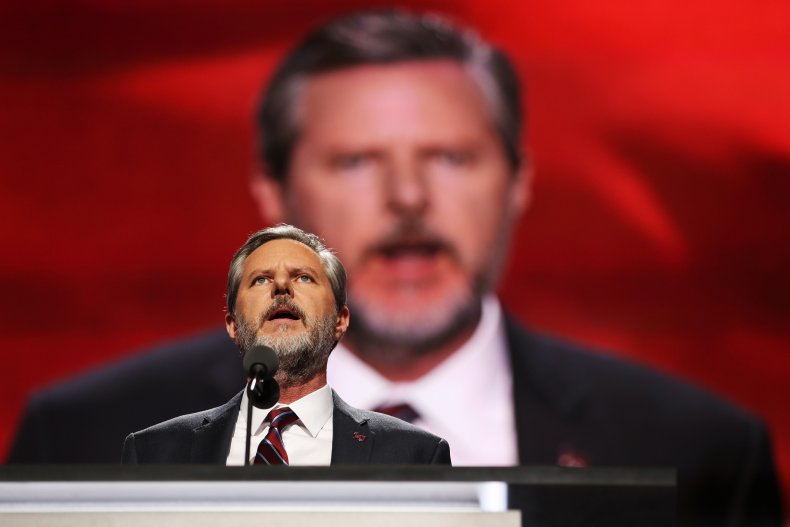 Prior to his departure, Falwell locked horns with Northam and others after he reopened Liberty University during the height of the first wave of the pandemic. Falwell insisted that criticism of his decision was unfounded, while claiming that the media was reporting on the crisis in an attempt to "destroy the economy" and "hurt" former President Donald Trump. Northam blasted Falwell for failing to respect "the duty that Liberty has to its students."
Falwell also mocked Northam's face mask mandate by designing a mask featuring a controversial photo from the governor's old medical school yearbook that showed two students wearing blackface and a Ku Klux Klan robe. He tweeted an image of the mask alongside a comment that he would "reluctantly comply" with the Northam's mask mandate "but only if this picture of Governor Blackface himself is on it!"
Falwell and Northam appear to agree that Virginia residents should be encouraged to get vaccinated against COVID-19. Last week, the governor expanded vaccine eligibility to include all adults by April 18. Over 2.9 million people had received at least one dose of vaccine in Virginia as of Thursday, with more than 1.6 million fully vaccinated, according to the Virginia Department of Health.
Northam will not be seeking reelection in Virginia's 2021 gubernatorial election, with the state constitution prohibiting governors from serving consecutive terms. He endorsed his immediate predecessor Terry McAuliffe, who also previously served as chairman of the Democratic National Convention, on Wednesday.
Newsweek reached out to Northam's office for comment.