Jerry Falwell Jr.'s Activities as University President to be Investigated
Liberty University officials announced on Monday it would begin a full investigation into "all facets" of how the school was run during the tenure of Jerry Falwell Jr., the university's former president.
Falwell resigned in August after allegations of an improper sexual relationship involving Falwell, his wife, Becki, and another individual surfaced. Falwell had also been criticized for a now-deleted Instagram post showing him standing next to a woman with his pants unzipped. Initial reports claimed that Falwell had tendered his resignation, but Falwell said in interviews that those reports were false. Falwell's official resignation from Liberty University occurred last Tuesday.
"It's certainly fair to say that there were questionable comments made, worrying behavior, and inappropriate social media posts, but all the signs were not there until the start of last week," read a statement from Liberty University sent to Newsweek on Monday. "While we still didn't know the full scope of the matter, we have learned enough about the past to know that we had no choice but to take the leadership of Liberty University in a new direction."
"We are also committed to learning the consequences that have flowed from a lack of spiritual stewardship by our former president," the statement continued. "One of the leading forensic firms in the world has been retained by Liberty University's Board of Trustees to conduct a thorough investigation into all facets of Liberty University operations during Jerry Falwell, Jr.'s tenure as President, including but not limited to financial, real estate, and legal matters."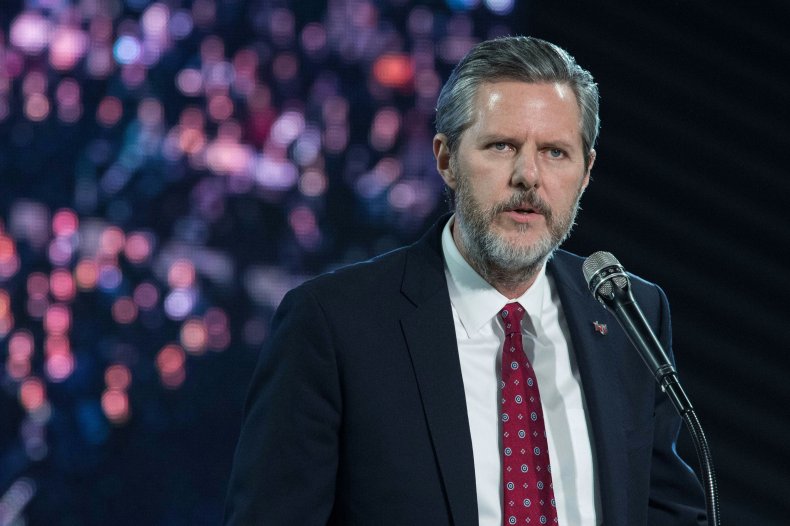 Current acting president Jerry Provo will continue in his role at the university until a new president can be found. School officials are also "reviewing options" for the creation of a new position specifically "to help ensure that every member of the University leadership fulfills his or her spiritual responsibility to live out the Christian walk expected of each and every one of us at Liberty."
Falwell's Instagram post caused some to label him a hypocrite in light of Liberty University's strict code of conduct. "If you're running the largest Christian university in America," tweeted co-host of ABC's The View Meghan McCain in August, "maybe don't put photos of yourself on social media with your pants undone on a yacht—with random women in bad wigs."
Allegations of an extended affair were levied toward the Falwells by Giancarlo Granda, who claimed to have first gotten involved with the couple in 2012 in Miami.
"[Falwell] was aware of our relationship and he did, in fact, watch," Granda told ABC's Good Morning America.
Falwell has denied some aspects of Granda's claims, saying that he was "not involved" in the affair between Becki Falwell and Granda. Falwell has also stated that he was seeking professional help in dealing with the "emotional toll" the affair had caused him.
Falwell is expected to receive a severance package from Liberty University worth $10.5 million. Over the next two years, Falwell is expected to receive $2.5 million. An additional $8.5 million is expected to be paid to Falwell after that.