Jerry Falwell Says Reports of His Resignation Are Untrue
Updated 7:32 p.m. EST 8/24/2020: In a Monday interview with Virginia Business, Falwell said he had not resigned as Liberty University president, but that he was on "break."
"I've been at this for so many years and under so much stress," Falwell said, "I decided I needed a three-month break."
Updated 10:52 p.m. EST 8/24/2020: In a statement sent to Newsweek by Liberty University Monday night, Falwell had agreed to tender his resignation but withdrew the offer after reports of his impending actions surfaced in the media.
"The Executive Committee's Board of Trustees asked Falwell to go on indefinite leave of absence on August 7, to which he agreed," the statement read. "Since that time, additional matters came to light that made it clear that it would not be in the best interest of the University for him to return from leave and serve as President."
After the Executive Committee called for a conference call on Tuesday, Falwell "instructed his attorneys to not tender the letter for immediate resignation."
Original Story
Jerry Falwell Jr. resigned from his position as president of privately-owned Christian college Liberty University on Monday after allegations of sexual misconduct, according to The Washington Post.
Falwell took personal leave from his role at the university after posting a photo of himself on Instagram with a woman, described as his wife's assistant, with his pants unzipped. Falwell responded to controversy about the post, which has since been deleted, by saying it was taken in fun. On Monday, reports resurfaced that Falwell and his wife, Becki, had been involved in a sexual relationship with a third individual. Falwell said that he was not involved in the relationship and was seeking professional help to help him deal with the "emotional toll" of his wife's affair.
Giancarlo Granda, the person allegedly involved with the Falwells, told Reuters that his affair with Becki Falwell lasted for 6 years. "Becki and I developed an intimate relationship and Jerry enjoyed watching from the corner of the room," Granda said.
Falwell claimed that Granda had threatened him with extortion, leading Falwell to go public with news of the affair. "Over the course of the last few months, this person's behavior has reached a level that we have decided the only way to stop this predatory behavior is to go public," Falwell said in a Sunday statement to the Washington Examiner.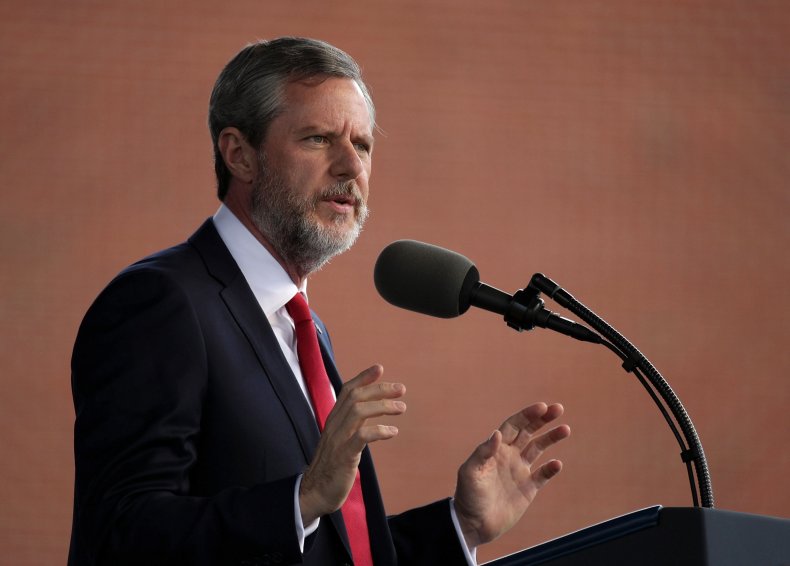 Some considered Falwell's Instagram post to be offensive in the light of Liberty University's strict behavior code for its students. According to Liberty University's online code of conduct, "media and entertainment that is inconsistent with Liberty's standards and traditions (i.e. lewd Lyrics, anti-Christian message, sexual content, nudity, pornography, etc.) are not permitted on or off campus."
Falwell went on leave after the controversial Instagram post. Board of Trustees Chairman Jerry Prevo became the university's acting president after Falwell departed.
Falwell had also been accused of racial insensitivity in May after tweeting that he would only follow Virginia Governor Ralph Northam's face mask mandate if he could wear one of his own design. Falwell's face mask featured a photograph of Northam in blackface next to an individual in a Ku Klux Klan uniform. Falwell deleted the tweet and apologized, but some Black athletes still made the decision to transfer away from Liberty University.
Falwell has been a staunch supporter of President Donald Trump. In remarks to the 2016 Republican National Convention, Falwell called Trump "America's blue-collar billionaire."
"He is down to earth, loves America and the American people," Falwell added.
Falwell defended Trump during the 2016 presidential campaign after a tape which purported to feature Trump making sexually inappropriate comments about women was leaked to the media.
"We're never going to have a perfect candidate unless Jesus Christ is on the ballot," Falwell told CNN at the time, adding that he did not think "the American people want this country to go down the toilet because Donald Trump made some dumb comments on a videotape."