Students protested at Liberty University on Friday in the wake of reports accusing university president Jerry Falwell Jr. of objectionable conduct.
The demonstration comes after a Politico exposé alleging Falwell bragged about his sex life with employees, dealt university contracts to friends and family, partied at nightclubs and overzealously electioneered for President Donald Trump.
About 35 students gathered in the rain at the private evangelical college's Lynchburg, Virginia, campus, holding up signs reading "We Want Change" and "If it's Christian, it ought to be better", a quote from late university founder and Fallwell Jr.'s father, Jerry Falwell.
"I couldn't stay silent anymore," 20-year-old Liberty junior Elizabeth Books, who is majoring in politics and policy, told the AP. "I would like to see President Falwell address this himself and for there to be an investigation into the allegations to see whether or not they're true."
In a video taken by ABC 13 reporter Intinease McMiller, protesters can be seen talking with students who disagreed with them.
"If you don't like what he's doing, why are you still here?" one student asked a demonstrator.
"If I don't like the president of the United States of America, do I just leave the United States?" the protester replied. "Or do I stand up to the abuser?"
The Politico article, by writer Brandon Ambrosino, cites current and former Liberty officials, who describe the university as a "dictatorship." Some claim they felt scared to speak out against Falwell. "We're not a school; we're a real estate hedge fund," one unnamed senior university official told Ambrosino. "We're not educating; we're buying real estate every year and taking students' money to do it."
A Reuters article reviewing dozens of emails sent by Falwell since 2008, claimed the evangelical leader had insulted students, parents and staff. He reportedly called one student "emotionally imbalanced and physically retarded." Campus police chief Richard Hinkley was referred to as "a half-wit and easy to manipulate" who shouldn't be allowed to speak publicly.
In response to the controversy, Liberty University released a 19-page document, including "what would typically be private business matters, to attempt to set the record straight."
Titled "Omitted statements of Liberty University regarding business transactions recently questioned in media," it purportedly details information provided to Ambrosino, Reuters reporter Aram Roston and Washington Post reporter Sarah Pulliam Bailey that was not included in their articles.
"All chose to not report Liberty University's side, leaving an unbalanced public narrative in place," the statement claims.
Broken into nine sections, it counters point-by-point allegations of improper financial dealings, from the sale of Crosswhite Athletic Club to Trump campaign merchandise being sold at Liberty University commencement, as well as loans to various questionable businesses.
Falwell told the AP that the officials who shared emails with reporters were attempting to discredit him as part of a "attempted coup," partially motivated by his ardent backing of President Trump.
Falwell says he has contacted the FBI to investigate the emails from those officials.
"Liberty owns every single one of those emails," he told the AP. "It's our property. They were working for us when they used our server. And our policies make it clear every email sent on our server is owned by Liberty and if anybody shares it with anybody outside Liberty, it is theft. And so that's the underlying crime."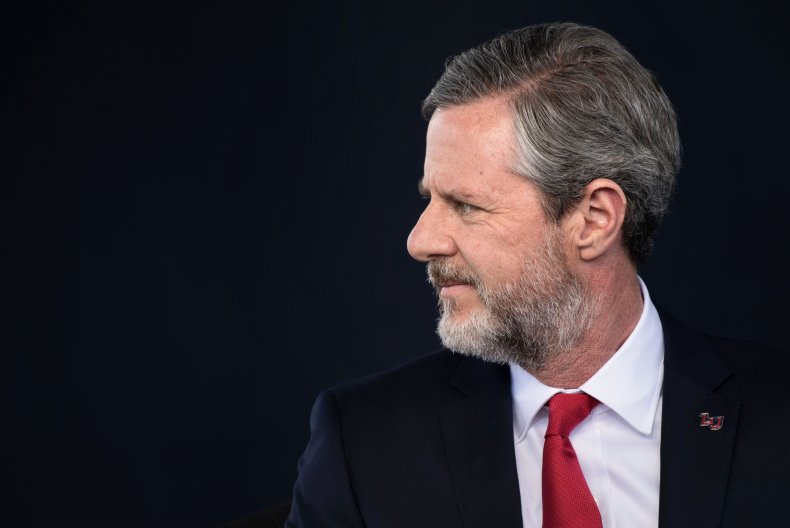 On Friday afternoon Falwell praised students on both sides of the controversy.
"I'm so impressed with how@LibertyU students conducted themselves today at the protest!" he tweeted. "The ones who had concerns and the ones who supported me were both respectful and not angry-very Christ-like in their behavior. Our students are an example the world can learn from!"