Who Will Buy the Dallas Cowboys If NFL Owners Oust Jerry Jones?
Imagine a world where Jerry Jones is no longer owner of the Dallas Cowboys.
Odd, isn't it? It doesn't quite make sense—like a sentence without a full stop, a novel without a satisfactory denouement, a game that passes without Jay Cutler throwing an interception to a wide-open linebacker…
But it may yet happen. Jones's feud with his fellow NFL owners and Commissioner Roger Goodell over the terms of Goodell's looming contract extension has progressed to the point where certain owners have discussed the potential for removing Jones from his position, according to the Wall Street Journal.
A letter sent by the NFL to Jones's attorney David Boies on Wednesday described Jones's conduct in repeatedly attempting to block Goodell's contract extension, which is decided on by the Compensation Committee of which Jones is a non-voting member, as "Detrimental to the league's best interests."
That's potentially concerning language for Jones, as it appears to tie in with Section 8.13 of Article VIII of the NFL's Constitution and Bylaws, which states that if Goodell finds an owner, "Guilty of conduct detrimental to the welfare of the League or professional football," he can punish them with a $500,000 fine or invoke the "Cancellation or forfeiture of the franchise in the League… If such occurs, the affected franchise shall be sold."
That's the "nuclear option" for the NFL first floated publicly by Pro Football Talk on November 12 and picked up again by the New York Post on Thursday morning. "Basically, if Jones ultimately doesn't oust Goodell, Jones may need to worry about Goodell ousting Jones," PFT wrote. That piece makes clear that the prospect of Jones having to give up the Cowboys remains tremendously unlikely—or at least it did as of last Sunday.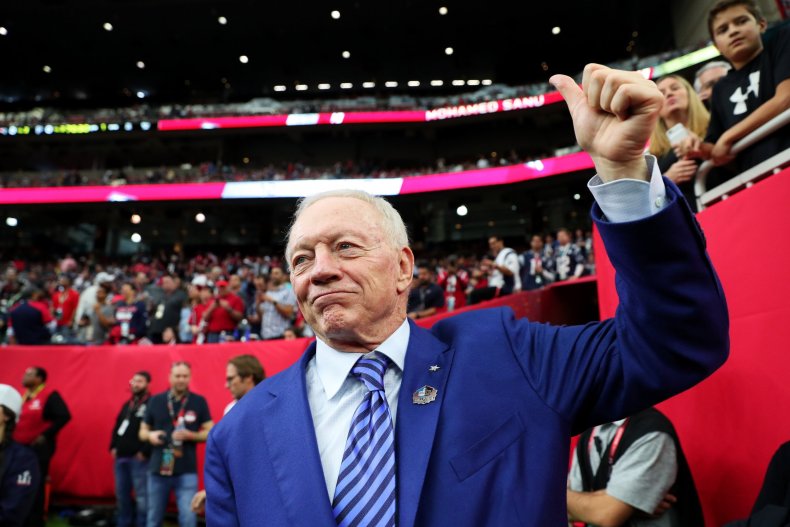 Jones himself laughed off the prospect on Tuesday, telling 105.3 The Fan, "If somebody is asserting that [selling the franchise] or thinking about that kind of thing, they're not knowledgeable on how things work in the NFL," as reported by the Star-Telegram. But it's clear following Wednesday's letter that tensions between Jones and the league are hardly at the point of de-escalation.
That raises the possibility—albeit still hazy—of who might want to own the world's most valuable sports franchise? Jones bought the Cowboys for $140 million in 1989 and by October 2017 he had turned them into an entity worth $4.8 billion. You will need deep pockets, in other words—plus a whole load of intangible chutzpah—to take over the U.S.'s most-recognized, and perhaps most polarizing, professional sports brand. There is no shortage of Texan billionaires who might be interested, although it should be noted, as Bloggingtheboys pointed out in 2014, that Jones's line of succession passes down to his son, Stephen. Of course, if the 'Boys are sold then those succession plans will turn to dust. Perhaps more extraordinary than the likely price, however, is the idea that, one conceivable day, the 'Boys may no longer be Jerry Jones's property.