Former Penn State Coach Sandusky's Son Charged with Child Sex Abuse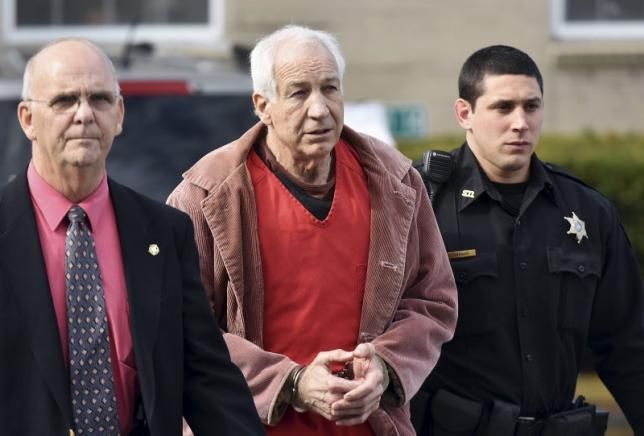 A 41-year-old adopted son of Jerry Sandusky, the former Penn State University assistant football coach convicted in 2012 of sexually abusing young boys, was charged in Pennsylvania on Monday with sexually abusing two teenage sisters.
Pennsylvania state police arrested Jeffrey Sandusky on Monday and he faced 14 counts of statutory sexual assault, unlawful contact with a minor, sexual abuse of a minor and other charges, according to a criminal complaint filed in court in Bellefonte, a town near the university's main campus.
He was accused of soliciting oral sex and naked photographs from the teenage daughters of a woman he was dating and living with, police said.
His father was convicted in June 2012 on 45 counts of sexually abusing boys over a number of years and sentenced to between 30 and 60 years in prison in a closely watched case that sullied Pennsylvania State University's reputation and rocked the world of major college football.
Jerry Sandusky, 73, was a former assistant football coach at long-time college football power Penn State, and some of his abuse took place on the campus, plunging the school into scandal after the abuse became widely known.
Police began investigating Jeffrey Sandusky last November, according to the criminal complaint. One of the girls saved text messages from Sandusky seeking naked pictures in early 2016 and showed them to her father, who complained to the police, according to the police account, which did not identify the girls.
He appeared in court on Monday and bail was set at $200,000, according to court filings. Neither Jeffrey Sandusky nor a lawyer representing him could immediately be reached for comment.