Former Penn State Officials Cut Deal in Sandusky Cover-Up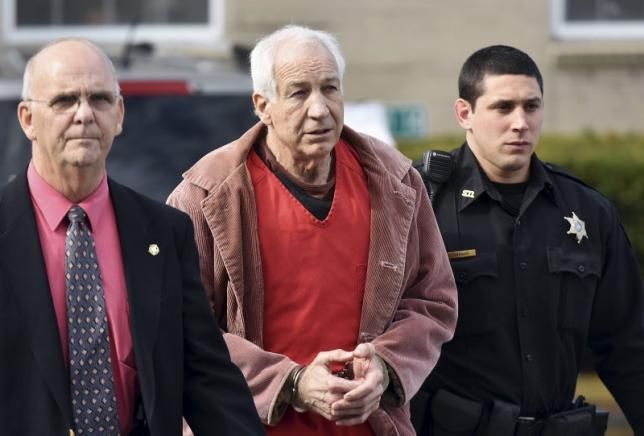 A pair of former Penn State officials pleaded guilty on Monday to child endangerment charges to settle accusations that they helped cover up years of predatory sexual abuse by Jerry Sandusky, a former assistant football coach at the university.
Tim Curley and Gary Schultz, who served as athletic director and a senior vice president respectively during Sandusky's tenure, entered their pleas in Dauphin County Court, Penn Live reported. Each faces up to five years in prison and a fine of $10,000.
As part of the deal, prosecutors dismissed felony conspiracy charges against them, the Philadelphia Inquirer reported. Curley was placed on administrative leave in 2012, and his contract was not renewed by Penn State the following year. Schultz retired in 2009.
Graham Spanier, the school's former president and the last remaining defendant in the cover-up case, is due to go on trial next week. Prosecutors could turn to Curley and Schultz to testify against Spanier, Penn Live reported.
Sandusky, 73, was convicted in June 2012 of 45 counts of sexual abuse involving 10 boys on campus and elsewhere. He is serving 30 to 60 years in state prison.
All three defendants had ignored reports that Sandusky, who coached at the university for three decades until 1999 under the legendary Joe Paterno, had sexually abused boys while he was associated with Pennsylvania State University, prosecutors charged.
The revelations sullied the image of the university and resulted in sanctions against its once-vaunted football program. Beyond Penn State, the case raised uncomfortable questions about the insular world of big-time collegiate athletics.
Paterno was fired shortly after Sandusky's 2011 arrest, and he died about two months later.
Prosecutors said the three Penn State officials failed to notify authorities of a report by a witness who said he had seen Sandusky sexually assaulting a boy in a shower in the school's football complex in the early 2000s.
A spokesman for the Pennsylvania Attorney General's office, which is prosecuting the case, declined to comment. Attorneys for the defendants could not immediately be reached.