What's the Deal with These Questions I Would Ask Jerry Seinfeld?
There's little to be said about Jerry Seinfeld that hasn't been said before. After skyrocketing to the top of the comedy world with his eponymous sitcom in the '90s, Seinfeld has a career that most comics can't even dream of. His latest Netflix special 23 Hours to Kill is a testament to his comedy greatness
The comic has achieved a level of success that would allow him to rest on his laurels, because he's truly done it all. Besides creating (with Larry David) and starring in Seinfeld, the comedian has also produced, co-written and starred in Bee Movie, hosts the interview web series Comedians in Cars Getting Coffee, has recorded four stand-up specials (this being his second for Netflix and two for HBO), been the subject of what may be the greatest stand-up comedy documentary of all time Comedian, and so much more.
With 23 Hours to Kill, Seinfeld shows off exactly the master comedian that he is. He appears so effortlessly hilarious, with a packed New York theater eating out of the palm of his hand, but I'm still left with so many questions I wish I could ask him about his career and 23 Hours to Kill. So, here are questions I would want to ask Seinfeld, preferably in a car getting coffee.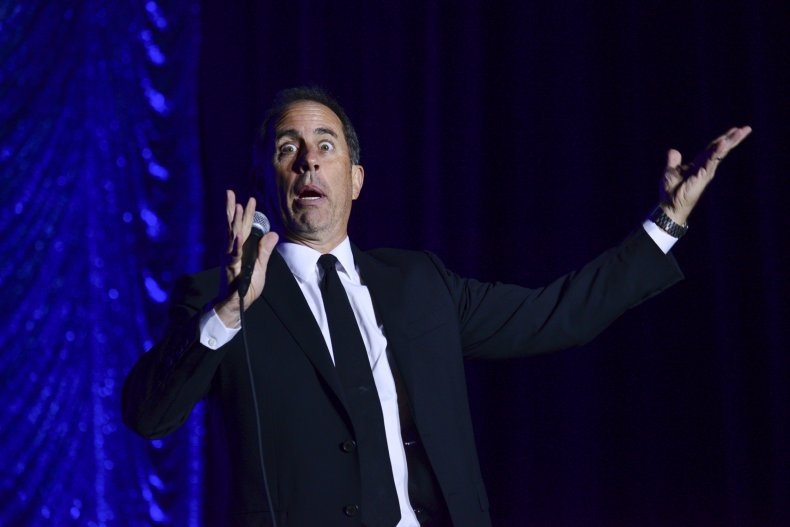 What's the deal with the spy theme?
Besides a clever play on the word killing, what comics call it when a performance goes well onstage, Seinfeld leans into a spy theme to intro and end the new special. In a trailer, Seinfeld escapes a supervillain's clutches just in time to get onstage, later asking him about a joke about villains' inability to take over the world.
Following that up, is the special a play on one of the special's earliest jokes, where he quips that the people who go out to his special are simply going out only to kill time before they inevitably want to go home. "This is a made-up, bogus, hyped-up, not-necessary, special event," he says. "That a lot of people worked very hard to put together so that we could all just kill some time." Despite Seinfeld's self-deprecation, maybe he's just referring to killing 23 hours to get to the one where he does stand-up.
Still, the James Bond–style theme is memorable, which leads to...
What was it like to jump out of a helicopter?
At 65 years old, Seinfeld tells his audience that he no longer does things he doesn't want to do, which must mean that he really wanted to jump out of a helicopter to kick off the special. For those that may have doubted that it was him (like myself), Seinfeld shows himself training for the leap during 23 Hours to Kill's credit sequence.
What's the difference between performing for the Beacon Theater versus the Comic Strip?
Three of Seinfeld's comedy specials have been filmed in New York, but 2017's Jerry Before Seinfeld, a part-comedy special, part-documentary, was filmed at New York's iconic Comic Strip Live comedy club. Jerry Before Seinfeld is a much looser set, with Seinfeld talking about getting his start at the club. In 23 Hours, Seinfeld is tight and polished in one of New York's most famous theaters.
How does he decide what goes into the "outside world" and the "Jerry's little world" portions?
The latest special is divided into two parts, one where Seinfeld addresses the world at large and one where he talks about things going on in his own life. Despite splitting into two parts, he's so tapped into the human experience that there's never a moment where he's not relatable. In the first half of the special, he jokes about the greatness of Pop-Tarts ("They can't go stale, because they were never fresh") and "device-dictatorship" that we all have to our cellphones. In the second half, he jokes about marriage ("Being married is like being on a game show, and you're always in the lightning round") or why men play golf.
How much does he think about language?
My favorite bit in the special involves Seinfeld explaining how closely related the words great and suck are in meaning, and he rifts off similarities and examples in a manner that's both hilarious and impressive. Words are the most powerful tool in a comedian's arsenal, and it would be fascinating to ask him about writing that joke.
With the COVID-19 pandemic going on, has he thought about an offshoot of Comedians in Cars Getting Coffee?
I'd watch Comedians on Zoom Eating Sourdough Bread. Wouldn't you?

Why does he still do it?
"You know for a fact, I could be anywhere in the world right now," he says early in the special. "If you were me, would you be up here hacking out another one of these?" Seinfeld goes onto say that on stage may be his favorite spot in the world. Talk to most comics, and they'll tell you the bug to perform never really goes away. Even though Seinfeld could probably live comfortably without needing to perform ever again, 23 Hours to Kill is a work by a comic who's only getting better and tighter with time.