Jerry Seinfeld Attacked On Twitter Over Israeli 'Terror' Tourism Camp Visit in West Bank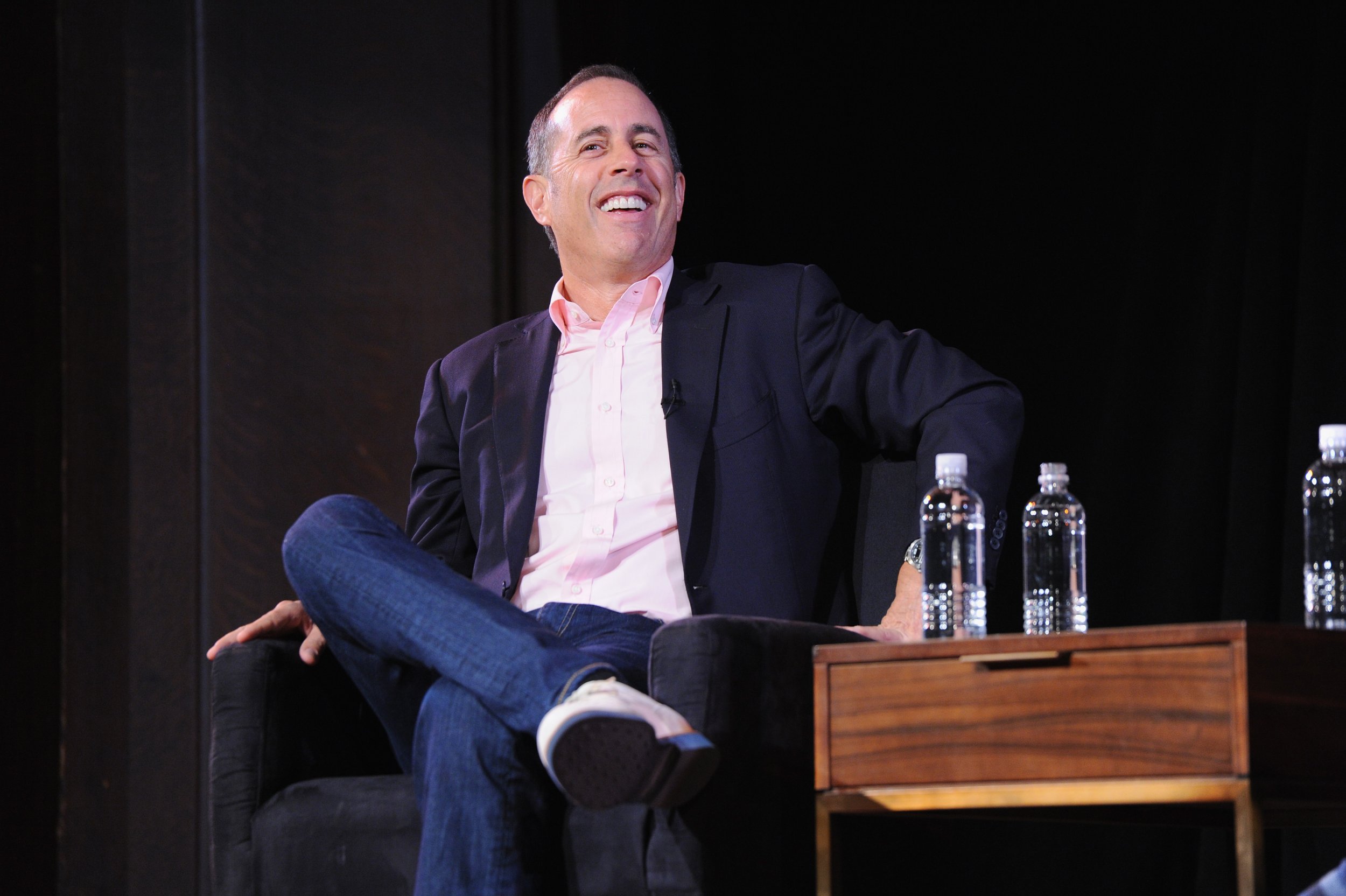 Comedian and actor Jerry Seinfeld has reaped the whirlwind on Twitter and Facebook after a so-called "anti-terror" tourism camp in the West Bank posted pictures of him and his family participating in exercises meant to replicate Israeli Defense Force training.
"There is nothing funny about occupation, colonization and profiteering off the theft of another people's land," Yousef Munayyer from the U.S. Campaign for Palestinian rights tweeted in response to the pictures.
Related: Netanyahu's son was strip club regular for years, supermodel ex-girlfriend left 'disgusted' by secret tape
Eric Thurm, a culture writer for magazines like GQ and Rolling Stone, wrote simply: "I can never unsee Jerry Seinfeld gleefully posing with a machine gun at an IDF fantasy camp," referring to the Israeli Defense Forces.
Other more aggressive tweets referred to the Seinfeld star as playing with "fascists," accusing him of supporting "apartheid," as critics of Israel refer to life for Palestinian Arabs under the occupation of the West Bank.
Caliber 3, a tourist training camp near the Efrat settlement south of Bethlehem has subsequently taken down the posts which showed Seinfeld and his family posing with soldiers and former soldiers in military fatigues and holding automatic weapons.
"Finally we are allowed to tell you!! The legendary Jerry Seinfeld and his family were at Caliber 3 during their their visit last week, they came to us for shooting training with displays of combat, Krav Maga, assault dogs and lots of Zionism. It was great," the post said according to Israel's Haaretz newspaper before it was deleted.
The Caliber 3 website describes the resort as "the leading counter terror and security training academy, run by active members of the IDF." Tourists can pay for bespoke programs or take part in Krav Maga and urban combat paintball.
The camp advertises a "shooting adventure" in which participants are presented with a simulated suicide bombing in a Jerusalem marketplace and a knife attack. The package includes a sniper tournament and a demonstration of attack dogs being set on a person. It costs $115 per adult, $85 for children.
Dozens of fantasy anti-terrorism camps have set up shop in Israel and West Bank settlements to cater for tens of thousands of tourists who want to experience one of the world's most intractable conflicts—at least in simulation.
The Seinfeld family's trip to the West Bank appears to have been tacked onto the comedian's performance at the Tel Aviv Menora Mavtichim Arena at the end of December. Seinfeld also took time out to visit Israel's Ramon Air Base with the Israeli Air Force tweeting that the performer had been a welcome guest.
"Just another day in the squadron until @JerrySeinfeld arrived!" the air force tweeted with a picture of the actor standing in a hanger alongside a fighter jet.