Jerry Seinfeld Interviews Regis Philbin on His Television Career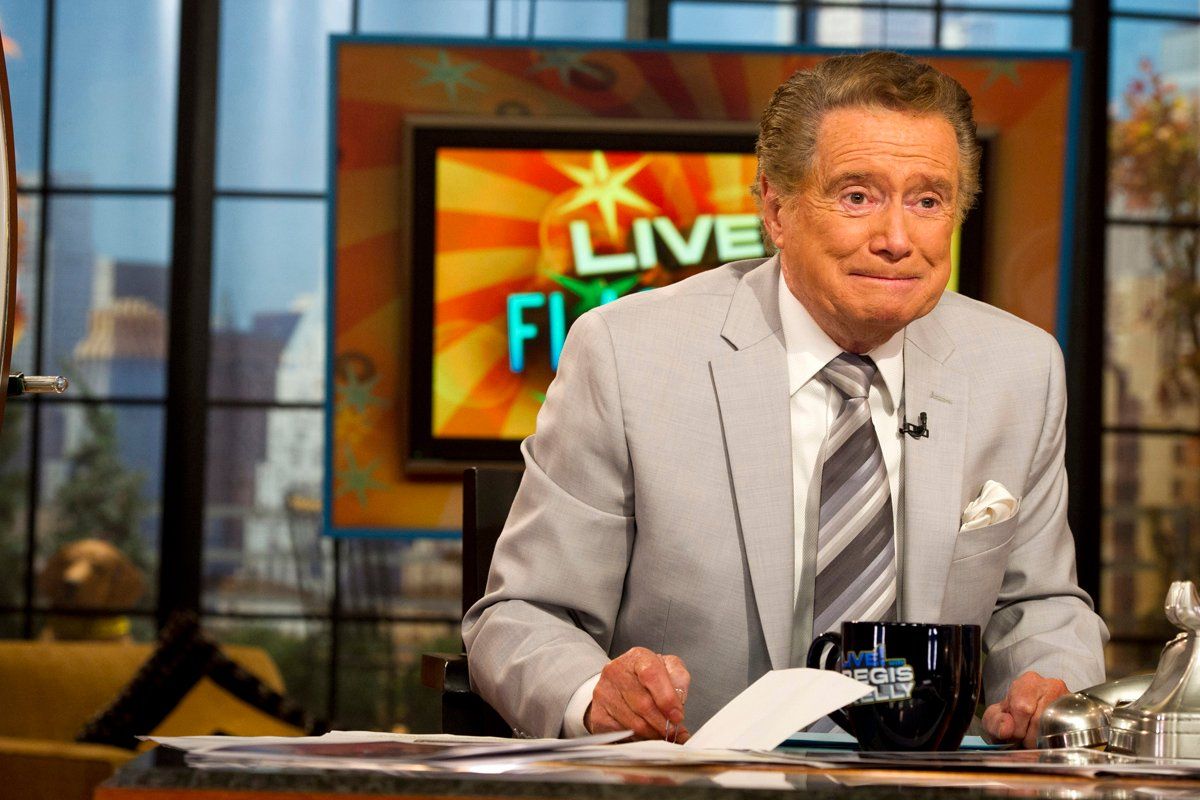 He is, believe it or not, the most enduring act in the history of television, 16,700 hours on camera, a Guinness World Record. Today, Regis Philbin's office at ABC in New York, his second home since 1983, is mostly empty, aside from half-full moving boxes and his colorful neckties lining the closet. He's adamant that at age 80 he's not retiring, having attributed the split to a contract dispute.
As he signs off this week, Newsweek asked Philbin, who has chatted up guests ranging from Milton Berle and Big Bird to Condoleezza Rice and John McCain, who should interview him. He chose Jerry Seinfeld. ("Is he a reporter now?" Kelly Ripa quipped on the show the day after the interview took place. "Everybody is moving on to other things.") Seinfeld pulled into Philbin's studio on his bicycle to reminisce. Excerpts:
JERRY: I want to talk to you about Dean Martin.
REGIS: I'm amazed that you bring up Dean Martin. Why did you bring up Dean Martin?
JERRY: Well, I know you're a fan. I have a friend who's also a fan, and he was constantly hammering me, "Do you see what this man is capable of?" Then you stop and think about it—who else ever did that? Somebody comes on, he sings with them, he doesn't rehearse, it all works. And so I have, later in life, begun to really appreciate him.
REGIS: I'm so happy to hear that, because Dean Martin is kind of fading out in our business. He hasn't been performing.
JERRY: Frankly, I think death hurt him professionally.
REGIS: But for a young guy like you to understand what this man meant—
JERRY: Now here's my segue. What you're doing, Regis, that Dean Martin also did is one of the things that the people who make the big decisions in our business never understand.
REGIS: You're right again. They never did. They never got Regis, they never did.
JERRY: Let's not complain too much about the people who don't get you. You've been gotten. It doesn't become you to be complaining. You somehow managed 30 years, the most successful television performer in the history of the medium.
REGIS: Has anybody heard a question in here?
JERRY: I just think it's interesting that people don't understand how a guy could just come out on TV and be entertaining by just being himself, with no material. This is how I'm trying to connect you to Dean Martin here. Tell us—what do you do that gets you to where you think, "I can make this work"?
REGIS: You know, I never knew if I had any talent when I started in this business. My first job was being a page at The Tonight Show. I saw Jack Paar come out one night and sit on the edge of his desk and talk about what he'd done the night before. I thought, "I can do that!" I used to do that on a street corner in the Bronx with all my buddies.
JERRY: And you would make them laugh?
REGIS: Yeah. So when I got the chance to do my first talk show, 50 years ago last month, I never had any writers. There was no budget—it was just me and the camera and my friend who was the director. I talked about what I'd done that week.
JERRY: My friend Colin Quinn calls your show Breakfast With Your Father. You're this guy who we love and are comfortable with, but he's only going so far with you. When you get to a certain line of propriety, he's going to say, "I don't want to hear about that." And that's what we're missing in television: people who realize I don't want to know everything. I don't want you to display your sexual proclivities. It's a moral compass of what I'm going to talk about on TV and what I'm not going to talk about on TV, and that's what Regis provided.
REGIS: But excuse me, you're one of the few guys left in our business—there's only about three guys I know who don't use the F word to get a laugh. It's you, Cosby, and Rickles, believe it or not.
JERRY: I'm going to do it my way or I'm not going to do it.
REGIS: In your show, there are four different plotlines. It's going this way with Elaine, and there's Kramer getting into trouble, and George has a problem. It takes a lot of ingenuity.
JERRY: You know why we did that? We realized we had such great performers. You couldn't have a show where Kramer doesn't do something. What a waste of a terrific guy.
REGIS: But you were their compass. They were all coming to you. You could laugh with these guys and solve their problems. There had to be one guy to do that.
JERRY: I learned that from Mary Tyler Moore. When I was a kid and I watched her show, I thought, "I can do what she's doing." You play off of all those eccentric characters, and if you really love comedy as I do, you know that the straight man is one of the most important parts of comedy. And one of the most fun.
REGIS: And one of the things Dean Martin had.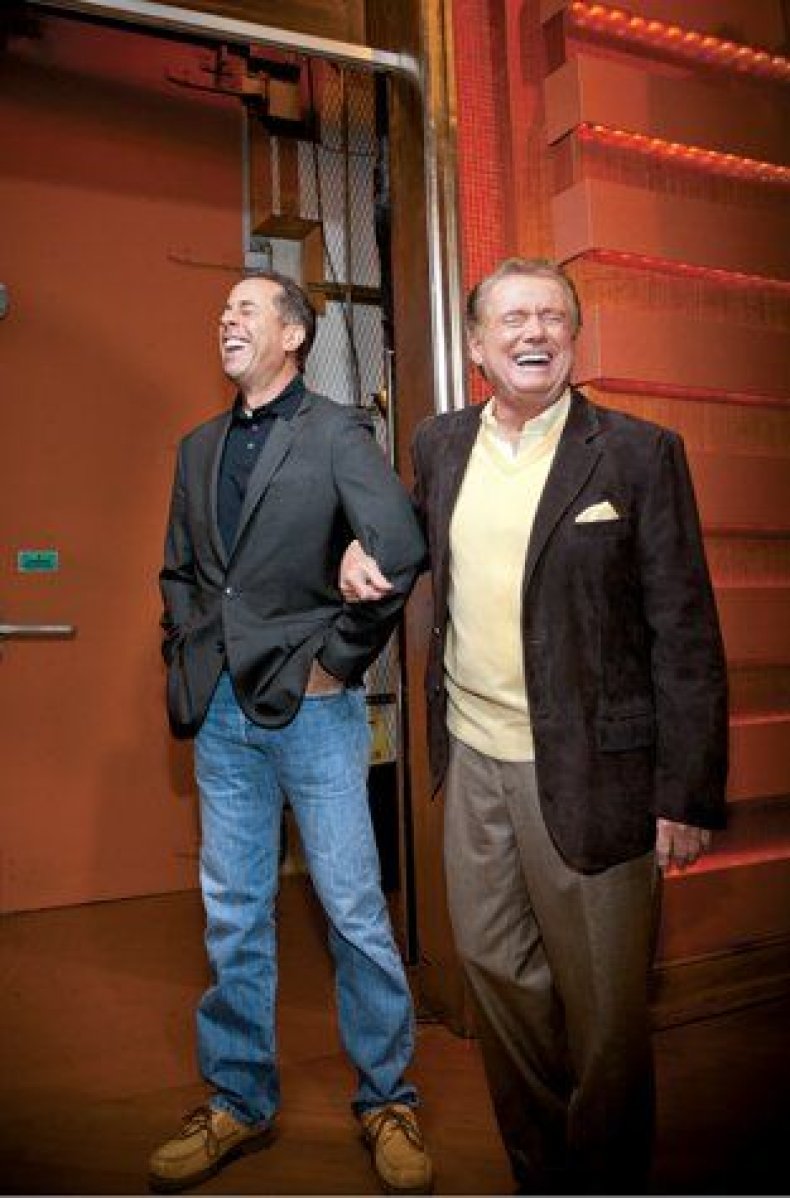 JERRY: Let's talk about leaving a television show, something I've done, something you're doing at your absolute height of power and strength. Let's talk about how it feels to be able to say, "I'm going to make a change now because I want to."
REGIS: I feel bittersweet about it. But I'm kind of relieved. It's got to come some time. It's not scary, because God knows we've all made enough money to keep us going. But it's going to be a change. And my wife is beginning to say, "You're going to be home more often."
JERRY: How are you with change?
REGIS: I don't like change. But you've been through it. What was it like?
JERRY: Here's the thing that enabled me to do it. I knew I was doing the right thing for the audience. I knew that I was now going to seal the end of this gift for them in such a way that they would always have it. A lot of times a performer will be lucky enough to get a show—I'm not going to name any—where they realize the audience really likes this and say let's give them more, let's give them more, and let's keep giving it to them until they vomit. That's the normal way things are done. I think there's an overall cultural gluttony that I wanted to avoid with my show. I would never compare what I did to the Beatles, but the Beatles ended too soon for me, and because of that, every time that one of their songs comes on, I turn up the radio. Because I never got enough. And I love that feeling.
REGIS: Was it sad for you when you left that day, when it was all over?
JERRY: No, I felt incredibly grateful for the ride. How else can you look at anything good in life?
REGIS: That's what I like about you. You are very optimistic.
JERRY: My father was like that; you're like that too. But you have a dark side. You don't show it, the audience does not know your dark side.
REGIS: How do you know I have a dark side?
JERRY: Because I've eaten with you.
REGIS: I've worked for 55 years. I'm going to take a little time off, to tell you the truth. It's just that now in the last couple of weeks, [executive producer Michael] Gelman is pouring it on. "Farewell to Regis!" It's getting embarrassing.
JERRY: Let me explain to you something about our business. It's all embarrassing. It's the embarrassment business. That's what I tell my kids if they say, "I feel embarrassed." I say, "That's good! When you're embarrassed, you're entertaining someone."
REGIS: You know, you're smarter than I thought.
JERRY: I'm very smart. Let's talk about the chemistry between you and Kathie Lee and you and Kelly Ripa.
REGIS: Thirty-five years with the cohosts.
JERRY: And you made them all work, you made them all look good.
REGIS: You've got to get in there and dig and find out where the layers are and where they're going to come across best.
JERRY: And it has to be a woman?
REGIS: Had to be a woman all those years because in 1975, John Severino, my general manager at channel 7 in L.A., said, "Television is changing. From now on, there are going to be females delivering the news with the men."
JERRY: So you're looking around this room—
REGIS: A lot of memories. ?
JERRY: Let me tell you something, my friend. You have this sense of what works in this medium. It's very, very rare. And we never got tired of you. That's really special. I was one of the first people to joke, "What kind of show is this? What are these two people doing? They're denting seat cushions up there." But you were doing a lot, because we loved having you in our home and we want more.
REGIS: Well, maybe there will be more, we'll find out.
Moderated by Ramin Setoodeh