Tennessee Rep. Jerry Sexton Vows to Burn Banned Books
Tennessee Representative Jerry Sexton said on Wednesday he would burn books that were deemed inappropriate for school libraries.
Sexton made this comment during a debate over legislation that would require school districts to submit lists of library books to the State Textbook Commission.
"Let's say you take these books out of the library, what are you going to do with them? Representative John Ray Clemmons asked Sexton. "Are you going to put them in the street? Light them on fire? Where are they going?"
"I don't have a clue, but I would burn them," Sexton replied."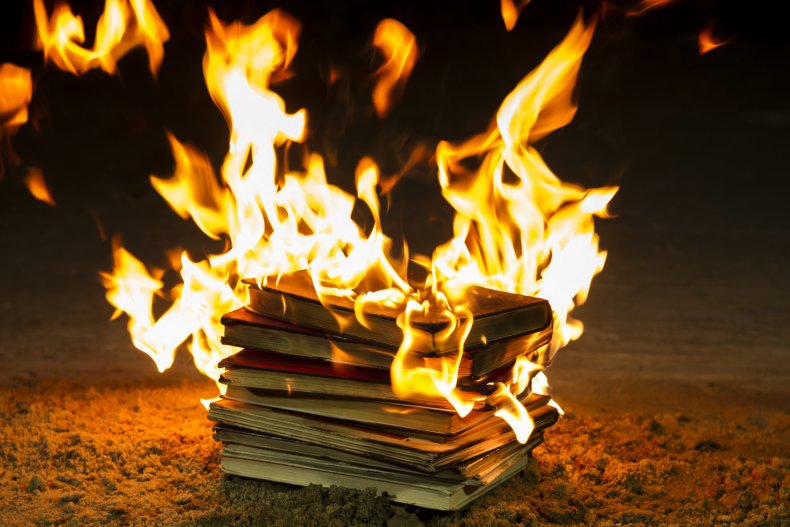 Following his comments on book burning, Sexton later said he would not be on the commission, and that no book burning would take place. He also defended the bill and insisted it was not banning books, according to a report by the Tennessean.
"We're not banning books, we're just removing them from the library," he said
The House passed the measure but it is not yet clear whether it will pass the General Assembly, according to a Tennessee Lookout report.
During the debate, Clemmons also questioned why the state was willing to take away authority of librarians to decide what books should be in the library.
"Don't librarians currently decide what's appropriate to go in a library?" he said.
"And why are we usurping the authority of librarians and placing the state in the place of deciding what's appropriate and what's not for children?"
Sexton replied that he was not aware of who was putting obscene books in libraries but said librarians might be signing off on them.
At the beginning of the month, the American Library Association (ALA) issued a press release that warned it had tracked an "unprecedented number of attempts to ban books" in 2021.
The press release also included a statement by ALA President Patricia Wong who argued about the importance of children and parents having a choice in the reading material available to them.
"The 729 challenges tracked by ALA represent the highest number of attempted book bans since we began compiling these lists 20 years ago," Wong said in the statement.
"We support individual parents' choices concerning their child's reading and believe that parents should not have those choices dictated by others.
"Young people need to have access to a variety of books from which they can learn about different perspectives.
"So despite this organized effort to ban books, libraries remain ready to do what we always have: make knowledge and ideas available so people are free to choose what to read."
Newsweek has contacted Jerry Sexton for comment.