Tributes Paid to Jerry Stiller After 'Seinfeld' Actor and Father of Ben Stiller Dies Aged 92
Jerry Stiller, the actor and comedian best known for his role on Seinfeld, has died aged 92.
He died of natural causes, his actor son Ben Stiller revealed on Monday. "I'm sad to say that my father, Jerry Stiller, passed away from natural causes," the 54-year-old wrote in a tribute on Twitter.
"He was a great dad and grandfather, and the most dedicated husband to Anne for about 62 years. He will be greatly missed. Love you Dad."
Tributes soon came in for Jerry Stiller, with comedian Christopher Titus writing on Twitter: "I'm in tears. So sorry, and thank you for the joy and the laughter Jerry Stiller, you were, and will always be, comedy gold. RIP."
Actress Rebecca Metz said: "Very early on, I had a few lines on King of Queens. My dad (also a Jerry) came to the taping and got to meet Jerry Stiller, who kvelled over how proud he must be of me. A comedy legend and the sweetest, most humble man. May his memory be a blessing."
Born Gerald Isaac Stiller in New York City in 1927, Jerry Stiller launched his comedy career opposite his wife Anna Meara, who died in 2015.
The pair were married in 1954 and had two children—Ben Stiller and Amy Stiller, who is an actress.
As a husband-and-wife comedy duo, Jerry Stiller and Meara toured the U.S. together and made frequent appearances on television in the 1960s and 1970s, including more than 30 on top variety program The Ed Sullivan Show.
Jerry Stiller wrote an autobiography—Married to Laughter— about his decades-long marriage to Meara and their career that was published in 2000. In 2007, they received a joint star on the Hollywood Walk of Fame in Los Angeles.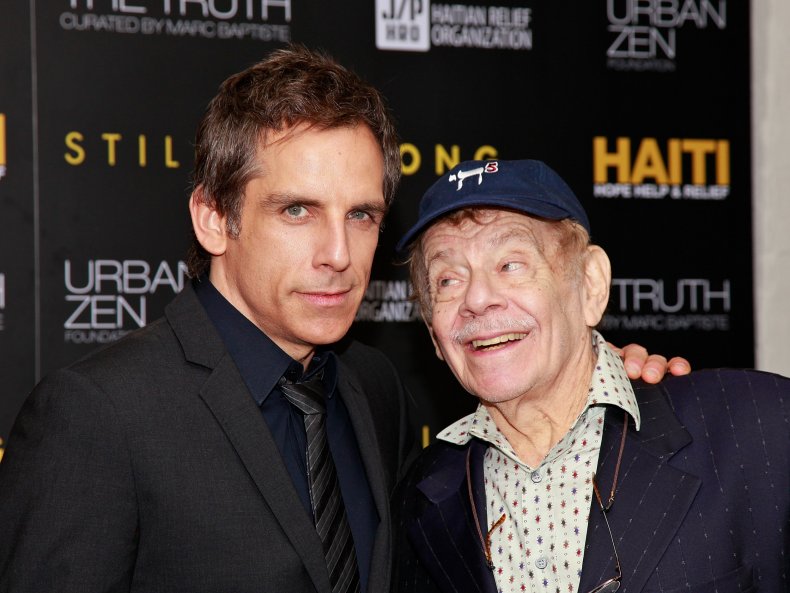 But many will know Jerry Stiller better for playing the short-tempered Frank Constanza, the father of Jason Alexander's George, on hit NBC sitcom Seinfeld.
Jerry Stiller recalled in an interview with Esquire in 2005 that he had not been the first choice for the role that rejuvenated his career.
"I was out of work at the time. My manager had retired. I was close to 70 years old, and I had nowhere to go," he said. "I get this chance on Seinfeld. I hadn't even seen the show."
He recalled how he was told to play the meek husband to Estelle Harris, who would play his wife as the "boss lady of the Constanza family."
But he said the character wasn't working until he suggested playing the role as an overly cranky dad who was more than a match for his wife.
The supporting role led to some of Seinfeld's most memorable moments and earned Jerry Stiller a nomination for a Primetime Emmy in 1997. He also played another sitcom father—Arthur Spooner in The King of Queens.
And Jerry Stiller also appeared alongside his son Ben Stiller in a number of comedies, including Zoolander, Zoolander 2 and The Heartbreak Kid.
The pair also starred in Shoeshine, a film about a young Wall Street investment banker and an old shoeshine man, that scored an Academy Award nomination in the short subject category in 1988.