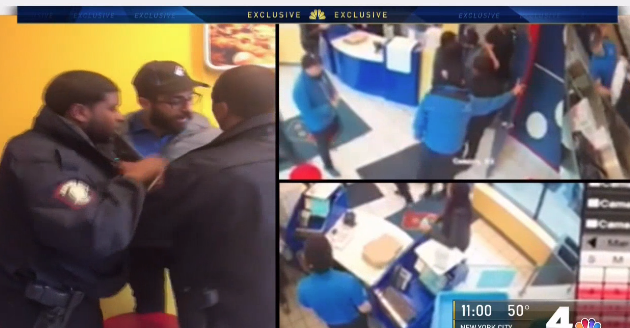 Two Jersey City police officers have been suspended after video surfaced showing the cop duo attacking a Domino's pizza store manager over an undelivered pizza.
Hudson County prosecutors in New Jersey charged both Rodney Clark and Courtney Solomon with disorderly conduct, harassment and making terroristic threats for the Tuesday incident recorded by several stunned employees, The Jersey Journal first reported. Witnesses said officers arrived at the Communipaw Avenue Domino's Tuesday evening to follow-up on an online complaint over an undelivered pizza.
The Jersey City Police department confirmed to Newsweek that the two officers are suspended without pay until their April 11 court appearance. The Hudson County Prosecutor's Office is currently handling the case.
Surveillance video first obtained by WNBC-TV shows manager Mena Kirolos being shoved up against a wall by the two Jersey City officers as one threatens Kirolos, "I'll lock you up." Officers Clark and Solomon can be seen barging into the store and shoving their way back to the manager as several employees pulled out their phones to record the pushy police officers' demands for pizza.
Kirolos told WNBC-TV the incident began over a missed pizza delivery, though he says the delivery driver arrived at the provided location but no one answered his calls Tuesday evening.
Marina Elsamina, an employee at the pizza branch, told The Jersey Journal she received an online complaint by one of the police officers over a delivery issue. Some time later, Kirolos said he received a call from an officer who was upset over his missed pizza delivery.
"He said he was coming to my store, so I waited 10, 15 minutes, no one showed up," Kirolos told WNBC-TV. But the officers did eventually arrive in uniform before grabbing Kirolos and threatening him in the back room. "I was thinking, 'What can I do?' He's a police officer. I can't do anything back."
A third officer can be heard saying, "I am trying to have a conversation with you," as Kirolos holds out his hands for them to be cuffed. Eventually, the officer requesting a "friendly conversation" is obliged and the group can be seen exiting the front of the Domino's together.
Both Rodney Clark and Courtney Solomon are due in court on April 11 and have both been suspended without pay in the interim.
The Jersey City Police Department did not immediately respond to a request for comment.