Jersey City Congressman Says Mitch McConnell 'Gatekeeper' of Gun Control After Latest Deadly Shooting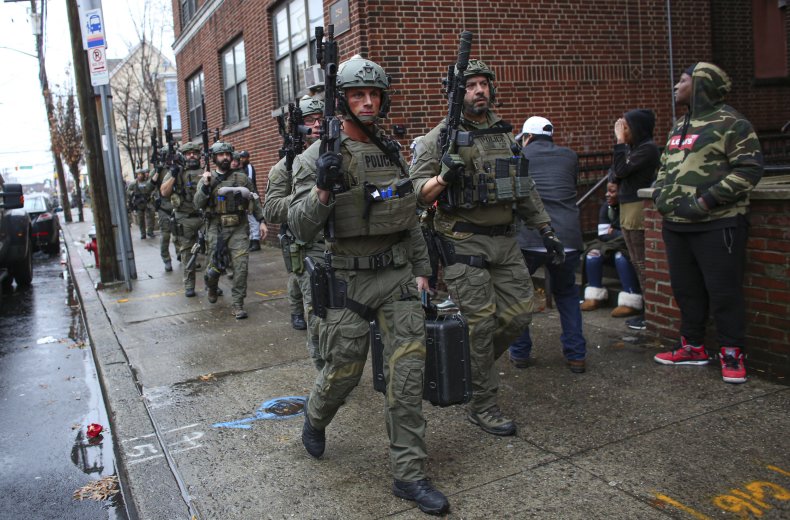 After a shooting in Jersey City, New Jersey, left six dead, including two suspected perpetrators, the state's second-largest city is grappling with how to understand a sprawling act of violence that besieged a diverse neighborhood just across New York's harbor from Manhattan.
Three civilians were killed, in addition to Joseph Seals, a veteran officer of the Jersey City Police Department. City officials described the incident as a "targeted" attack on a kosher deli. Law enforcement was tasked with managing three separate crime scenes and securing public spaces as nervous residents waited for the all clear.
In a wide-ranging conversation with Newsweek, Representative Donald Payne Jr., who represents much of Jersey City in the House of Representatives, described his priorities for ensuring that incidents like these don't continue to be taken for granted in U.S. political life.
"What we need to do is get some federal legislation that is as tough as New Jersey's laws are across the nation," Payne said. "The problem is that you have the laws in New Jersey, but guns are allowed to come up from states south of us on I-95 and across I-80 from states west of us. So the problem is not the guns in New Jersey, it's the guns that come through New Jersey that cause us all the issues."
Payne's reference to what law enforcement officials call the Iron Pipeline—a corridor tracking Interstate 95 that encourages weapons smuggling from states like Florida, Georgia and Virginia to the Northeast—a problem that is especially acute in New Jersey.
In the third quarter of 2019, the New Jersey State Police said, 82 percent of guns recovered from crime scenes that were traced were purchased out of state. Although there are several caveats to this analysis, the inordinately high percentage has made limiting the influx of weapons a top priority for New Jersey politicians.
A 2018 nationwide study of guns recovered from crime scenes over a decade, published in the Journal of Urban Health, found that New Jersey had the lowest proportion of such guns that could be traced to an in-state source.
Authorities have not yet said how the Jersey City suspects, who were killed during a shootout with police, obtained their firearms, or whether they did so legally.
New Jersey has some of the strictest gun laws in the nation, including a requirement that would-be gun owners obtain a permit before purchasing a firearm. So-called permit-to-purchase laws have been found to be the most effective way to screen owners who might improperly use their guns.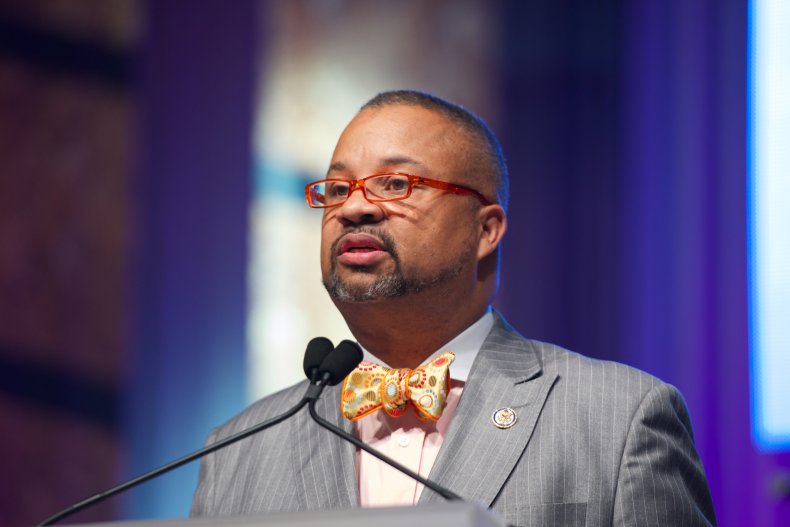 But there is little New Jersey can do to gird itself against a barrage of incoming weapons when a patchwork of state gun laws, of varying strictness, has confounded interstate enforcement.
Payne says that those seeking to pursue uniform legislation at the federal level should look to one man, Senate Majority Leader Mitch McConnell, whom he called the "gatekeeper" of congressional action.
"He's the person keeping this government in a lurch," Payne noted. "We've passed 400 bills in the House of Representatives. Around 275 are bipartisan, and they're still sitting on his desk. When the American people ask why we're not doing anything, they need to ask Mitch McConnell, because we've done our part."
One measure, introduced last February by Payne in the House, is the Safer Neighborhoods Gun Buyback Act, which would encourage states and local governments to enact their own voluntary gun buyback programs. He said that removing an abundance of guns from the streets is among his top strategies for reducing gun violence.
The link between firearms prevalence and gun violence is often contested, especially in today's charged political climate. But there is evidence to suggest that the number of guns is a factor in gun crime. A 2013 book from Johns Hopkins University researchers, Reducing Gun Violence in America, reviewed a variety of studies noting a correlation between gun ownership and rates of both suicide and homicide. (The book has a forward by then-New York City Mayor Michael Bloomberg, who funds gun control causes.)
Other studies have found that permissive concealed-carry laws, which make it easier to carry a weapon in public, correlate with a decrease in homicide rates.
Buybacks in particular can prove somewhat challenging, and Payne acknowledged that "there are some programs that have been, and some that haven't been, successful" in reclaiming unwanted firearms. But he is committed to using "best practices" to find the most effective ways to reduce the flood of weapons into vulnerable communities.
A 2017 study in The Journal of Trauma and Acute Care Surgery examined the results of a gun buyback program in Hartford, Connecticut. The authors found that the weapons repurchased by police were not representative of the kinds of weapons used in crimes.
When Boston tried to buy back guns from the community in 1993, the weapons received were also not reflective of the sort collected from crime scenes. However, after recalibrating its program in 2006, the city was able to repurchase the kinds of weapons that more closely matched crime guns.
Another study examined the efforts of a coalition of police departments in Massachusetts. While the departments achieved similar results, around 60 percent of buyback participants reported having additional firearms at home.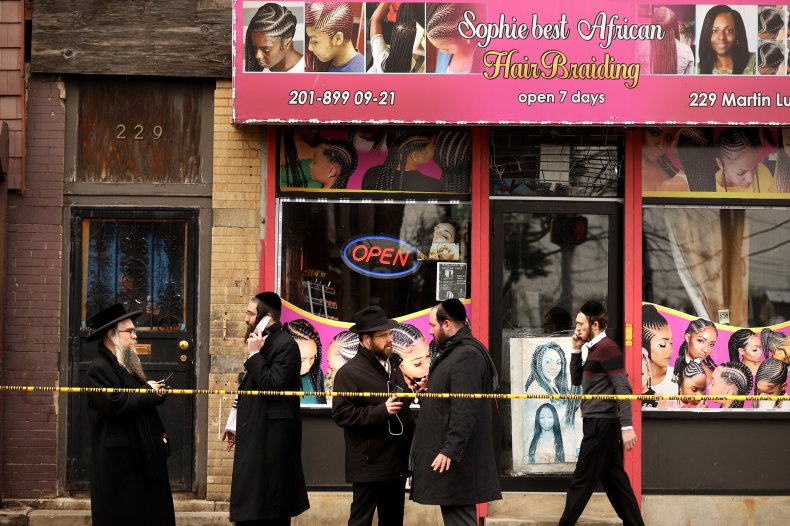 "Gun buybacks are not the sole solution, but they can be part of the solution," Payne observed. "It's going to take a multifaceted effort across the country to stem this tide. My bill isn't the be-all and end-all that will rectify the issue. It's a small cog in a major problem that we need to address and rectify."
Payne pointed to several other approaches, such as expanding background checks, which currently have overwhelming support from the American public, as well as support from gun owners and a majority of National Rifle Association members.
While Payne understands the politics of gun control in Congress is not favorable, the issue remains poignant for him, especially after Tuesday's attack. The incident happened close to his Jersey City office, and his district-based congressional staff went into lockdown as the shooting was unfolding.
"A lot of it happened in front of my office, and it was quite a horrific scene," he said, though he was not present at the time. "The entire building went on lockdown. So my staff was locked inside for several hours. But we were in contact with a member of my staff, and she appeared to be faring all right."
After the prospect of gun control legislation recently died on Capitol Hill, despite a months-long push by an unusually bipartisan coalition of senators, few believed that Congress and the White House could move beyond an impasse that had developed after the impeachment inquiry gained steam. A trio of senators, including a Republican, wrote an op-ed directed at President Donald Trump, urging his leadership in renewing these talks. So far, nothing has happened. Payne is not optimistic.
"I don't have any confidence in this administration to do anything that is going to stem the tide of this situation. They're just not interested," he said. "Anything I say would fall on deaf ears. The president is devoid of any conscience other than what pertains to his personal benefit. If, God forbid, someone in his family had this happen to them, maybe then we'd see some movement. But that's not the way we need to get moving. We need leadership."
The White House and McConnell did not respond to requests for comment before publication.