Jersey City Shooting Investigated As Domestic Terrorism, Authorities Say Evidence Points To Attack Being 'Acts of Hate'
This week's attack on a kosher supermarket in Jersey City, New Jersey, that left six people dead is being investigated as domestic terrorism, according to New Jersey Attorney General Gurbir Grewal.
"The evidence points towards acts of hate. I can confirm that we're investigating this matter as potential acts of domestic terrorism, fueled both by anti-Semitism and anti-law-enforcement beliefs," Grewal said during a press conference on Thursday afternoon.
New Jersey U.S. Attorney Craig Carpenito said during the conference that the FBI will be taking the lead on the investigation.
Shots broke out at around 12:30 p.m. on Tuesday outside of the city's JC Kosher Supermarket. Law enforcement called the shooting an "ambush" and confirmed six casualties: three victims from inside the supermarket, two suspects and a police officer. The gunfire between the suspects and the police lasted for over an hour.
"We need to remember the extraordinary sacrifices that [law enforcement] makes for us each and every day," Grewal said during the press conference.
The authorities have identified the shooters as David N. Anderson and Francine Graham. The two suspects appeared to have a connection to the Black Hebrew Israelite movement, a group that has been described as a "hate group" by the Southern Poverty Law Center. The SPLC is a legal advocacy group that tracks such organizations.
"We continue to gather evidence regarding the motives of the shooters," Grewal said on Thursday. He added that law enforcement officials have identified several social media accounts they believe were used by the suspects to espouse their viewpoints.
"But based on what we have collected so far, including based on recent witness interviews, we believe the suspects held views that reflected hatred of the Jewish people as well as the hatred of law enforcement," the attorney general said.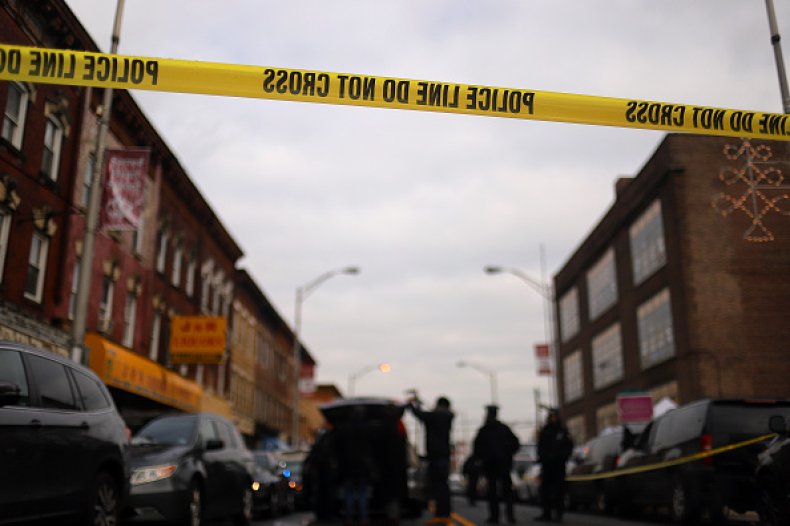 Five firearms linked to the suspects were recovered: an AR-15-style weapon, a 12-gauge shotgun, a 9 mm semiautomatic weapon, a 9 mm Glock 17 and a .22 caliber Ruger Mark 4 with a silencer.
Officials also believe that the suspects were involved in the homicide of another Jersey City resident. The 34-year-old victim was found in the trunk of a car, with massive head trauma, last Saturday night.
Following Tuesday's shooting, New Jersey Governor Phil Murphy lauded the police for their courage, in a press conference outside the South District Police Precinct.
"This was an incredibly tough day for Jersey City, for the entire state of New Jersey," Murphy said. "There are days that require us to stop and think about what it means to put on a uniform every day, and God knows this is one of those days. But that's what these men and women do every single day, and we cannot thank them enough."