French Boat Rams British Vessel Over 'Intense' U.K.-France Fishing Feud
British naval vessels were deployed and a flotilla of French boats entered the harbor of Jersey during a dramatic sea protest over the right to fish near the Channel island.
French fishermen have accused Jersey of restricting their ability to fish in the waters by the island located 14 miles off the coast of north-western France.
On Thursday, dozens of French boats protested by the port of the island's capital, St Helier with footage tweeted by Sky News describing how one French vessel rammed a British boat.
While Jersey's external relations minister, Ian Gorst, told radio station LBC the incident was one of "high spirits," the fishing industry was concerned at threats by French maritime minister Annick Girardin to retaliate and cut the island's electricity, of which France supplies 95 percent.
"It has to be taken seriously when threats are made to shut down the electricity supply and shut down the harbor so no food comes in and out," said head of the Jersey Fishermen's Association, Don Thompson.
"Potentially you could see babies dying in hospital. In other parts of the world, that would be considered an act of war. It's certainly very aggressive," he told Newsweek following talks between the fishermen and Jersey government representatives.
The dispute centers around a post-Brexit trade deal with the EU that would force French boat operators to obtain a license to continue fishing in the island's waters.
To get it, they must prove that they had a history of fishing in the area, but French fishing communities have complained boats that operated there for years were having their access restricted.
Amid post-Brexit tensions with Brussels, the European Commission said "additional conditions" attached to the licenses breached the trade deal.
However, Thompson said no rights have been taken away and the licenses would help maintain sustainable fishing and allow fishing boat operators to continue at the same level as previously.
The licenses would also stop any move for French fishermen to expand their catches, which he described as an "unreasonable demand."
In a statement to Newsweek, Gorst said Jersey would work with the EU and France "to resolve the concerns arising from the issuing of fishing licenses under the Trade and Cooperation Agreement, which led to today's protest."
Jersey is not part of the United Kingdom, but as a British crown dependency, it is represented and defended internationally by the U.K. government.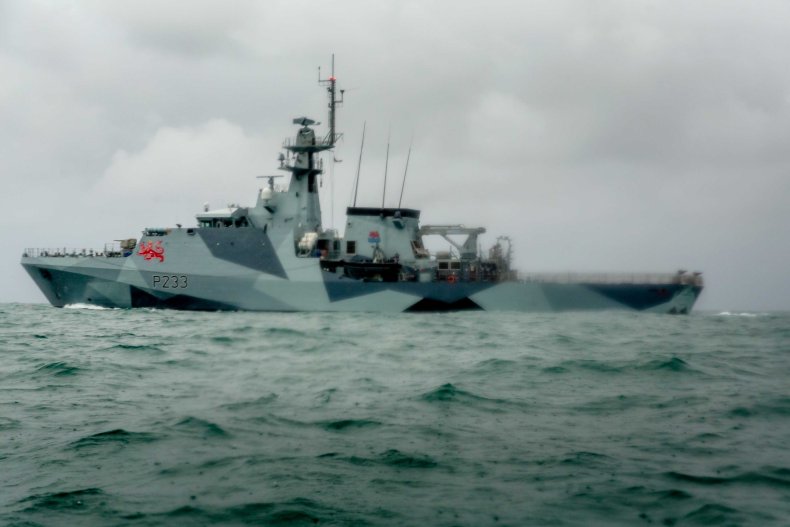 As such, HMS Severn, a British Navy vessel whose recent missions included shadowing Russian navy warships off the English coast, was seen from the port, while nearby was HMS Tamar, although neither intervened. Two French patrol vessels were also present.
British prime minister Boris Johnson voiced his "unequivocal support" for Jersey in a phone call with Chief Minister of Jersey John Le Fondre and said that the British vessels would remain in place as a "precautionary measure," The Press Association reported.
"Conflict over fishing rights in our waters and sovereignty of our waters is not something new, it has been going on for over 200 years," Thompson told Newsweek, "the threat to cut the electricity supply doesn't seem to have been carried out, so the island is not entirely under siege.
"It's been a little bit intense but life is carrying on as normal to some extent."