'Jersey Shore' Star Vinny Guadagnino Says Cast Is 'Thinking About' Mike Sorrentino Ahead of Jail Sentence
As Mike "The Situation" Sorrentino readies himself to serve his jail sentence after being convicted of tax evasion, his Jersey Shore co-star Vinny Guadagnino says the entire cast is "thinking about" him during this tough time.
Guadagnino, 31, addressed Sorrentino's upcoming prison stint during an appearance at Z100's Jingle Ball at Madison Square Garden in New York City on Friday. He explained how the cast has supported Sorrentino amid his legal woes.
"We all love [Mike], I love him," Guadagnino told Us Weekly. "We're all thinking about him." Guadagnino then reassured the outlet he and his fellow castmates "are keeping him close to our hearts."
Guadagnino also informed The Blast on December 1 that Sorrentino had asked the Jersey Shore cast to look after his new wife, Lauren Pesce, while he serves his time.
"Mike is stronger than everyone right now, so we kind of look at him as an inspiration. Honestly, he's handling it like a champ. He's like, 'Yo, I'm fine.' He's like, 'I got this.' He's like, 'I need you guys to take care of Lauren for me and just hold it down while I'm gone.' He's honestly good," he said.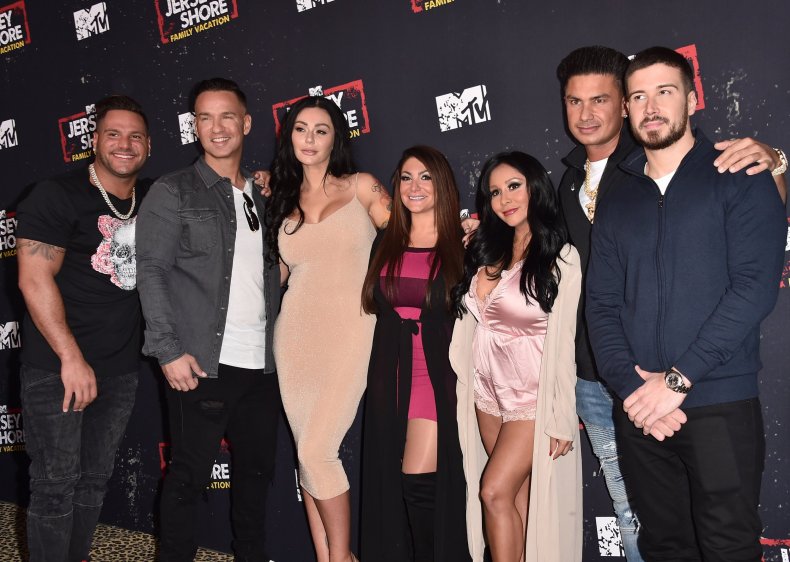 Sorrentino pleaded guilty to one count of tax evasion in January. He was initially facing up to five years in prison, but ultimately received an eight-month sentence in October. He was also given two years of supervised probation. Sorrentino's brother, Marc, was indicted with him for tax offenses in 2014. However, Marc received a 24-month sentence.
"Tax crimes, plain and simple, are an outright theft from the hardworking American public," John R. Tafur, Special Agent in Charge, IRS Criminal Investigation, Newark Field Office, said in an October statement. "The courts recognize the severity of these crimes and now Michael and Marc Sorrentino are convicted felons with prison sentences to serve for intentionally disregarding their tax obligations to our country."
Guadagnino isn't the first Jersey Shore castmate to speak about Sorrentino's legal woes. Ronnie Ortiz-Magro addressed Sorrentino's tax evasion dilemma alongside his fellow MTV co-stars via People in April. Ortiz-Magro's previously had a rocky relationship with Sorrentino, but he's recognized how much his current legal situation has proved to "humble" him.
"It took him hitting rock bottom to humble him out and bring out the good person inside of him," Ortiz-Magro told People. "Some people need that, and I'm sorry for the stuff that he's going through—but it has made him a better person. We were very thankful that we got to live with Mike this time, and not 'The Situation.'"