U.S. Embassy Opens in Jerusalem as Netanyahu Praises Trump's 'Real Leadership'
Across Israel, celebrations are under way as the U.S. embassy is due to make its historic and controversial move from Tel Aviv to Jerusalem.
President Donald Trump's daughter, Ivanka, and her husband, Jared Kushner, who both serve as his special advisers, will be among the top officials attending the event.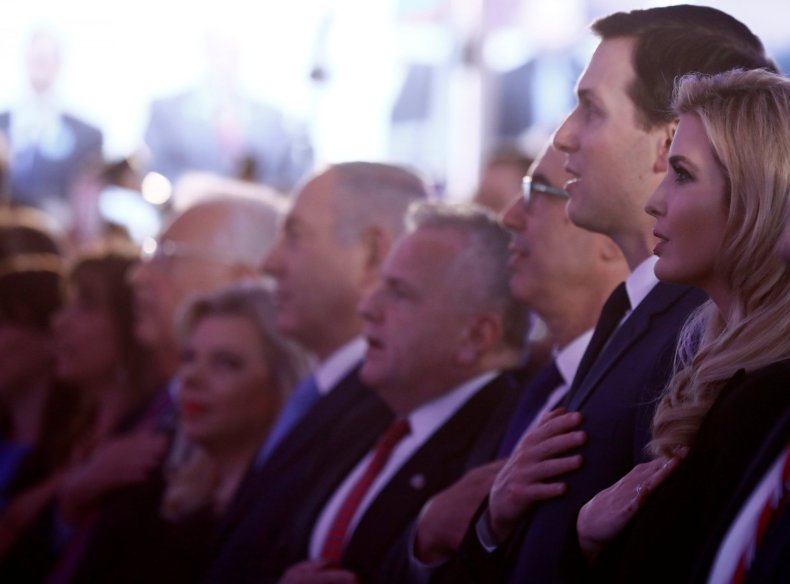 Other members of the delegation include Treasury Secretary Steven Mnuchin, U.S. Ambassador to Israel David Friedman and Jason Greenblatt, who is assistant to the president and special representative for international negotiations.
Trump announced his decision to move the embassy to Jerusalem last year, officially recognizing Jerusalem as Israel's capital. The decision sent shock waves around the world, sparking protests among Palestinians, who claim East Jerusalem as the capital of a future Palestinian state.
Israel, however, views all of Jerusalem as its "eternal and undivided" capital. Trump's decision to move the embassy to the Middle Eastern city was seen by many as a show of support for Israel's control over the capital.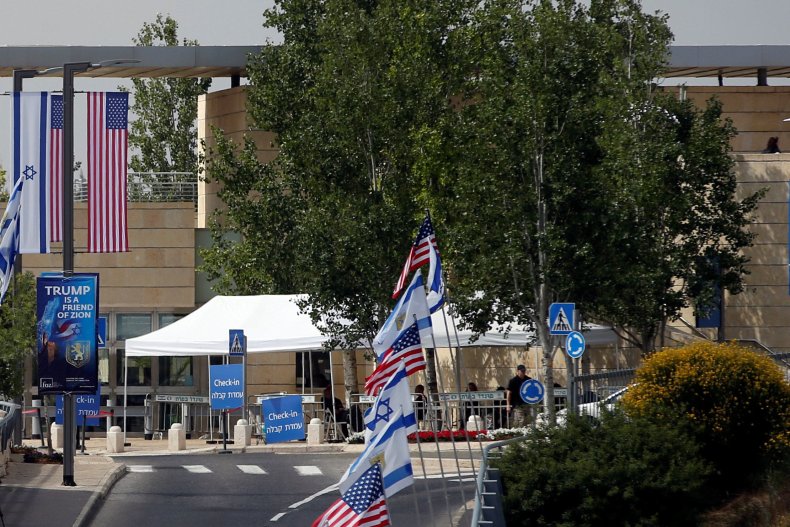 Ivanka, who converted to Judaism before marrying Kushner in 2009, said she was "honored to join the delegation" representing Trump "at this momentous ceremony commemorating the opening of our new U.S. Embassy in Jerusalem, Israel" in a tweet posted on Saturday.
"We will pray for the boundless potential of the U.S.-Israel alliance and we will pray for peace," she added.
Mnuchin said the move was "a sign of the enduring friendship and partnership between our two countries."
Read more: Ivanka Trump has 'great joy' going to Jerusalem embassy opening on Monday
Israeli Prime Minister Benjamin Netanyahu said he was happy to host the "distinguished" U.S. delegation in Israel representing Trump, writing in a tweet: "Welcome to Jerusalem–our capital!"
Netanyahu called on other countries to follow the U.S.'s lead on Sunday, saying it was the "right thing to do."
"Move your embassies to Jerusalem because it advances peace, and that's because you can't base peace on a foundation of lies," Netanyahu said.
During a speech in Israel, Netanyahu said Guatemala and Paraguay would both move their embassies to Jerusalem.
"Now, you know how you recognize real leadership? It's when others follow, and others are following in President Trump's footsteps," he said, ABC reported.
Many foreign envoys are expected to be absent from the celebrations marking the relocation, as most countries have maintained that the status of Jerusalem should be decided in a final peace settlement between Israel and Palestinians.
Some fear the U.S. embassy's opening in Jerusalem will only further complicate peace efforts, which have been frozen since 2014.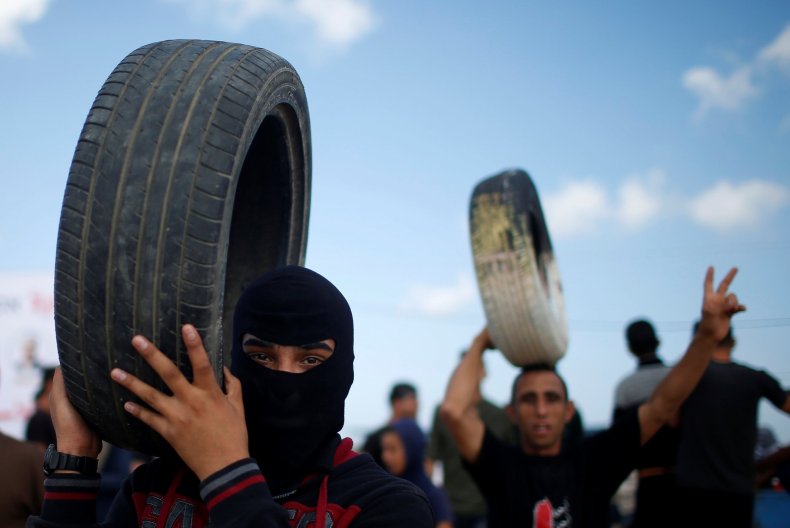 There are also concerns that the move could heighten Palestinian unrest in the occupied West Bank and on the Gaza Strip border.
At least 49 Palestinians were killed in protests that erupted on March 30, according to The New York Times. No Israelis have been killed in the demonstrations.
In Pictures: U.S. Embassy Move to Jerusalem Sparks Violent Clashes Between Israeli Troops and Palestinian Protesters
The National Committee for the March of the Return and Breaking the Siege, which has organized the demonstrations, called for a "major gathering" of protesters on Monday at the border region between Israel and the Gaza Strip, and at "friction points" in the West Bank, The Jerusalem Post reported.