Jerusalem Gay Pride Parade: Thousands Take to the Streets Under Tight Security
The 17th annual Gay Pride Parade took place in Jerusalem on Thursday despite threats by protesters to interrupt the festivities.
Police kept security tight at the march of about 20,000 people. Some ultra-Orthodox right-wing Jewish protesters demonstrated, but were kept apart from the crowd.
Though the parade was relatively peaceful, four protesters were arrested following a tussle with officers, police said.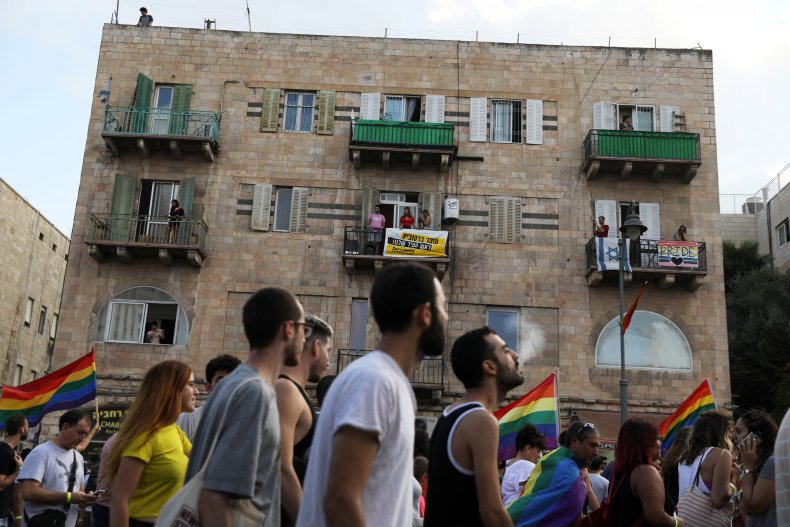 "We are here today to stop asking for equality and start demanding it," said Ofer Erez of the Jerusalem Open House for Pride and Tolerance, the organizer of the parade.
Although participants were celebrating, there was some anger. Marchers expressed their anger at Prime Minister Benjamin Netanyahu after he voted against legislation that would allow gay men to be surrogate fathers. He previously pledged to pass the law but was reportedly being pressured by ultra-Orthodox Jewish coalition partners to change his stance, reported Time.
Senior religious leaders from the conservative wing of the National Religious movement, along with 200 rabbis, described homosexuals as "perverts," in a letter condemning surrogacy and adoption rights for gays, reported The Jerusalem Post.
Compared with the rest of the Middle East, where gays are often persecuted and killed, Israel has become one of the most gay-friendly travel destinations in the world. Many famous artists and entertainers are openly gay, and homosexuals are allowed to take part in the Israeli army and parliament openly.
A placard with a picture of Shira Banki was seen along the parade route with flowers being laid in front of it.
Banki was killed and five others were wounded at the parade in 2015 when an ultra-Orthodox Jew stabbed her to death. The attacker was released from prison after serving a 10-year sentence shortly before the attack. He was serving time for stabbing three people at the 2005 Gay Pride march.
"Our magical Shira was murdered because she was a happy 16-year-old—full of life and love—who came to express her support for her friends' rights to live as they choose," a statement from Banki's family said at the time.
"For no good reason and because of evil, stupidity and negligence, the life of our beautiful flower was cut short. Bad things happen to good people, and a very bad thing happened to our amazing girl. The family expresses hope for a less hatred and more tolerance," the statement continued.