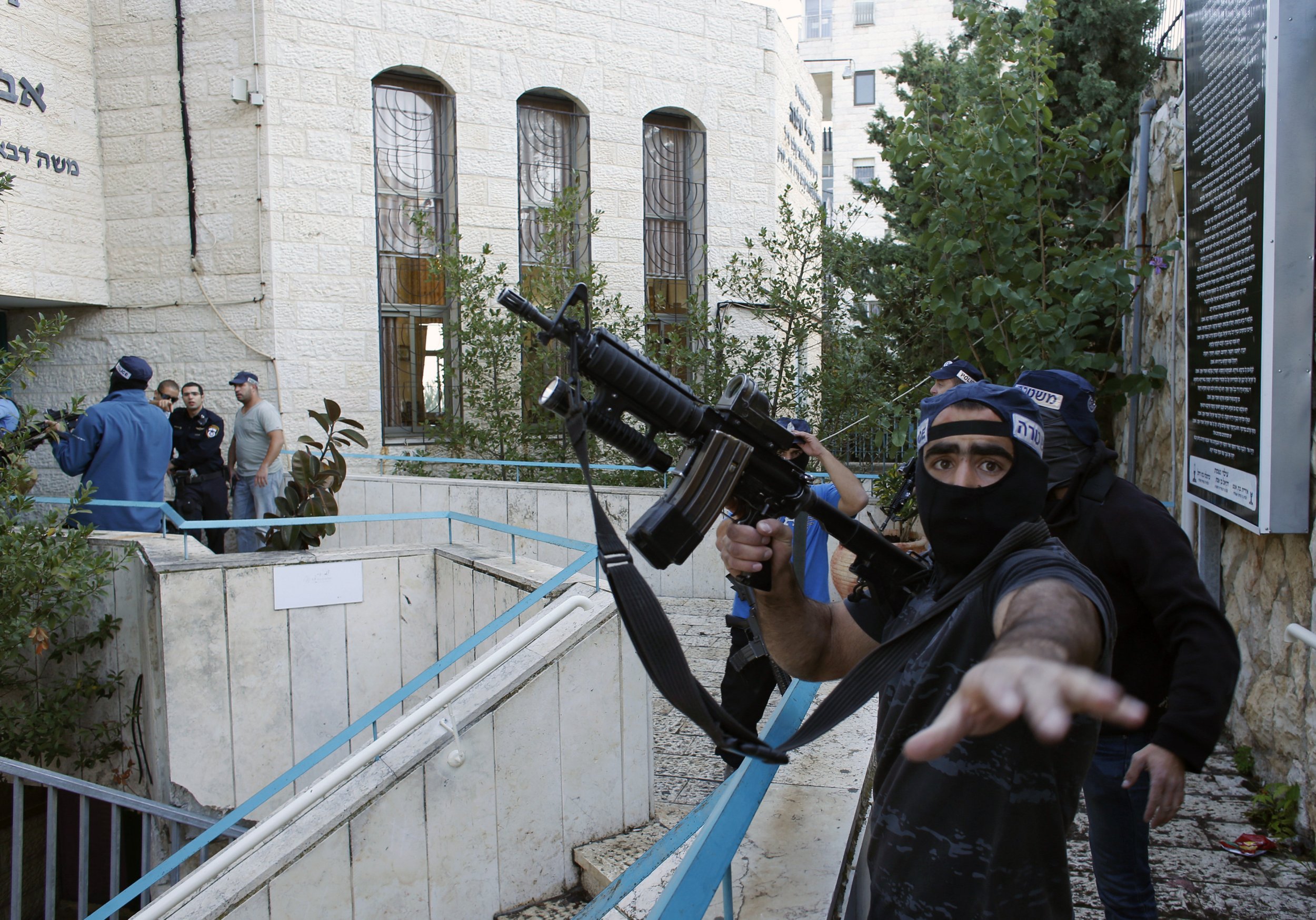 17:29 - Baronness Warsi, who left the UK's Conservative party over the summer amidst growing dissatisfaction with party policy on Israel, has compared the attack in Jerusalem today to last month's raid of the al-Aqsa mosque by armed Israeli servicemen.
17:16 - Reports of violence on the West Bank increase. Allison Deger, assistant editor of Mondoweiss tweeted Israeli army jeeps have neared Ramallah, with clashes between Palestinians and authorities flaring up.
16:55 - Israel's Chief Rabbi David Lau invites Muslim leaders to join him on the steps of the synagogue where the attack took place today to denounce today's killings.
16:36 US President Barack Obama issues statement condemning today's attack in Jerusalem.
16:26 "Many Palestinians in Jerusalem are shocked and disgusted with today's attack but the general response from the Palestinian community is very mixed," Newsweek Europe's correspondent in Jerusalem Bethan Staton says. "The Israeli crackdown has prompted clashes as the conflict in Gaza during the summer is still very fresh in the collective memory of East Jerusalem. We have seen clashes every night here over the last few months."
16:17 Israeli MP Shelly Yachimovich has called on the state of Israel to cede control of the East Jerusalem neighbourhood which the two suspected killers came from, calling it an "Arab village".
16:09 - "The neighborhood of Palestinian attackers Ghassan and Oday Abu Jamal was hit with especially heavy unrest throughout the morning, as hundreds of people gathered outside the family's house in Jabal al-Mukaber, to the south east of the city," Newsweek Europe's correspondent in Jerusalem Bethan Staton says. "Police used tear gas to disperse crowds," she adds.
16:04 - Fattah supporters are already referring to the fallout from today's attack a "war", telling journalists it "will go for a long time".
15:54 - "The rationale for the demolition of the attackers' houses is deterrence" Newsweek Europe's correspondent in Jerusalem Bethan Staton says. "It is about putting a high cost on the attack so it is not repeated by others, however the argument for such punitive action also comes from the belief held by Israeli authoroties that incitement comes from the community."
15:38 - Israel's Prime Minister Netanyahu has confirmed aithorities will go through with demolishing the houses of suspected attackers Ghassan Abu Jamal and Uday Abu Jamal in East Jerusalem. Eight family members of the attackers were also arrested by Israeli police.
14:55 - Newsweek Europe's collection of images, detailing some of the most important developments in today's attack:
14:53 - Jerusalem Council and the Israeli Civil Guard have agreed to bolster policing efforts in the city as a response to the attack, the city's mayor Nir Barkat anounced in a join press conference with police chiefs this morning.
"We decided to launch an extensive campaign to recruit volunteers for the Civil Guard in Jerusalem. I call on the residents of Jerusalem to volunteer and help strengthen the civilian aid to security forces," Barkat added
14:43 - Israeli and Palestinian media confirm Israeli police has clashed with civilians in sites across East Jerusalem, as authorities continue to investigate this morning's attacks.
Two policemen have been injured after stones were thrown at them in Jerusalem's Old Town centre, Times of Israel reports, while 22 Palestinians have been injured during clashes with police, according to the Ma'an news agency.
14:30 - Accounts increase of acts of celebration in Palestinian communities in response to the attacks in Jerusalem today.
14:16 - Israeli President Reuven Rivlin called for calm and unity in the aftermath of the attack in a statement saying: "This is a time that requires national responsibility and national unity, and we will deal with it together — against both terror and the challenges that lie ahead of us."
14:04 - Eyewitness reports in Jerusalem claim the bodies of three of the four Rabbis killed in the attack have returned to the synagogue where the attack took place this morning.
13:57 - Israeli Finance Minister Yair Lapid told Times of Israel authorities must "take tougher measures, including those we have not taken before."
"The houses of these terrorists must be demolished tonight, and the terrorists that set out to commit terror attacks must know that they will not return to them alive. We will spare nothing, we will act with a heavy hand in Jerusalem, we will not allow this to continue."
13:52 - One Palestinian news network has reported clashes between Israeli forces and youths in East Jerusalem's Arab populated Shuafat neigbourhood.
13:31 - Israeli Foreign Minister Avigdor Liberman has said "for all these despicable acts of murder by terrorists the responsibility lies entirely with Palestinian Authority Chairman Mahmoud Abbas," despite Mahmoud Abbas's condemnation of the attack.
"Abbas has deliberately turned the conflict into a religious one between Jews and Muslims, and the systematic campaign that he leads against against Jews - including his definition of who isn't pure and should not be allowed go on the Temple Mount, is instructing these attacks," he continued, directly referring to comments Abbas has made about Jews visiting the Temple Mount and in which he called Muslims to use "all means necessary" to prevent them from doing so," Liberman added in a Facebook statement.
13:17 - Canada's Prime Minister Stephen Harper has expressed his sympathy with the "people of Israel" in the aftermath of the attack.
12:58 - Peter Lerner, spokesperson for Israel's Defence Forces claims Palestinians in East Jerusalem are making preparations to mourn the two attackers shot dead in front of the synagogue as martyrs.
12:50 - The Bnei Torah synagogue has issued a statement identifying the four Rabbis killed in the attack as Rabbi Kelman Levin, Rabbi Avraham Goldberg, Rabbi Aryeh Kopinsky and Moshe Twersky, grandson of the Boston-born Isadore Twersky, founder of Harvard University's Centre for Jewish Studies. Haaretz has identified three of the incident's victims as US-born, except for Rabbi Goldberg who is believed to have emigrated to Israel from the UK in 1991.
12:29 - Turkey's Foreign Minister Mevlüt Çavuşoğlu has condemned the attack in spite of the Ankara's support for the Palestinian cause - "We condemn the attacks on holy places. We had condemned Israel's attacks on Al-Aqsa Mosque as well," Çavuşoğlu said.
"We are in a spiral right now, Israel's reckless attitude towards Gaza continues, however there are no excuses for the synagogue attack either."
12:22 - Israel's Public Security Minister, Yitzhak Aharonovitch has anounced self-defence gun controls will be eased in the wake of the attack but urged civilians not to take the law into their own hands.
12:15 - Images of the alleged suspects behind the attack are circulating online. Israel Radio has identified them as cousins Uday and Rassan Abu Jamal.
12:03 - US and UK leaders have condemned the attack. US Secretary of state John Kerry described a terror attack on a Jerusalem synagogue as an act of "senseless brutality."
"This simply has no place in human behavior," Kerry added while British Prime Minister David Cameron tweeted that he is "appalled" with the "horriffic attack".
British opposition leader Ed Miliband also said the "barbaric attack" should "be totally condemned."
---
Four people were killed in Jerusalem's Bnei Torah synagogue on Tuesday morning by two suspects armed with guns and cleavers, according to Israeli Police. The suspects were shot dead in front of the synagogue by security forces.
Eight more victims are reported wounded with two in critical condition, while two police officers are also among the injured.
Extremist organisation Popular Front for the Liberation of Palestine (PFLP) has claimed responsibility for the attack and hailed it as a "heroic action".
The identity of the two assailants is yet to be confirmed but Israeli police suspect two Palestinian men from the East Jerusalem neighbourhood of Jabel Mukabaer.
Among those killed in the attack is a renowned rabbi Moshe Twersky from a Hassidic rabbinical dynasty.
The attack was condemned by the Palestinian Authority President Mahmoud Abbas, while Israeli Prime Minister Benjamin Netenyahu has said Israel will respond with a "heavy hand".
Palestine's more extreme political party Hamas, recognized as a terrorist organisation by the state of Israel, has also praised the attack.
We'll be providing live updates on the attack and reaction from Jerusalem here.