British Parliament Member Received 600 Rape Threats in 24 Hours, Demands End to Online Anonymity
British Member of Parliament Jess Phillips is calling for the ability to sue tech giants like Twitter and Facebook for allowing a disturbing number of anonymous trolls to send her hundreds of violent threats each and every day.
Phillips, a 36-year-old Labour Party MP representing Birmingham Yardley, detailed to Metro that on one particular evening she "received 600 rape threats" simply for offering feminist perspectives. Phillips is joining several other U.K. lawmakers and academics looking to create "digital IDs" that would end the online anonymity that she said is one of the root problems causing the daily harassment and threats to her life.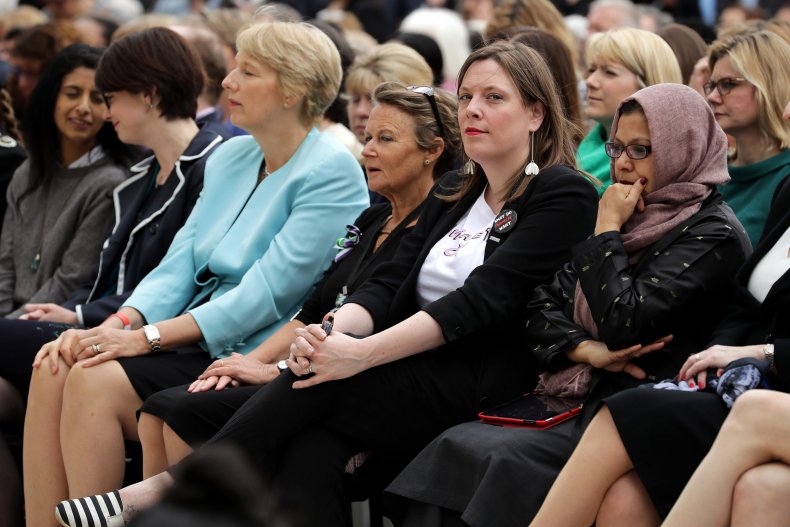 "In my own experience, the violence and aggression I am threatened with every single day has its peaks and troughs depending on what I'm talking about," Phillips told attendees at the Cheltenham Science Festival this past weekend. "If you speak from a feminist perspective, which I very frequently do, you will suffer from a huge amount of internet trolling, largely from what seems to be the alt right."
Phillips told BBC News in 2016 she received "around 5,000" abusive tweets after she launched a campaign against online bullying. She said that many of the messages sent to her through Twitter were anonymous and said she was not worthy of being raped.
Phillips reiterated that victims of online harassment and threats should pursue legal, criminal or civil action against abusers. She told Metro this week that she received orders of protection after she contacted police about two individuals who were "constantly emailing me with bile and abuse." She said the daily messages have ranged from threats to hang her children to alt-right Facebook diatribes.
"In one night I received 600 rape threats. It was probably more, but I stopped counting," she told Metro. "To try and subvert that, I received thousands of comments from people saying 'I wouldn't even rape her.' I have suffered all of those things and I have to say I don't feel I am physically in any danger and I don't think my children are in any danger."
Last week, Prime Minister Theresa May demanded "serious action" to prevent "vile online harassment" against women online. May said at the G7 summit in Canada that tech companies are responsible for hiding the identities of cyber-bullies and aggressive trolls. She demanded that "online violence against women and girls should not be separated from offline violence."
"The technology companies who are making welcome progress in banning and removing extremist content must use the same methods to prioritize tackling this unacceptable and deeply worrying rising trend," May told attendees of the G7 summit Friday. Phillips, who shared a photo Monday of vandalism perpetrated against her office, told Metro that female Members of Parliament receive a more personal and insidious form of trolling than the "ideologically based" harassment of male politicians. In 2017, Labour Party MP Cat Smith said there was "absolutely no doubt" that female lawmakers, particularly people of color, received more abuse. She blamed threats to "see [her] head swinging from Tower Bridge" were perpetrated by the political "hard right."
Phillips echoed that sentiment this week, demanding that Twitter no longer allow people to be anonymous. "Where it does worry me, and I think we have to do something about, is when it affects our democracy," she told Metro. "I personally have come to the viewpoint that I don't think people should be allowed to be completely anonymous online anymore. I don't mind if people appear anonymous online for all sorts of really reasonable reasons.
"Anyone who wishes to damage our democracy can just write all that stuff. I think we have got to try and do something about this and I think the anonymity debate is probably where Parliament will lead," Phillips added.
Phillips has backers within the U.K. government, who announced in February the potential implementation of a "mandatory code of practice" for social media behavior. Representatives from the NSPCC, or National Society for the Prevention of Cruelty to Children, told the Guardian that the proposal to end cyberbullying was in response to its failure to properly implement child safety recommendations for U.K. homes with internet access. A recent report from Amnesty International U.K. found that one in five women have suffered online abuse or harassment. Half of those women said the abuse was sexist or misogynistic in nature.