Jesse Watters Calls Fauci a Clown As Calls For Fox News Host to Be Fired Grow
Only a day after Dr Anthony Fauci called for Jesse Watters to be fired by Fox News for telling conservatives to "ambush" him, the TV anchor mocked the infectious disease expert for not predicting the current spike in COVID-19 hospitalizations.
Fauci had reacted with horror to Watters' comments on Monday at the conservative AmericaFest event in which he called for attendees to approach him and go for a rhetorical "kill shot" over how he handled the pandemic.
Watters told those at the event organized by right-wing group Turning Point USA that Fauci should be challenged in public about how the National Institutes of Health (NIH) had allegedly funded gain-of-function research in Wuhan, China, before the pandemic.
He urged people to approach Fauci and say, "you funded risky research at a sloppy Chinese lab'... Boom, he is dead!"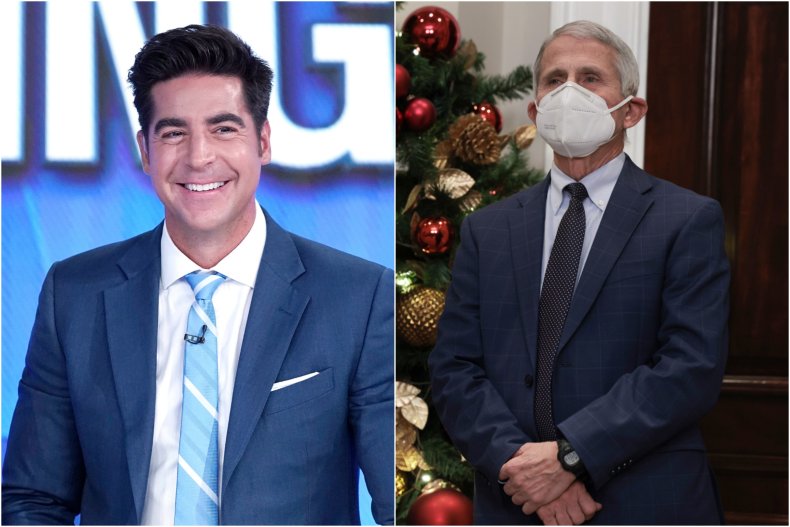 When asked about the comments, President Joe Biden's chief medical adviser told CNN that Watters should be "fired on the spot."
Others took to social media to condemn Watters. Defense attorney Ron Filipowski called Watters' words "incendiary, dangerous, violent rhetoric," while CNN's Jim Sciutto tweeted there was "no acknowledgment of the danger those words hold."
On Tuesday, Watters did not refer directly to Fauci's call for him to be fired, but still used the opportunity to criticize him further as well as outgoing NIH head Francis Collins.
Watters said despite the increasing numbers of Americans being vaccinated, hospitalizations and deaths are up and colleges are "completely locked down" and that "you can bet blue cities and states will try to shut down schools as well."
"To top it all off, (Vice President) Kamala Harris just admitted to the LA Times the administration didn't see any of this coming," he said. "Gee, you mean Biden's scientific brain trust and Fauci and Collins couldn't foresee any of this? Why am I not surprised?
"After all, these are the same clowns who thought funding dangerous experiments on that coronavirus...at the Wuhan lab was a grand idea."
This reprised Watters' argument against Fauci at AmericaFest, pushed by some conservatives, is that the NIH funded research at the Wuhan Institute of Virology (WIV) in the Chinese city where the virus was first detected which could have played a role in the pandemic.
Fauci has said the NIH earmarked $600,000 to the WIV through the non-profit EcoHealth Alliance to study whether bat coronaviruses could be transmitted to humans. He denies money went toward so-called "gain of function" research, which involves enhancing a virus in a lab.
Despite Watters facing criticism for the tone of his rhetoric against Fauci at Monday's event, Fox News stood behind their anchor, saying that his words had been "twisted completely out of context."
As previously reported, the network told Newsweek it was "more than clear" that Watters was "using a metaphor for asking hard-hitting questions to Dr. Fauci about gain-of-function research."
Newsweek has contacted the NIH for comment.