Jesse Watters Takes Fox News to New Low With Ivanka Trump Oral Sex Joke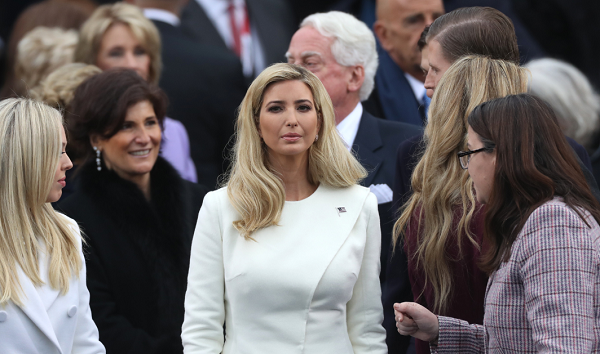 Plainly concerned that Fox News was on the verge of losing its grip on blatant misogyny and pointless provocation, commentator and self-styled comedian Jesse Watters made a crude joke about Ivanka Trump Tuesday night, thus assuring anxious fans of Bill O'Reilly that Fox News would never descend into civil discourse involving decent treatment of women and minorities.
Watter made the joke, such as it was, during a segment of The Five concerning first daughter Ivanka Trump's appearance earlier that day in Berlin, where she spoke about female empowerment. Female empowerment, though, wasn't what Watters had in mind as the clip played on a split screen.
"So I don't really get what's going on here," Watters said, "but, uh, I really like how she was speaking into the microphone."
The joke is exceedingly sophisticated in both structure and content, but sustained analysis by expert humorists suggests that Watters was pointing to the fact that a microphone is shaped somewhat like a penis. What he really liked, presumably, was not Trump's discussion of female empowerment but, to the contrary, the image of receiving oral sex from her. That very image (thankfully confined to his own reptilian imagination) is almost certainly what led Watters to pruriently smile as he made what the Huffington Post called "a quick hand job gesture."
Ivanka Trump is the daughter of Donald J. Trump, the president of the United States. Trump has been accused of sexual assault or harassment by a dozen women. He recently sat for an interview with Watters. It is not clear what the president thought of Watters's joke, though he has himself expressed an apparent attraction to his favorite child, once opining, "If Ivanka weren't my daughter, perhaps I'd be dating her."
Late last year, writer Julia Ioffe was fired from Politico for suggesting that Trump may be "fucking his daughter." The firing was caused in large part due to right-wing outrage, which has thus far been conspicuously absent from the Watters incident.
Watters, not widely regarded as a serious political thinker or talented comedian, told Erik Wemple of The Washington Post Wednesday, "During the break we were commenting on Ivanka's voice and how it was low and steady and resonates like a smooth radio jazz DJ. This was in no way a joke about anything else."
This explanation did not appear to have had the intended effect.
It should be noted that Watters is a protege of O'Reilly, who was fired from Fox News last week after a long history of sexual misconduct came to light. Back in October, after Watters filmed a racist segment for O'Reilly in which he cruelly mocked Chinese-Americans, O'Reilly defended him from those who wanted Watters booted off the air: "These people, they live their life in a perpetual state of grievance. He is not getting fired. We are a program that is not politically correct."
With O'Reilly and Fox News founder Roger Ailes gone from the network, both deposed for entirely credible accusations of sexual misconduct, Watters has decided to show the snowflakes of liberal America that they shouldn't expect the channel to soften its tone toward women. Whether this is a wise career move for Watters remains to be seen.
Already, CNN's most influential host, Jake Tapper, has trained fire on Watters, saying in a Wednesday morning tweet, "When a company sends the clear signal that women are basically sub-human, vile behavior thrives even after top offenders are fired." Just as notably, John Podhoretz, editor at the conservative Weekly Standard, tweeted his own disgust: "Congratulations, Jesse Watters, you're a disgusting pig as well as being a racist moron."
Watters is married and has two young daughters.