Jesse Williams Nude Video From Broadway Show Sparks Wave of Memes
Grey's Anatomy actor Jesse Williams is trending on social media after images of him performing naked in a Broadway show leaked online.
Williams is currently starring in the Broadway play Take Me Out, which explores themes of homophobia, racism, class and masculinity within the locker room of a professional baseball team.
Williams, and his co-stars Jesse Tyler Ferguson and Michael Oberholtzer have also been nominated for a Tony Award for their performance in the play.
But while a nomination is something to shout about, the internet seems more interested in a leaked video and pictures of Williams performing in Take Me Out.
The scene in question shows Williams onstage with full frontal nudity, reenacting a shower scene with co-star Patrick J. Adams.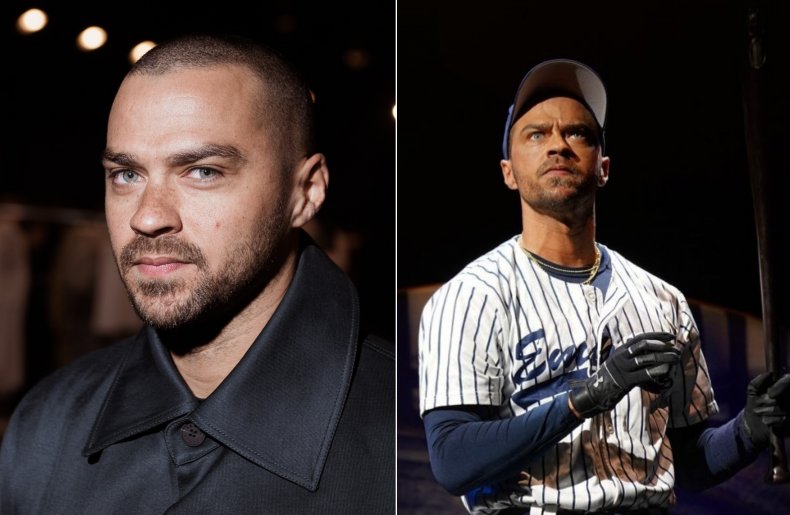 The internet has appeared incredibly impressed with what they've seen and sparked a wave of meme reactions.
"Jesse Williams if [Grey's Anatomy] don't work out try onlyfans babes," wrote Twitter user @Neptune_Leo22 after the leaked footage of Williams appeared online.
Meanwhile, British entertainer Jack Remmington simply stated "I hope Jesse Williams has an excellent day."
"I haven't been to a Broadway show in years. I guess now is a good time to start back up," said @dazzlegal as they also included Williams' name as a hashtag, and a gif of a woman fanning herself.
"Lord have mercy" was the thoughts of @thiccthwaites as they also shared a gif of the leaked image.
@thebrattyvirgo got over 8,500 likes for her reaction to the leak. @Crimson_Cliff got over 5,700 for sharing a meme video implying they were on their way to New York to watch Williams on Broadway.

Meanwhile, @DarccLight implied they would tear up the theater if they went to see Williams on Broadway and the understudy was there that night. They shared a video of Tyler Perry's Madea wrecking a scene.
Discussing the seriousness of the leak, Twitter user @laciguapa_ expressed the reasons why she thought it was wrong.
"I'm actually really bothered by this Jesse Williams leak." They continued, "You definitely shouldn't have your phone out during a stage performance and ESPECIALLY shouldn't be taking pics/videos of NAKED actors without their consent. This absolutely violence and assault and I hate it."
Countering that point, @sameolegal said, "Whoever took one for the team and snuck camera to Broadway to give us these Jesse Williams videos, thanks."
Williams discussed the reaction to his naked scene in Take Me Out on Late Night with Seth Meyers in April.
He explained how often, the nudity in the context of the play is no laughing matter. "It's so intense and the language is so dense that as soon as naked people come out everybody gets quiet. You can hear a pin drop, or something else drop," he said.
Williams continued, "It gets really quiet every time we come out there. Every now and then there's some shrieks or gasps, or people scurrying out. The light of the exit door cascades on the [audience]."
Take Me Out is performing now at the Helen Hayes Theater in New York City with performances scheduled to end on June 11, 2022.