Jessica Beauvais, Suspect in Death of NYPD Officer Anastasio Tsakos, Knew She Hit 'Something'
Jessica Beauvais, the Long Island woman accused of killing New York City police officer Anastasio Tsakos with her car, confessed to running him over, telling police she knew she hit something but was unsure of what it was, according to court documents.
"I don't know why they stopped me, speeding I guess. I did hear a thump, so I knew I hit something, but I didn't see what it was," Beauvais said, according to the documents.
Police say the 32-year-old suspect struck and killed Tsakos, a 14-year veteran of the NYPD's Highway Patrol Unit, early Tuesday as he was directing traffic on the Long Island Expressway.
Tsakos was dressed in full reflective gear and standing next to a marked police car with flashing lights and a series of traffic cones, diverting cars off the highway after a fatal crash.
With her windshield smashed, police say, Beauvais initially fled the scene, dragging a safety cone past several exits, but was caught a short distance away.
When police finally arrested her, the suspect was captured on a body camera asking, "What did I do?"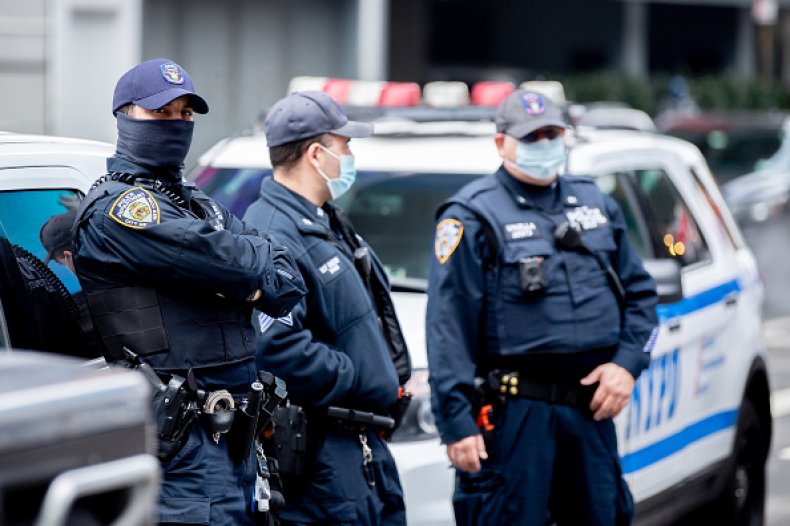 Prosecutors allege that she admitted she was drinking alcohol and smoking marijuana before she got in the car, did not know where she was going and was following a GPS. Authorities said her blood alcohol concentration was nearly double the legal limit more than two hours after the incident.
"I smoke week regularly," Beauvais said, according to the court documents. "I drank two glasses of wine earlier today and then dropped my son off in Hempstead. I smoked a joint last night before my podcast that I did in Brooklyn; the podcast was from 6:30 to 8:30 p.m. I brought the bottle of wine I had with me to the podcast. I had two shots of 1800 Patron tequila. When I left, I didn't know where I was going so I used my GPS. I made a left turn and a right turn and ended up at a gas station where the cops stopped me."
On Tuesday, Beauvais was held without bail on multiple charges, including second-degree aggravated manslaughter and operating a motor vehicle under the influence of drugs or alcohol.
Queens District Attorney Melinda Katz has filed a total of 13 criminal charges against her. If convicted, Beauvais could face up to 15 years in prison. As she walked out of a Queens police precinct station on Tuesday, she tearfully said, "I'm sorry. I'm sorry that I hit him and that he's dead."
On Tuesday, NYPD Commissioner Dermot Shea said, "We stand here this morning reminded once again, in law enforcement, there is no such thing as a routine job. We stand here devastated and trying to pick up the pieces of what is a shattered home and a shattered NYPD family."
Contacted by Newsweek, the NYPD said that there are no updates on the case and that the investigation is ongoing.