Jessica Biel spoke about her relationship with Justin Timberlake on Today on Thursday.
When Savannah Guthrie asked about keeping their marriage exciting, Biel acknowledged their work is part of it. "We're lucky enough to be able to go and stay in different places and live in different places while we work, and that's definitely part of it, but honestly, I just really feel like you have to work hard," she said.
"That doesn't change if you work at home or in an office or you're on a tour, it doesn't change, the work doesn't change," she continued. "Being devoted to the relationship is our biggest priority."
Biel and their son, three-year-old Silas Randall, have been traveling with Timberlake on his Man of the Woods tour. "It is fun to be on the road," she said on Today. "You feel kind of like a wild group of gypsies and you're all in it together and you're seeing so many new places." She likes what that means for Silas, who is exposed to new languages and different countries. "Now he knows what the Eiffel Tower is, and that's something he really loves," she said. "He would never have these experiences if we weren't able to just get out there and go for it."
While traveling for the tour in Copenhagen, Denmark, Biel posted a video of Timberlake "indulging [her] totally irrational Cirque du Soleil dream" on Instagram on August 9. "That's called being really bored in a hotel and watching Daddy play with Silas and then going, 'Oh, I want to play, too,'" she told Today.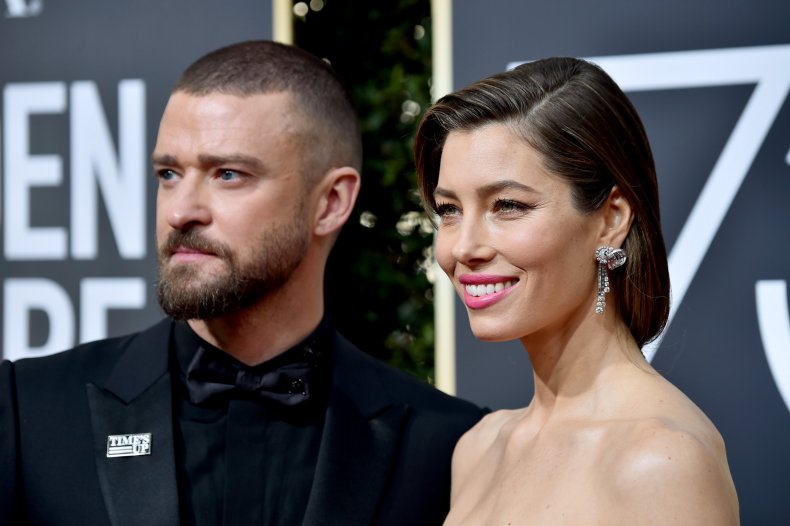 She also revealed she found out about her Emmy nomination for Lead Actress in a Limited Series or Movie for The Sinner while traveling in Amsterdam in a car with her son. "It was truly one of those crazy moments you didn't believe was real," she said. "It was a very mom moment. Everything's happening at once. You're getting some great news. And then, 'where's the water and where's the snacks?'"
"Justin loves the show," Biel told People in July. "He said he's really proud [of my nomination]. He said he was confident that it was going to happen all along."
Timberlake has a book, Hindsight & All the Things I Can't See in Front of Me, coming out on October 30, according to The Hollywood Reporter on August 10. While it will be mostly about his professional life, his wife and son will be included as well.