'Saturday Night Live' Season 43 with Jessica Chastain: Everything You Need to Know Before Show Airs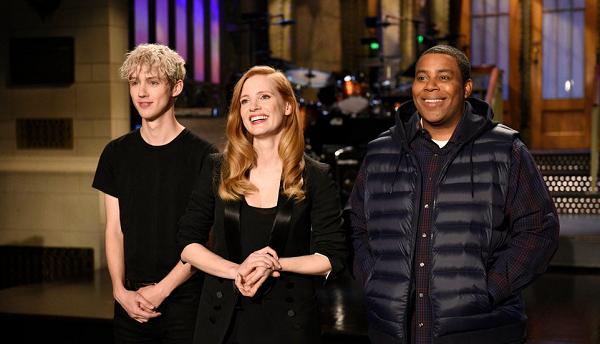 Jessica Chastain has a bit of experience with sketch comedy. But she'll get a real education when she hosts Saturday Night Live for the very first time on Saturday.
Back in November, Chastain gave a hilarious performance on The Tonight Show with Jimmy Fallon in a sketch mocking Hollywood auditions. But when she returned to Fallon's late-night talk show on Thursday, the Molly's Game actress admitted she was "so nervous" about her hosting debut.
Despite suffering from a case of the hosting jitters, it's likely Chastain will still nail the gig—especially since she recently received some solid advice from friends and previous hosts Gal Gadot, Amy Schumer and Sam Rockwell.
"Gal said that it should be fine for me because English is my first language," Chastain told Fallon. The 40-year-old added that Schumer advised her to play every role "super serious, like your life depends on it," while Rockwell, who hosted SNL last week, said the best thing she could do to prepare for the job was to drink plenty of water and "stay hydrated."
But Chastain, of course, is doing her own prep. The promo video announcing her hosting duties sees Chastain bragging to Kate McKinnon that she's been practicing for her SNL debut—by working on impressions made famous by the cast member. "I have a killer Hillary impression. And Jeff Sessions. And KellyAnne [Conway]."
Here's everything to know about this week's Saturday Night Live, hosted by Jessica Chastain.
Who's performing: Australian and South African singer-songwriter Troye Sivan will appear on the SNL stage for the first time. More than likely, fans will get their first live listen to his newest single, "The Good Side," which he debuted on Thursday.
Where: Fans can watch Chastain's hosting debut on the NBC network.
When: The episode will air at 11 p.m. ET.
Can it be live streamed: Viewers without TV can watch SNL via live stream on NBC's website via their cable provider login. People without cable can also stream the show on Hulu. As always, clips and highlights of the episode will be available on SNL's YouTube channel shortly after the episode airs. And viewers can stay locked into the conversation during SNL by following the hashtag #SNL on social media.