Jessica Chastain Trips at SAG Awards—'Honoring Jennifer Lawrence's Fall'
Jessica Chastain has been compared to Jennifer Lawrence on social media after she took a tumble while walking up to the stage during Sunday night's Screen Actor's Guild (SAG) Awards.
Back in 2013, Lawrence, 32, made headlines when she fell in front of the star-studded audience while making her way onstage to accept the Best Actress Academy Award for her role in the movie Silver Linings Playbook.
Chastain, 45, experienced a similar moment on Sunday when she was named Best Female Actor in a Television Movie or Series for her role as Tammy Wynette in Showtime's George & Tammy.
As the audience gathered at Los Angeles' Fairmont Century Plaza applauded, Chastain was seen walking up the stairs to the stage, before falling forward. The screen star placed her hand on the ground to break her fall.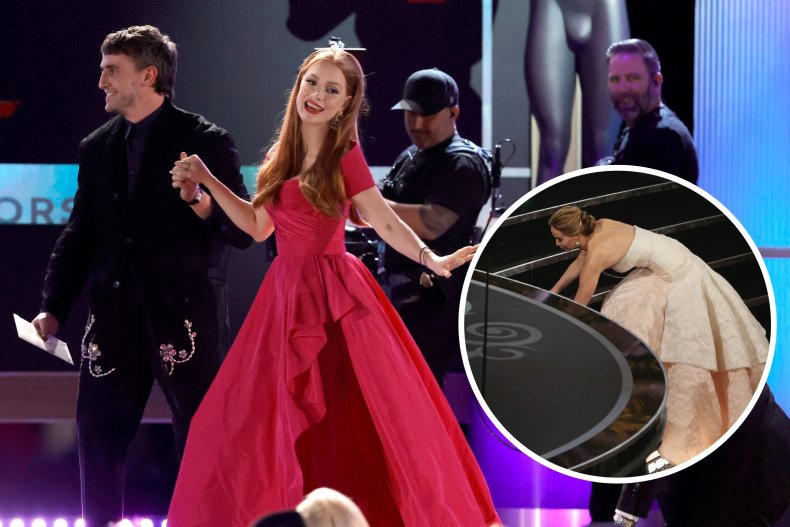 Paul Mescal and Courtney B. Vance quickly rushed to Chastain's aid. While Vance ensured she was safely back on her feet, Mescal, who was already on the stage, helped her walk the rest of the way to the podium after the mishap.
Chastain, who wore a floor-length pink Zuhair Murad gown to the awards ceremony, told Extra: "I just needed to be airlifted, I couldn't do it, my whole body was shaking. But I had Court and I had Paul Mescal, so I mean, a girl was in a good position."
The screen star further told People that she was "a little embarrassed" by the fall, but added: "I had two very handsome men helping me up, so that wasn't so bad."
Within minutes of her tumble, a host of Twitter users took to the platform to comment on the moment—and compare Chastain to Lawrence.
Sharing a clip of the mishap, one viewer wrote: "Jessica Chastain honoring Jennifer Lawrence for the 10-year anniversary of her fall at the Oscars."
"Jessica Chastain said I know it's been 10 years since Jennifer Lawrence fell at an award show let me fix this," said another.
Highlighting the fall with a screenshot, a different viewer commented: "JESSICA CHASTAIN DID THE JLAW FALL."
Chastain scooped her award ahead of fellow nominees Niecy Nash-Betts for Dahmer—Monster: The Jeffrey Dahmer Story, Emily Blunt (The English), Julia Garner (Inventing Anna) and Amanda Seyfried (The Dropout).
The Zero Dark Thirty star, who is currently performing on Broadway in A Doll's House, said during her acceptance speech: "Every day after the show I get the opportunity to meet people at the stage door, and I get to meet a lot of actors who tell me their stories."
"It reminds me of when I was in college, Philip Seymour Hoffman came to speak to my class," she continued of the late actor, who passed away in 2014. "He told us all his frustrating stories about auditions and he encouraged us to keep going even when we felt like no one was watching us.
"And at the end of the talk, he said, 'I look forward to working with each of you,' and it really shocked me because it was like he brought it into being. A few years later it came true and I had the opportunity to do a play with him [Othello in 2009].
"I'm telling this story now because it reminds me of how powerful our mind is and that we are what our thoughts create," she added. "So I just wanna tell everyone who might be struggling at home, to all the actors that I get to meet: Keep going. You're one job away. I look forward to working with you. I'll see you on set. I love you."