Jessica Cisneros Hits Campaign Opponent for FBI Raid on His Home in Ad
A new campaign advertisement for congressional candidate Jessica Cisneros called attention to a recent FBI raid of the home of her opponent, incumbent Texas Democratic Congressman Henry Cuellar.
Last month, the FBI raided Cuellar's home in Laredo, Texas, and was seen seizing items from his property as part of an "ongoing investigation."
Cisneros, a progressive Democrat, is challenging Cuellar, one of the most conservative Democrats in Congress, in a much-watched House race in a south Texas district encompassing Laredo and parts of San Antonio. Cisneros' latest campaign advertisement, which was shared on social media Monday, features clips of news anchors discussing the raid.
"There's a better choice," a speaker in the advertisement continues. "Jessica Cisneros is a new voice that can best speak for and to the needs of South Texas."
In a previous ad, Cisneros drew a contrast with Cuellar based on policy and ideology, focusing on her support of more progressive policies such as Medicare for All.
According to an ABC News report from January 25, a federal grand jury probe has been seeking records on companies and organizations with connections to Azerbaijan, which Cuellar had previously advocated for.
Cuellar addressed the investigation in a video for his campaign.
"There is an ongoing investigation that will show that there is no wrongdoing on my part," he said. "I pride myself on being your congressman and always doing things honestly, ethically and the right way."
Cuellar, who has served in Congress since 2005, has long faced criticism from many Democrats over his stance on issues such as abortion.
Cisneros previously ran against him in the 2020 Democratic primary, losing by just under 4 points. The district has long been a Democratic stronghold, but like much of south Texas, shifted significantly toward Republicans in 2020.
She previously spoke to Newsweek about the investigation, saying: "We still don't know a lot. But we know the task force involved in the investigation is the one in the FBI that investigates bribery and corruption."
Cisneros has received the backing of prominent progressives including New York Congresswoman Alexandria Ocasio-Cortez and the group Justice Democrats, which launched many progressive lawmakers into office.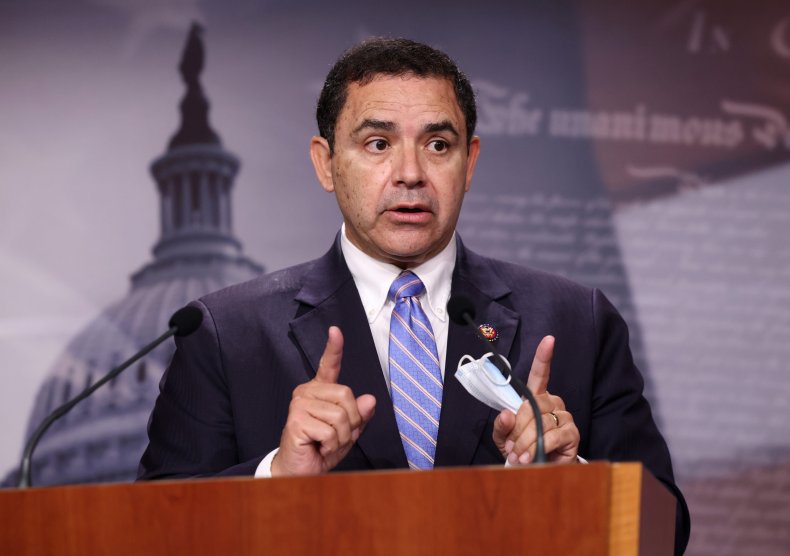 Early voting in Texas will begin on Monday, and the primary will officially be held on March 1. No public polling on the primary has been released, but the Cook Political Report classifies the general election as Lean Democratic, meaning it is competitive but Democrats still have an advantage.
Republicans hope to take advantage of President Joe Biden's low approval rating to flip the district that Biden won by about 7 points.
Newsweek reached out to the Cisneros and Cuellar campaigns for comment but did not hear back by publication. This story will be updated with any response.