Comedian Jessica Kirson lets herself feel vulnerable on stage. In her debut Comedy Central special Talking to Myself, the comic brings relentless laughs as she jokes about disrespectful audiences, sexuality, and the song "Happy Birthday."
Talking to Myself, which was produced by comedy superstar Bill Burr, may be Kirson's first special, but it's far from her first TV credit. The comedian has appeared on The Tonight Show with both Jimmy Fallon and Jay Leno. She appeared as herself in HBO's Crashing and was Robert DeNiro's comedy consultant in The Comedian.
Talking to Myself is scheduled to premiere on Comedy Central Friday at midnight. Ahead of her solo debut, Kirson spoke to Newsweek about her special, her inner monologue and coaching audiences.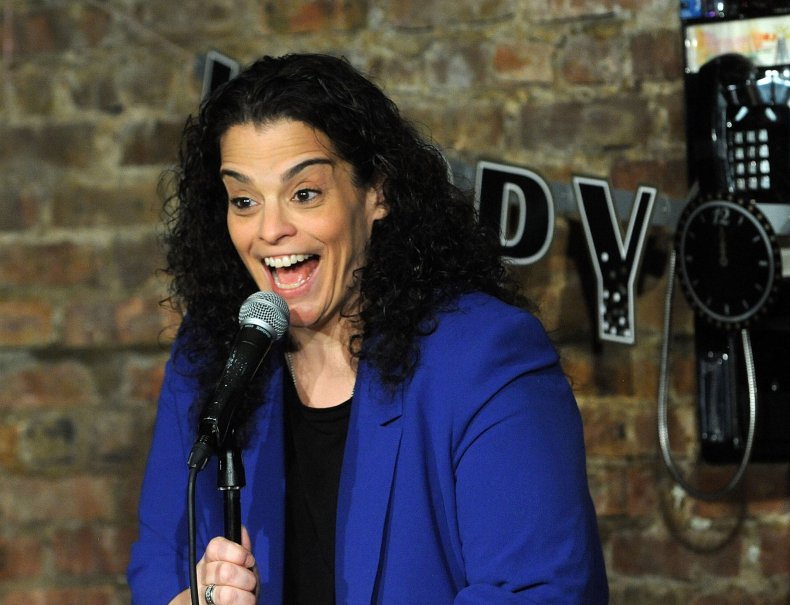 This interview has been edited for length and clarity.
What can viewers expect from your special?
I love that people really won't know what to expect. I do all different kinds of standup. I do crowd-work. I do dry jokes. I do characters and wacky stuff. There's times when I turn around and just have conversations with myself, which is an inner-monologue thing, which no one's ever done. I think a lot of people respond to that, because they don't know what to expect.
How much of the inner monologue bit is written and how much is improv?
A lot of the jokes, when I turn around, I've said before, but I only do it at certain times, when a joke doesn't work or I get uncomfortable or something happens in the audience. I even did it on The Tonight Show recently, where I had a planned time that I was going to turn around, and I did it. There was another time during that five minute set, where a joke didn't work. This wasn't even planned or approved, and I turned around and talked to myself, because I told a joke and it didn't get a laugh. That's my way of saving it in the moment.
When you do that, you reference that it's vulnerable. How important is it for comics to be vulnerable onstage?
Everyone has their different things that they like and things they laugh at, but I laugh the most at the most vulnerable comics. I think that being humble and vulnerable and accessible is very important when you're onstage. People really respond to that, because it's so real. I used to teach comedy, and I used to tell students, "The goal is to want people to want to be friends with you. To say, 'I wish you could come to my house. I wish you could come over and hang out with me.'" I feel like if you're vulnerable and real, that's really what people respond to.
You joke a lot about is receiving backhanded compliments from elderly audience members. Do you have any that stick out to you as particularly funny?
It's constant that they do that. A lot of people do that online too. They'll say, "I don't know why other people don't get you, but I do." They mean well, but as comics, we focus on the negative. We don't hear the positive of the sentence. It reminds you of when you're onstage and there's a thousand people in the audience and you find the one guy that's not laughing. He probably can't even hear, but you take it personally. A lot of people do that without even realizing it. Like if I make fun of my weight or something, then they'll be like, "You are really big, but you're pretty." It's a backhanded compliment. We don't hear the "You're pretty" part.
You reprimand the audience a lot. What's the key to not pushing back too much on the audience?
It took me years to be able to do that, where you make it funny and loving, but it's still making a point. Everyone is so in their heads now and sensitive and worried about saying things or worried about laughing at things, when years ago people would just come and listen and laugh and not think so much about everything. It's such a different world now.
I coach them through it a lot and say, "You're being sensitive and you're allowed to laugh at this." I address the truth a lot. I know with certain things I say, people are going to get tense and then I address it. It gets rid of the elephant in the room. It's very important in standup.
There's people who are bombing—no one's laughing—and they're like, "So anyway..." Why are you not addressing what's going on? This is not going well. You need to address it, without screaming at the audience or getting really angry. It seems very confident and secure, which is crucial as a comic, to say, "You guys should be laughing at this. You're dumb if you're not." We're salespeople. We're selling ourselves and our comedy.
You have a psych degree and you went for your masters in social work. Do you feel like you use skills in standup?
Yes, but more so from two things—having a mother who's a therapist, because I have been in therapy with her my whole life, and then I was also thrown into therapy from eight years old on. I have been so therapitized. I have been to so many groups and seminars and gurus and different kinds of therapists. Recently, my therapist sent me to a trauma therapist, because she felt like I had trauma, and then I felt like the most traumatic thing was the fee. That traumatized me more than anything.
Yes, I've learned so much about how to deal with people and how to be in relationships and how to communicate with people, because of all the therapy stuff and all the training. I'm grateful for that, even though it's been annoying and frustrating my whole life. I'm grateful for it.