Jessica Simpson Reveals Her Daughter is 'Best Friends' with North West
Jessica Simpson has revealed that her eldest daughter Maxwell is best friends with Kim Kardashian's eldest daughter North West.
Both Simpson and Kardashian are pioneering figures in the world of reality television and it turns out they are neighbors too.
Their kids met while playing on a basketball team coached by Simpson's husband, former NFL star Eric Johnson.
"One of Maxwell's best friends is North," Simpson said in an interview with US Weekly.
"She is amazing. She is a great kid, and she will be a part of a change in this world" the former pop star said of North West.
Both families live near each other and Simpson said it's "fun" being in the same neighborhood as Kardashian, 41, and her four kids: North, eight, Saint, six, Chicago, four, and Psalm, two.
"That [proximity] makes it easy," Simpson said.
She is mother to Maxwell 9, as well as son Ace, 8, and daughter Birdie, 3.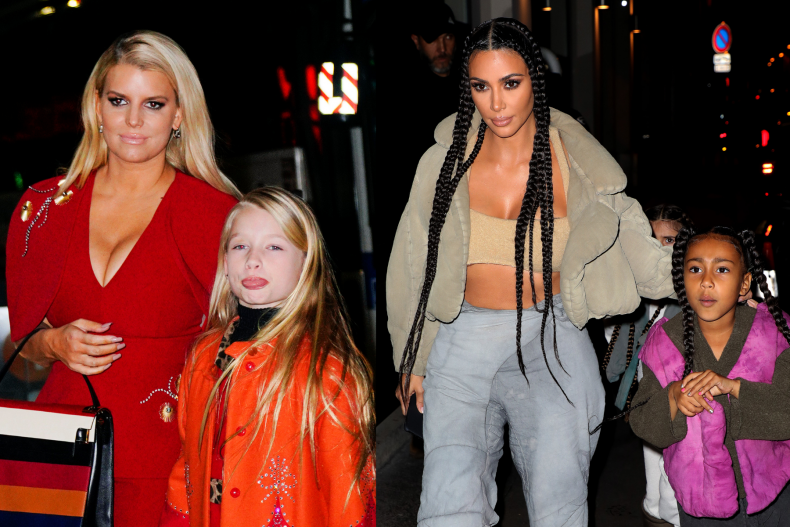 The singer was the star of her own reality show Newlyweds, with ex-husband Nick Lachey, years before Keeping Up With the Kardashians premiered and she applauded Kardashian's kids for staying "the same" despite having grown up in the spotlight.
"I'm like, 'I don't know how y'all could do this all the time,'" she said of the famous family being on reality TV for so long.
"I could only last three seasons [on Newlyweds], but they're so open and they've always remained the same…That's really hard to do, and they're powerhouses."
Reflecting on her time as a reality V star, Simpson added: "It was one of the first, and so it was [cameras] following me all day long from the moment I woke up to the moment I went to sleep unless I kicked them out, but I always felt bad.
"I don't think that reality shows are set up like that nowadays. I think they have shooting days and that type of thing."
Meanwhile, the Kardashians are ​​back with a brand new reality series titled The Kardashians on Hulu.
This series will follow everything from Kim Kardashian's divorce from Kanye West (now known as Ye), Kylie Jenner's pregnancy and Kourtney Kardashian's romance with Travis Barker.
So far, the show has already made headlines over Kim Kardashian's infamous sex tape resurfacing with the SKIMS founder finding her young son Saint playing a game that featured a joke about the tape.
"The last thing I want as a mom is my past to be brought up 20 years later," Kardashian said in the episode confessional. "This is really embarrassing and I need to deal with it. Had my son been a little bit older and been able to read, I would have been mortified. I died inside."