Jesus Christ Statue Beheaded in Florida Church, Police Investigating
A statue of Jesus Christ has been ripped from its plinth, and decapitated at the Good Shepherd Catholic Church in Miami, Florida, on Wednesday. Police are investigating the incident.
"We have seen this happening all over the country," said Deacon Edivaldo da Saliva to Local 10 News.
"This morning I found it on the ground, and we presume that it is vandalism.
Worshippers and police in West Kendall, Miami-Dade County, are now wondering who would commit this act of vandalism on a church. The Archdiocese of Miami is calling for this incident to be investigated as a hate crime. "Investigate this desecration as a hate crime," said a spokesperson.
"This incident has saddened the parish community," Good Shepherd said in a statement to Fox News. "We totally condemn this action. We invite our community to pray for peace."
The Catholic Church says it has seen a growing number of its sites vandalized across the U.S. "This is another attack on the Catholic Church which is happening across the country," said the spokesperson for The Archdiocese of Miami.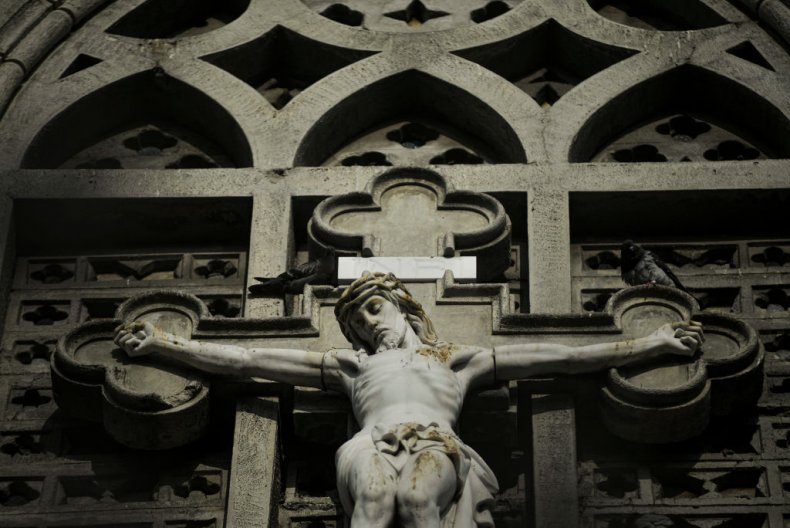 Local authorities will check the CCTV around the Good Shepherd Catholic Church to help determine who might have been responsible for demolishing the Jesus statue. The church now has security guarding the premises at night.
The Queen of Peace Catholic Church church in Ocala, Florida, was also recently vandalized. Steven Anthony Shields allegedly drove his car into the house of worship on Saturday, and then poured gas on the building before setting it on fire. Shields was arrested and is being held at the Marion County Jail, he faces several charges, including attempted murder.
Meanwhile on Saturday in Chattanooga, Tennessee, a five-feet tall statue of the Virgin Mary was found with her head cut off at St. Stephen Catholic Church.
"What a strange time [we live in]," said Bishop Richard Stika of Knoxville on Twitter on July 13. "Over the weekend, an outdoor statue of the Blessed Mother was beheaded at St. Stephen Parish in Chattanooga." The statue's head has not yet been located.
Newsweek has contacted the Good Shepherd Catholic Church and the Miami-Dade County Police Department for further comment on the incidents.