'Jesus Christ Superstar Live' Makes Jesus More Hipster than Hippie in Update to Classic Musical
Jesus Christ Superstar is the rare biblical story that's easily enjoyed by any viewer because the '70s-style rock music is just that good. Ans this Sunday, which also happens to be Easter Sunday, NBC will give the musical a contemporary update in another of its live Broadway musical experiments.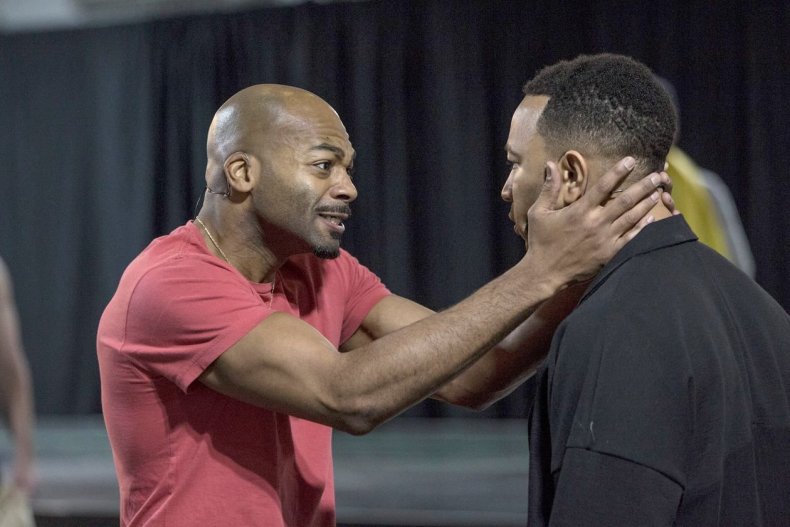 This version of Superstar stars John Legend as Jesus and Sara Bareilles as Mary Magdalene in modern clothing. But how much will the costumes change the aesthetic of Sir Andrew Lloyd Webber's beloved rock opera or director Norman Jewison's 1973 film version? Living up to either was bound to be a difficult, no matter what choices NBC's team made.
But undercutting the show's distinct era is certainly a weird one. There's a reason Jesus hits all the high notes: he's typically the long-haired hippie of the group, dressed in white clothing only slightly updated from the common understanding of what Jesus of Nazarath would have worn in biblical times. It's the characters around him who look anachronistic: Judas wears a deep-V neckline in his otherwise ancient-looking red tunic, and King Herod is a kaleidescopic clown.
NBC's modernized take, according to The Hollywood Reporter, is meant to draw in viewers who might be surprised to see Jesus and company dressed in "the kind of clothes you see people wearing riding on the L Train." The look won't exactly match the style of the music—rumbling '70s bass riffs and male vocalists reaching for the top of their ranges—but it will certainly send a message. This new Superstar is more "Jesus wears Balmain jeans in Williamsburg" than Jesus-as-hippie.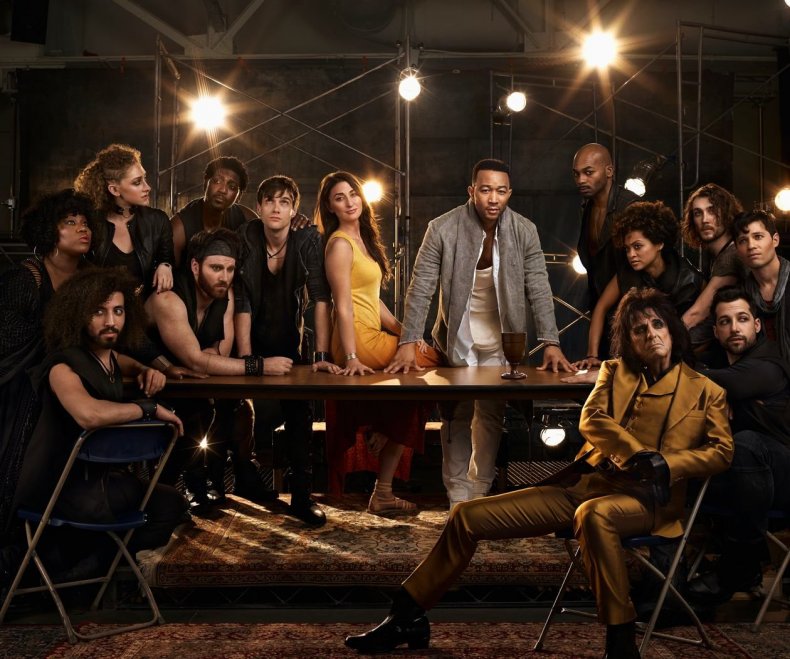 As for the rest of the cast, Alice Cooper plays King Herod in NBC's version, wearing a yellow and black tailored suit; Bareilles's Mary Magdelene wears a loose-fitting gold and red shift dress; and Hamilton's Brandon Dixon wears "sex symbol" red and black leather as Judas.
Dixon will be the stand-out performer on Sunday. The best-kept secret of the original Jesus Christ Superstar is that Judas carries all the narrative weight, acting as antagonist, narrator and the audience's way in to an otherwise trippy world. He even opens the show with a rollicking song, "Heaven on Their Minds," explaining to the audience that Jesus, his old friend, has begun telling the hippies who hang out with them that he's actually the son of God.
Carl Anderson played Judas in the 1973 film, and was the most memorable part of the show. He continued to tour as Judas in live theatre productions of Superstar for decades. When he died in 2004, just shy of his 59th birthday, Leonard Cohen wrote a song, "Nightingale," to honor the vocalist and thank him for his single, significant performance as the man trying to protect Jesus from himself.
Regardless of aesthetic changes, Jesus Christ Superstar Live airs this Sunday on NBC.