Jesus Super Bowl Commercial Connected to Anti-LGBTQ, Anti-Abortion Group
The non-profit behind a multimillion-dollar Super Bowl advertising campaign promoting Jesus Christ has donated millions to a group working to roll back abortion and LGBTQ rights.
Sunday night's Super Bowl featured spots for the "He Gets Us" campaign from the Servant Foundation, a Kansas-based charity that does business as The Signatry, which says it "exists to inspire and facilitate revolutionary, biblical generosity."
A 30-second ad aired during the Super Bowl showed images and videos of children playing and embracing, while a 60-second ad featured photographs of people arguing before ending with the message: "Jesus loved the people we hate."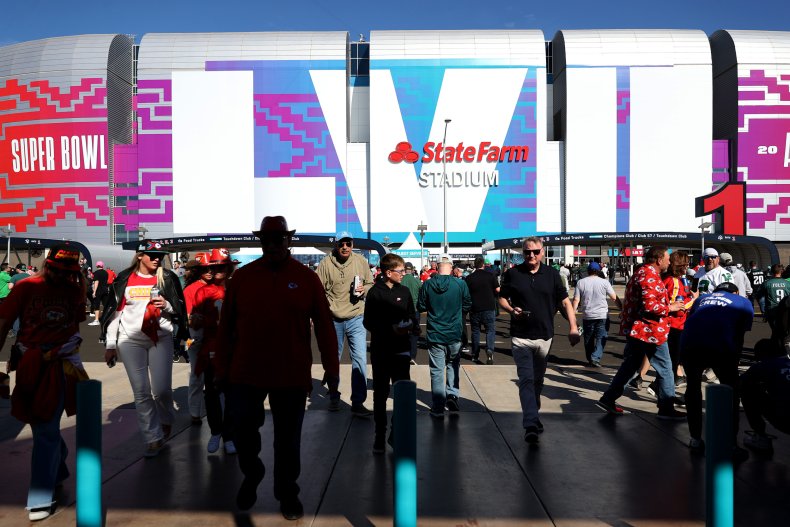 The campaign's website says it is "not 'left' or 'right' or a political organization of any kind," and also not affiliated with any particular church or denomination.
However, the Servant Foundation has donated millions to a conservative Christian legal group seeking to curtail abortion rights and allow businesses to discriminate against LGBTQ customers.
According to Jacobin, the foundation donated more than $50 million to the Alliance Defending Freedom (ADF) between 2018 and 2020. The Southern Poverty Law Center says it designated the ADF an anti-LGBTQ hate group "because it has supported the idea that being LGBTQ+ should be a crime in the U.S. and abroad."
On its website, the ADF says it worked with lawmakers to help draft the 2018 Mississippi abortion law at the center of the Supreme Court's decision to overturn Roe v. Wade last year, which eliminated constitutional protections for abortion, and helped argue the case before the high court.
The group is now leading a lawsuit in Texas that takes aim at medication abortions, challenging the U.S. Food and Drug Administration's approval of the drugs mifepristone and misoprostol to terminate pregnancies.
The ADF is also arguing a Supreme Court case this term that seeks to overturn a Colorado anti-discrimination law on behalf of a Christian web designer who says her religious beliefs prevent her from making wedding websites for gay couples.
The group previously argued a similar case involving a baker who refused to make a wedding cake for a same-sex couple.
Jason Vanderground, a spokesperson for the "He Gets Us" campaign, told Newsweek in a statement that funding for the campaign "comes from a diverse group of individuals and entities with a common goal of sharing Jesus' story authentically."
Vanderground said the foundation is "using a Donor Advised Fund to support ministry and humanitarian work around the world" and that this approach "unites donors to provide pooled support for organizations while ensuring the organizations can operate without donors impacting specific messages."
He added: "He Gets Us is the perfect example of that vision to see the Jesus of the Bible represented in today's culture with the same relevance and impact he had 2,000 years ago to provide hope and comfort to people facing their own daily challenges."
Many of the donors supporting the "He Gets Us" campaign are anonymous, but David Green, the billionaire Christian co-founder of Hobby Lobby, is among them.
"We are wanting to say, 'we' being a lot of people, that he gets us. He understands all of us. He loves who we hate," Green told talk show host Glenn Beck in November. "I think we have to let the public know and create a movement."
Hobby Lobby famously won a Supreme Court case in 2014 where justices ruled that employers don't have to provide coverage for birth control methods their faith prohibits.
Newsweek has contacted the Servant Foundation and the Alliance Defending Freedom for comment.
Update 2/13/23, 8:50 a.m. ET: This article has been updated with comments from Jason Vanderground of the "He Gets Us" campaign.