Former Little Mix star Jesy Nelson has been accused of "blackfishing" in the video for her new track, "Boyz," a collaboration with rapper Nicki Minaj.
The term blackfishing has been credited—at least in part—to hip-hop journalist Wanna Thompson, according to NBC News. In 2018, Thompson shared a Twitter thread of a string of non-Black public figures who had used makeup, Photoshop and cosmetic surgery to appear Black or mixed race.
It has been compared to blackface, the racist centuries-old practice of a non-Black person wearing dark makeup, often to mock the features of Black people.
With the song sampling Sean "P. Diddy" Combs, Black Rob and Mark Curry's track "Bad Boys For Life," Nelson is seen singing about her unwavering desire for bad boys as she sports an array of eye-catching ensembles and an apparent deep tan.
The California-set video also takes inspiration from Combs' "Bad Boys For Life" clip, with many moments emulating the hip-hop mogul's 2001 project—featuring appearances from Combs himself and track collaborator Minaj.
And soon after the video was unveiled on YouTube on Friday, Twitter was flooded with comments from a faction of viewers who accused the British star of blackfishing.
Journalist Shakeena Johnson wrote: "it's the fact that jesy nelson is cosplaying as a black woman singing about wanting a hood bad boy... sis is in FULL COSPLAY lol."
Expressing shock that Nelson is, in fact, white, one Twitter user asked: "Jesy Nelson isn't mixed? She's just blackfishing?? My jaw is on the floor."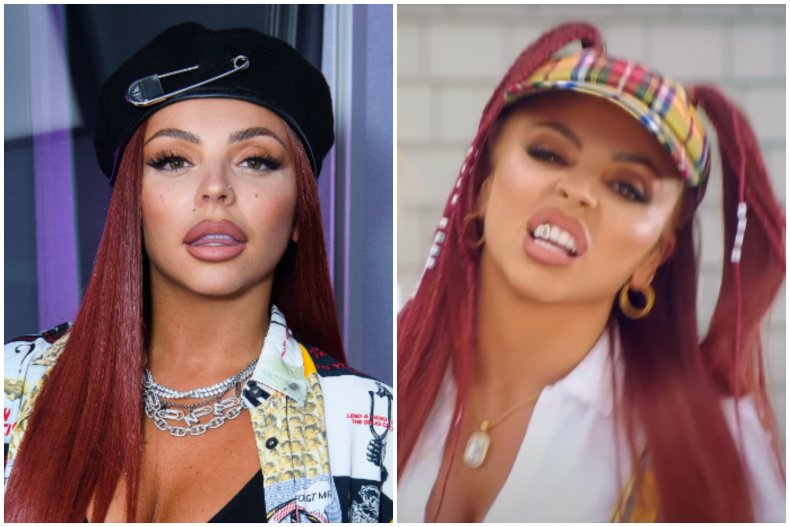 Opined another: "jesy nelson profiting off of black culture, when she herself couldn't even be a good ally to an ex bandmate let alone the black community, whilst black fishing and trying to sing with a blaccent in an attempt to sound hard when she's from Essex...in british black history month????"
Acknowledging previous accusations Nelson had faced of blackfishing, another said: "Jesy Nelson gets accused of blackfishing and appropriating black culture, so makes a music video about how much she loves 'hood boyz' whilst continuing to cosplay a black woman? Ok, makes sense.
"She even pulled in Nicki and Diddy to co sign her black adjacent behavior, but all it did was remind us she has no place in our culture because they both stay f****** up the bag for their own people."
"I'm not sure Jesy Nelson knows this but you can create R&B and Rap music without blackfishing," another wrote on the micro-blogging platform. "I can say I will listen to the song to see how I like it but the video is a no in my book cause I've seen enough pics from it to know what it is."
Meanwhile, a series of older photos of Nelson were shared on Twitter, alongside the caption: "To the people saying that Jesy Nelson isn't blackfishing, here you go. Keep convincing yourself that she looks white in all of them [face throwing a kiss emoji]"
In the days leading up to the video's release, the track's cover art had also drawn backlash, with one person tweeting: "The way jesy nelson is the same skin color as Niki Minaj in their new song cover,... u can't tell me shes NOT blackfishing [rolling eyes emoji]."
Despite the criticism, the video is already a hit on YouTube, having surpassed 1 million views within 8 hours of being released.
Newsweek has contacted a representative of Nelson for comment.
Nelson previously addressed blackfishing accusations she faced earlier this year, telling The Guardian in an August interview: "I would never want to offend anyone, and that was really upsetting. I wasn't aware that's how people felt."
Kim and Khloé Kardashian, as well as their younger sister Kylie Jenner, have also faced accusations of blackfishing in the past.
Discussing the sisters, Blackface author Ayanna Thompson told Time in June: "There's a reason why they've done this and why they have made money on this.
"That's the ultimate power of whiteness, right? That I can like these things, which we may want to denigrate, but I don't have to stay there. I get to come back to the safety of whiteness."