JetBlue to Cancel Thousands of Flights Through January as Omicron Depletes Staff
JetBlue Airways will cancel 1,280 flights starting Thursday throughout January 13 due to an increasing number of staff members testing positive for COVID amid the spread of the Omicron variant.
"While the new CDC guidelines should help get crewmembers back to work sooner, and our schedule reduction and other efforts will further ease day-of cancellations, we expect the number of COVID cases in the northeast—where most of our crewmembers are based—to continue to surge for the next week or two," a JetBlue Airways spokesperson told Newsweek on Thursday. "This means there is a high likelihood of additional cancellations until case counts start to come down."
The anticipated flight cuts are slightly less than 10 percent of JetBlue's daily schedules. The airline canceled 175 flights or 17 percent of its Thursday schedule, while 1,090 flights were canceled nationwide, according to flight tracker FlightAware.
In a note sent to employees obtained by CNBC, JetBlue leading officials said that the company is canceling flights "to get even further ahead of the expected increase in Omicron cases."
"This past week has been one of our most difficult operating periods during the pandemic," three JetBlue department leaders wrote in the note on Tuesday, according to CNBC. "The exponential growth in Omicron cases over just a couple of days is at a level that no one could reasonably prepare for."
Last week, JetBlue, among other airlines, urged the Centers for Disease Control and Prevention (CDC) to cut down isolation days per its guidelines for COVID cases due to staff shortages and flight disruptions.
On Monday, the agency announced that it is reducing the recommended isolation times to five days instead of 10 days for those who tested positive for COVID and are asymptomatic.
Consequently, JetBlue updated its leave policies as per the new CDC guidance to allow asymptomatic staff members to return to work after five days.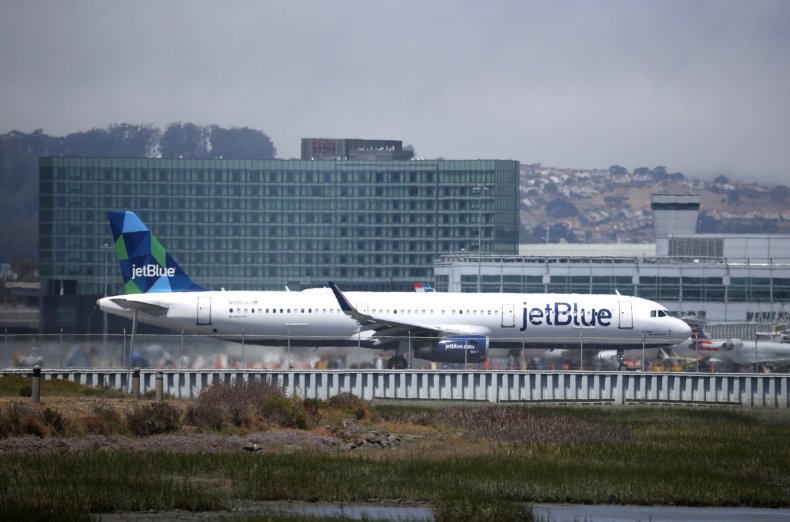 While hopeful that the new CDC guidance would bring back staffers, company leaders said in the Tuesday note: "we know that Omicron cases have yet to peak in the Northeast (and won't for at least another week or two) where the vast majority of our Crewmembers are based."
Flight cancellations began to rise around Christmas despite many Americans being confident to travel again. COVID cases surged in different parts of the country, leaving airlines scrambling to gather complete crews of pilots, flight attendants and workers on the ground at airports.
Airliners including Delta, United, and JetBlue have all said that the spread of Omicron caused staff shortages, leading to flight cancellations.
On Wednesday mid-afternoon, over 900 flights within, to, or out of the U.S. have been canceled, according to FlightAware. The cancellations were also attributed to harsh weather conditions across the Pacific Northwest.
Update 12/30/21, 4:18 p.m. ET: This article has been updated to include comments from a JetBlue Airways spokesperson.