Female JetBlue Passenger Grounded Flight After Throwing Food, Touching Man 'Flirtatiously': Court Documents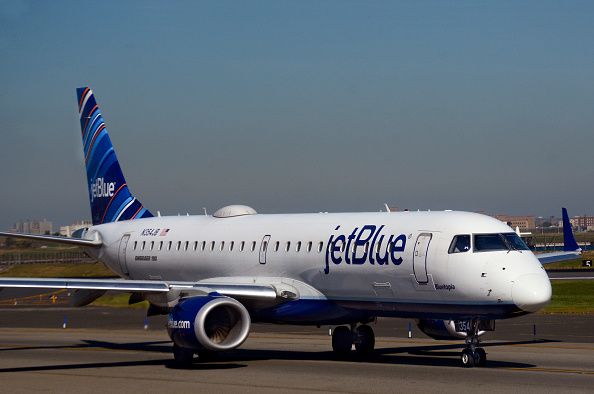 A female passenger on JetBlue who was accused of acting like a "caged animal" and forcing a New York-bound flight to land in Washington in July is due to have an arraignment hearing in Virginia this week.
Robin Ducore—who witnesses say drank multiple glasses of wine, inappropriately touched a male passenger, threw food and escaped handcuffs—had been charged with "interference with flight crew members and attendants," according to a court document.
The charge can carry a fine and/or up to 20 years imprisonment.
According to accounts listed in the document, Ducore boarded a flight from the Dominican Republic en route to John F. Kennedy International Airport with more than 100 other passengers on July 29, 2017. Once aboard the flight, Ducore consumed four glasses of white wine in about an hour and a half, becoming "increasingly loud."
A cited flight attendant then observed Ducore beginning "to touch in a flirtatious manner the back of the head of the male passenger sitting next to her." The man appeared uncomfortable, and the attendant moved him to an alternate seat after repeatedly asking Ducore to stop.
Ducore proceeded to reject food and water meant to help her sober up and "threw them across the aircraft," the document stated. Attendants then made a "safety-based value decision" and placed Ducore in flex cuffs, or plastic handcuffs. She broke free of them minutes later and proceeded to kick the attendant while calling him a "fucking asshole," according to the document.
Other transgressions alleged in the document include shouting obscenities and hugging another passenger "too tight" to the point where said passenger feared for their safety.
While attendants did not consider Ducore "an imminent threat to the aircraft," they felt she "was a threat to other passengers based on her previous behavior" and decided to land the plane in Washington Dulles International Airport at about 9:30 p.m. that night, the document stated.
The flight diversion cost the airline about $36,100, largely through providing $150 credit vouchers to 144 passengers, according to the document. JetBlue did not return Newsweek's immediate request for comment on whether it was seeking any form of reimbursement.
A defense attorney told NBC 4 reporter Scott MacFarlane that Ducore was intoxicated before boarding the flight and plans to question why she was allowed on.
Ducore is expected for arraignment in court on Friday morning in United States District Court Eastern District of Virginia in Alexandria, according to court scheduling. A JetBlue spokeswoman told Newsweek the airline didn't have any further updates at this time.