Mother of Child Booted from JetBlue Flight for Not Wearing Mask Thought 'Should I Tie Her Hands and Feet?'
JetBlue has defended its flight attendant's decision to remove a mother and her six children from a flight after her 2-year-old daughter would not follow the airline's coronavirus protocol and keep her mask on.
Chaya Bruck has spoken of her shock when she was told about the airline's insistence that all children two and over had to wear masks on board as her family tried to take their seats on a flight from Orlando to New York on Wednesday.
"(My daughter) started crying and no matter what, they said she has to wear it and has to cover her nose on her mouth," Bruck said. "I said, 'What am I supposed to do? Should I tie her hands or feet?' Like, How am I supposed to force her to wear a mask?" WFTV reported.
A video widely shared on social media shows Bruck telling the flight attendant "you realize she's two?" to which she got the response, "I do, and also, it's not something we can excuse."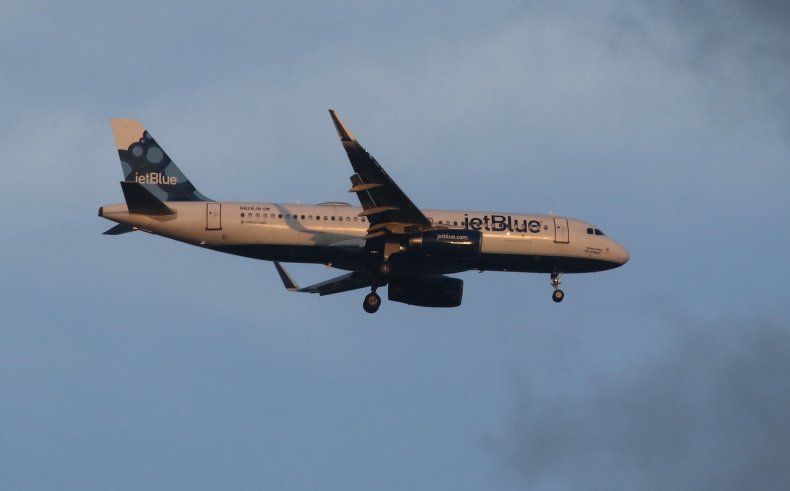 Other passengers intervened to try to persuade the flight attendant that a toddler could not be expected to keep a mask on without a fight and voices were raised in frustration. Due to the rowdiness in the cabin, all the passengers were told to take their luggage and get off the plane.
Bruck and her children, plus another family who came to their defense, were not allowed back on board the flight which was delayed by nearly an hour.
In a statement, JetBlue said it stood by its policy which all customers were informed about by email and said: that all travelers two and older "must wear a face covering over their nose and mouth throughout their journey, including during check-in, boarding, while in flight and deplaning."
"Our crewmembers are ready to assist customers in the airport and onboard who might need support," the statement said
"We have a flexible rebooking policy for those who are unable to meet this requirement, and customers who refuse to follow these standards after requests from crew members will be reviewed for further travel eligibility on JetBlue."
The airline said that the family, and other passengers removed from the flight "were issued a full refund and escorted from the gate."
Bruck told CBS the incident was "extremely overwhelming and traumatizing."
JetBlue's new coronavirus policies also prohibit face masks with vents or exhalation valves.
The airline also announced earlier this month that increased distancing by blocking middle seats on larger aircraft and aisle seats on smaller aircraft, among those not traveling together, would be in place at least until October.