JetBlue Pilot Pulled From Flight Because He Was Legally Drunk
A pilot was pulled off a flight scheduled to travel from Buffalo, New York, to Fort Lauderdale, Florida, Wednesday after a breathalyzer test showed that he was legally drunk.
The incident caused a major delay for the travelers, who were on JetBlue flight 2465, according to WGRZ. JetBlue's tracker shows that flight 2465 was scheduled to depart from Buffalo at 6:15 a.m. and arrive at around 9:30 a.m., but instead arrived after 1 p.m.
An NFTA spokesperson told WGRZ that a TSA worker initially noticed that one of the pilots for the flight seemed to be intoxicated. After NFTA police were contacted, officers escorted the pilot off the plane and gave him a breathalyzer, which registered a .17 BAC.
For drivers, a BAC, or blood alcohol level, of .08 or more is considered legally drunk and grounds for a DUI penalty. The standard is stricter for pilots, who can't register a BAC level above .04 in order to be permitted to operate a plane, according to the Federal Aviation Administration (FAA).
"They are also temporarily removed from the performance of these functions if their breath alcohol concentration registers between 0.02 - 0.039 on a required alcohol test," the FAA said in a fact sheet.
This means that the JetBlue pilot, who was identified as 52-year-old James Clifton, registered a BAC level more than four times higher than the cutoff set by the FAA.
In a statement sent to Newsweek, JetBlue said that it had been made aware of the incident and was cooperating with law enforcement while conducting its own internal investigation. The pilot "has been removed from his duties," the statement said.
"The safety of JetBlue's customers and crewmembers is our first priority. We adhere to all [Department of Transportation] rules and requirements concerning alcohol at all times and have a very strict zero tolerance internal alcohol policy," the statement said.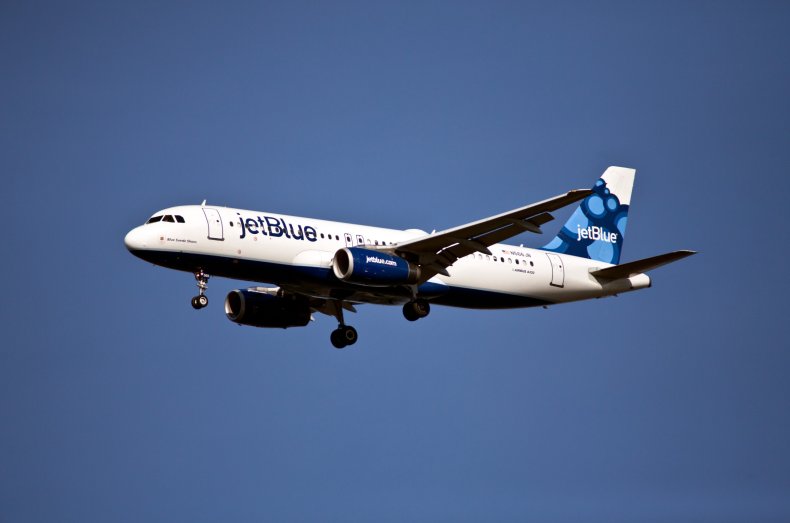 Some of the plane's passengers told WGRZ that they saw Clifton walking along the tarmac and being placed into a patrol car. He was subsequently released to JetBlue security, and could now possibly face federal charges for the violation, WGRZ reported.
The FAA, in its fact sheet, notes that alcohol is a "sedative, hypnotic and addicting drug."
"Alcohol quickly impairs judgment and leads to behavior that can easily contribute to, or cause accidents," the sheet reads.
The effects of alcohol can be heightened on airplanes because of the high altitude and decreased oxygen levels, according to the sheet. Hangovers from alcohol consumption, which often include symptoms like headaches, dizziness, impaired judgment and fatigue, can also be just as risky as the initial impairment.
"A pilot with these symptoms would certainly not be fit to safely operate an aircraft," the sheet reads. "In addition, such a pilot could readily be perceived as being under the influence of alcohol."
The FAA recommends, at a minimum, that pilots avoid flying while under the influence of any alcohol or drugs and leave at least eight hours from "bottle to throttle."
"A more conservative approach is to wait 24 hours from the last use of alcohol before flying," the sheet reads.
Newsweek has reached out to the NFTA for comment.
Update 03/02/22, 4:05 p.m. ET: This story was updated with additional information and background.
Update 03/02/22, 5:08 p.m. ET: This story was updated with the statement from JetBlue.