JetBlue $20 Flights Being Sold as Airline Celebrates 20th Anniversary
JetBlue is celebrating its 20th anniversary with a sale featuring one-way flights from as little as $20. The "20 Years Just Flew By" sale started yesterday and ends at 11.59 p.m. today.
JetBlue is selling discounted flights for departure on Tuesdays and Wednesdays between February 19 and June 17, excluding March 18-31 and April 14-21.
For example, a flight from New York to Worcester, Massachusetts, costs $20 one-way on select dates in March, April, May, and June.
The JetBlue sale features U.S. destinations including New York, Boston, Orlando, Chicago, San Diego, Savannah, Charleston, Buffalo, San Francisco, Austin, Phoenix, Denver, Seattle, Nashville and Atlanta.
JetBlue flights to international destinations are also on sale, including the Dominican Republic, Puerto Rico, The Bahamas, Guatemala, Jamaica, Mexico, Barbados, Trinidad and Tobago, Cuba and Bermuda.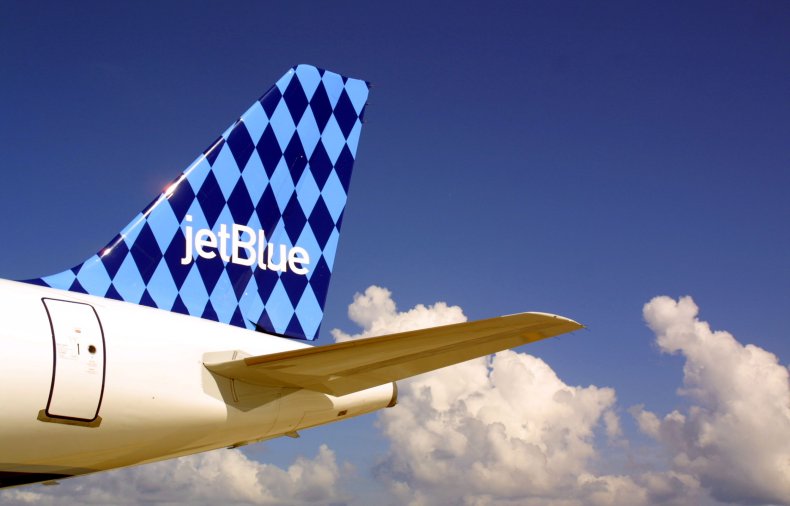 The JetBlue sale also includes vacation packages, including a round-trip flight from Long Beach to Las Vegas with a two-night stay in a hotel for $125.
Some deals also allow customers to upgrade to seat selection and general boarding for around $30-$40 per person.
Jet Blue 20th Anniversary
Yesterday marked 20 years since the first JetBlue flight, which flew from New York to Florida on February 11, 2000. Passengers that flew the same route yesterday received breakfast treats and surprise giveaways.
Robin Hayes, chief executive officer of JetBlue, said in a statement: "No one believed that a start-up airline in 2000 could survive 20 months, much less 20 years. But JetBlue proved that taking care of people and bringing low fares to the market could not only be a viable business model but could also completely disrupt an industry.
"Others have tried to imitate JetBlue but no one has ever successfully copied our 23,000 crewmembers and the incredible culture that they've built."
Joanna Geraghty, president, and chief operating officer of JetBlue, told Travel + Leisure: "Twenty years ago, no one believed a start-up airline would survive, but thanks to our incredible crewmembers and customers, we proved the skeptics wrong.
"We want to celebrate this very special birthday with all of our customers who love the great service and low fares that make JetBlue different than every other airline."
To purchase tickets in the sale, visit the JetBlue website.
Newsweek has affiliate partnerships. If you make a purchase using our links, we may earn a share of the sale.