As anti-Semitic attacks in the United States rise, some Jewish Americans say that senior White House advisers Jared Kushner, the descendant of Holocaust survivors, and his wife Ivanka Trump, who converted to Judaism before marrying Kushner, are worse than President Donald Trump.
"I'm more offended by Jared than I am by President Trump," New York lawyer Eric Reimer, who went to a Jewish high school with Kushner, told The New York Times in a report published Saturday.
"We, as Jews, are forced to grapple with the fact that Jared and his wife are Jewish, but Jared is participating in acts of Chillul Hashem," Reimer said, referring to the Hebrew term for a Jew acting immorally around others.
Reimer, who said he has not talked to Kushner since they attended The Frisch School in New Jersey, said one of those acts was the Trump administration's Muslim travel ban. The Frisch community signed an open letter to Kushner demanding that he "exercise the influence and access you have to annals of power to ensure others don't suffer the same fate as millions of our co-religionists."
Meanwhile, Leah Pisar, president of the Paris-based group Aladdin Project that fights denials of the Holocaust, told The Times it was "inconceivable that Jared could stay affiliated with the administration after Pittsburgh."
Pisar called Kushner his father-in-law's "fig leaf" despite Kushner's reported involvement in arranging for the president to visit the synagogue after the shooting.
Kushner and Ivanka Trump, who accompanied the president and first lady Melania Trump in the synagogue visit, were greeted by thousands of protesters, many who were Jews, chanting, "Words have meaning," and, "We build bridges not walls."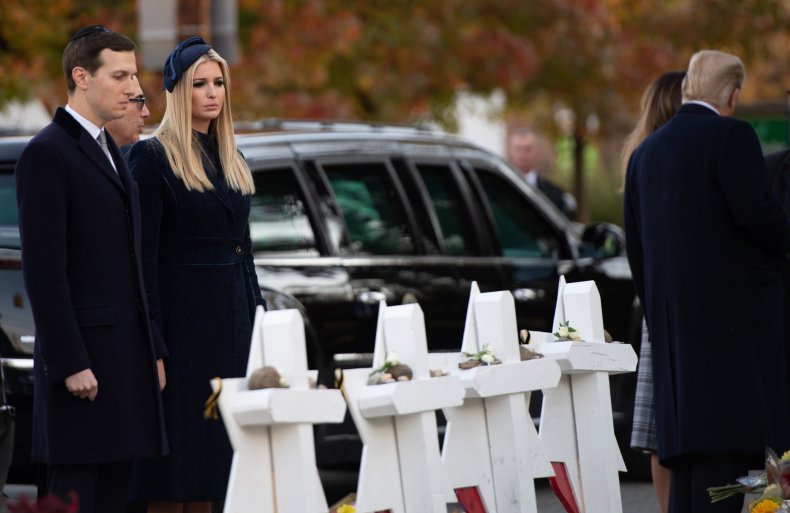 Jonathan Sarna, a Brandeis University American Jewish history professor, told the newspaper that "for Jews who are deeply opposed to Donald Trump and truly believe he is an anti-Semite, it's deeply problematic that he's got a Jewish son-in-law and daughter." "How can that be?" he said.
White House Press Secretary Sarah Huckabee Sanders brushed off accusations that the president's words have triggered more anti-Semitic violence by pointing out his Jewish family members.
"The president is the grandfather of several Jewish grandchildren. His daughter is a Jewish American and his son-in-law is a descendent a holocaust survivors," Sanders said.
Kushner and Ivanka Trump reportedly observe shabbat every week and take their children to a Jewish school.
Anti-Semitic attacks have risen annually for the past three years, the FBI this week said.
Uncommon Knowledge
Newsweek is committed to challenging conventional wisdom and finding connections in the search for common ground.
Newsweek is committed to challenging conventional wisdom and finding connections in the search for common ground.
About the writer
A Los Angeles native, Jessica Kwong grew up speaking Spanish, Cantonese and English, in that order. Her journalism career started at the San Francisco Chronicle and she has also been a staff writer at the San Antonio Express-News, La Opinión, Time Warner Cable Sports, San Francisco Examiner, and the Orange County Register. Kwong earned her bachelor's degree in Comparative Literature in Spanish and English and Mass Communications from the University of California, Berkeley.