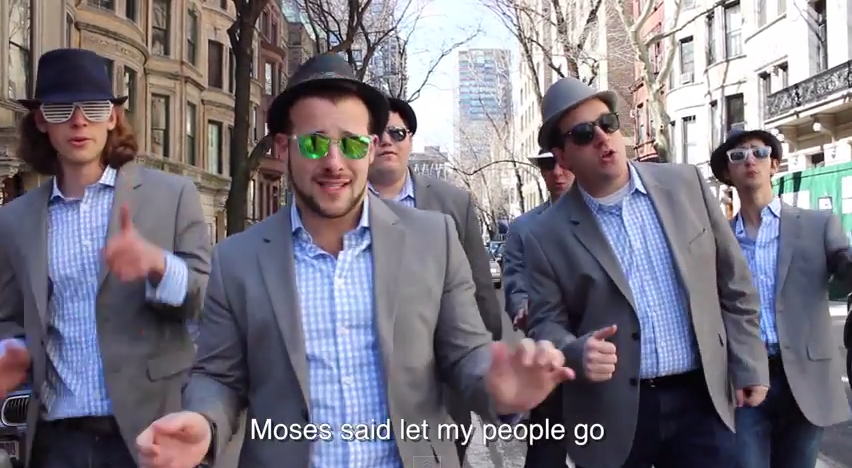 A capella arrangements, medleys and parodies have become a modern sign that Jewish holidays are near. With Passover just over a week away, New York City–based Jewish a capella group Six13 released its annual video Wednesday. This year, it's a Passover parody of the hit "Uptown Funk," by Mark Ronson featuring Bruno Mars.
The song choice was "kind of a no-brainer," says Mordy Weinstein, a member of Six13 who helped adapt the lyrics. "We've been listening to it nonstop. It's the most popular song on radio and has been for awhile," he says.
Six13 has released at least three previous Passover-themed videos. Last year, its pick for the holiday was titled "Chozen," and riffed on songs from the movie Frozen. The video began with a clip of John Travolta's faux pas at the 2014 Oscars, in which he introduced Idina Menzel to sing "Let It Go," calling her "Adele Dazeem," and continued with a Passover tribute to "Let It Go" and "Do You Want to Build a Snowman."
"Uptown Funk" was the subject of another recent parody, a Harry Potter–themed version that has been viewed more than 3 million times since it was posted to YouTube on Monday.
For their version, the members of Six13 collaborated on re-writing the lyrics to "Uptown Funk" to evoke themes like freedom, which is central to a holiday that recounts the Jews' exodus from Egypt and from slavery to freedom. The group says they try to keep it educational without straying too far from the sounds and syllables of the original song. The song opens with:
This is that age old
Passover tale that's retold
This is what we listen to
While eatin' through those matzo pieces
Climbin', tilin'
Buildin' Egyptian cities
We worked hard but prayed to G-d
And He freed us all, so get ready
A repeating section goes:
Kids, singin' "ma nishtana" (3x)
'Cause Uptown Passover's comin' to ya (3x)
Seder tonight and we saved you a spot
Don't be slavin', just nosh (6x)
Ma nishtana, which translates from Hebrew as "What's changed," refers to the song traditionally sung by the youngest person present at the seder. The song asks what has changed on that particular night of Passover compared to all the other nights, and helps explain some of the traditions associated with the holiday in four verses.
Other sections of the song reference seder traditions as well as the story of Passover, which is traditionally read out loud around the table from a book called the "Haggadah."
The group's most recent Hanukkah video, a parody of Taylor Swift's "Shake It Off" released in December, got more than 1.7 million views on YouTube.
Six13 is not the only group that's made Passover videos. In 2013, for example, The Maccabeats, another Jewish a capella group, made "Les Miserables: A Passover Story."
"The goal of the videos along with the goal of the group in general," says Weinstein, "is to find ways to connect more Jews with Judaism, with their heritage, in a way that's joyous and relatable and accessible."