Jewish Group Gets Backlash for Anti-Semitism Panel With Rashida Tlaib, Marc Lamont Hill
A Jewish group is facing backlash for an upcoming discussion panel focused on "dismantling anti-Semitism" that featured U.S. Representative Rashida Tlaib of Michigan and Temple University professor Marc Lamont Hill.
The panel, titled "Dismantling Antisemitism, Winning Justice: A Panel Discussion," is being hosted by Jewish Voice for Peace (JVP), an activist group that "opposes anti-Jewish, anti-Muslim, and anti-Arab bigotry and oppression," according to its website.
"JVP seeks an end to the Israeli occupation of the West Bank, Gaza Strip, and East Jerusalem; security and self-determination for Israelis and Palestinians; a just solution for Palestinian refugees based on principles established in international law; an end to violence against civilians; and peace and justice for all peoples of the Middle East," the website's mission statement says.
After the group announced the discussion panel, which is scheduled to take place Tuesday at 8 p.m. ET, it was met with criticism from across social media for the decision to feature Tlaib and Hill, who have both publicly supported the Palestinians and have been called anti-Semites.
In a recent Jerusalem Post, op-ed, Emily Schrader, the founder of Social Lite Creative, a political marketing consultancy company and the former digital director of a pro-Israel organization, wrote about the upcoming panel. "JVP's actions prove unquestionably that the organization calling itself Jewish Voice for Peace is neither representative of Jews, nor of peace by any measure," she said.
Schrader continued, "Rashida Tlaib, the US congresswoman from Michigan with Palestinian roots, is notorious for her anti-Israel stance. She sparked uproar after her comments on the Holocaust in which she refused to mention Jews. Similarly, Marc Lamont Hill, a former CNN contributor, was fired from CNN after calling on air for a 'free Palestine from the river to the sea,' commonly used to call for the eradication of the State of Israel."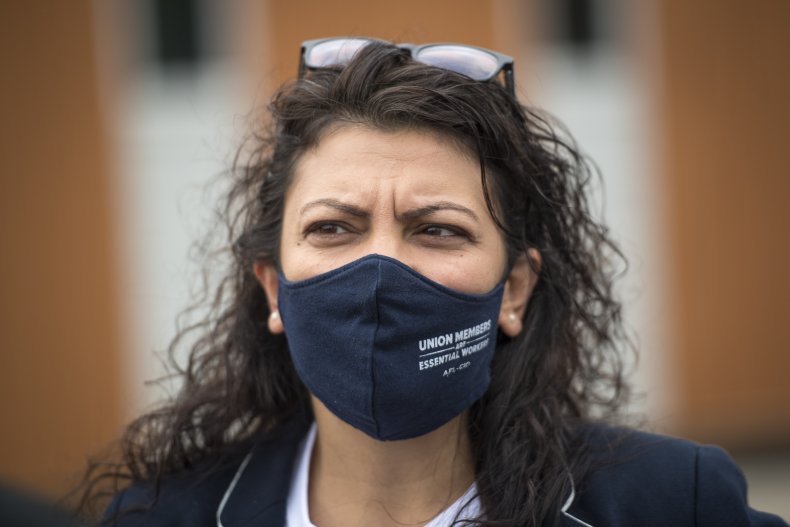 In addition to her comments on the Holocaust, Tlaib was criticized last month by an organization opposed to anti-Semitism after she made comments similar to Lamont Hill's and called for Palestinian freedom "from the river to the sea."
Screenshots are forever," StopAntisemitism.org wrote in a tweet, which showed a screenshot of a retweet from Tlaib, later deleted, where she makes the "river to the sea" remark.
Many social media users also criticized the discussion panel for featuring Tlaib and Hill.
"Good timing on this, considering antisemites like the UK's Owen Jones, Rashida Tlaib and Marc Lamont Hill are attempting THIS WEEK to whitewash antisemitism in their own Zoom meetings," Twitter user Chaim Redmann wrote.
In response to the backlash, JVP told Newsweek via email that "it's disappointing, but not surprising, that instead of embracing an opportunity to learn about dismantling anti-Semitism through solidarity, some anti-Palestinian groups and individuals have engaged in attacks and slander before the event has even taken place."
Hill also spoke to Newsweek about the criticism. "I think that everyone has a duty to speak out against anti-Semitism, that we all have a moral and ethical obligation to fight in solidarity with our Jewish brothers and sisters," he said.
Hill continued, "I am looking forward to participating in the conversation as a means of showing my deep solidarity with the Jewish community and with my commitment to fighting and ultimately defeating anti-Semitism."
Newsweek reached out to Tlaib's office for comment but did not receive a response in time for publication.