Jewish Groups Condemn Nick Cannon for Spreading 'Anti-Semitic Conspiracy Theories'
Several Jewish groups have recently condemned actor and performer Nick Cannon after he made anti-Semitic comments during his podcast.
On Monday, the American Jewish Committee took to Twitter to respond to Cannon's comments by saying, "@NickCannon spreading antisemitic conspiracy theories about "Rothschilds" and "Zionists" to millions of his followers is abhorrent and unacceptable."
The tweet continued, "His message of hate has no place in our society and should be condemned by all people of good conscience."
In addition to the American Jewish Committee, Cannon was criticized by Michael Dickson, executive director of Stand With Us Israel; Dov Hikind, founder of Americans Against Anti-Semitism; and Jonathan Greenblatt, CEO of the Anti-Defamation League.
In a tweet posted Monday, Dickson said that Cannon "willfully spread the most egregious anti-Semitic conspiracy theories and hate on his show."
In an email to Newsweek, Dickson doubled down on his criticism of Cannon, saying, "The anti-Semitic comments made by Nick Cannon were egregious and hateful and deserving of condemnation."
Dickson went on, "Sharing an anti-Semitic statement does not necessarily make someone an anti-Semite. Often what is needed is simply accurate information and education. As a public figure with a large fan base, Cannon has a responsibility to right these wrongs by educating himself and others about the dangers of anti-Semitism, including the harm in repeating age-old anti-Semitic slurs."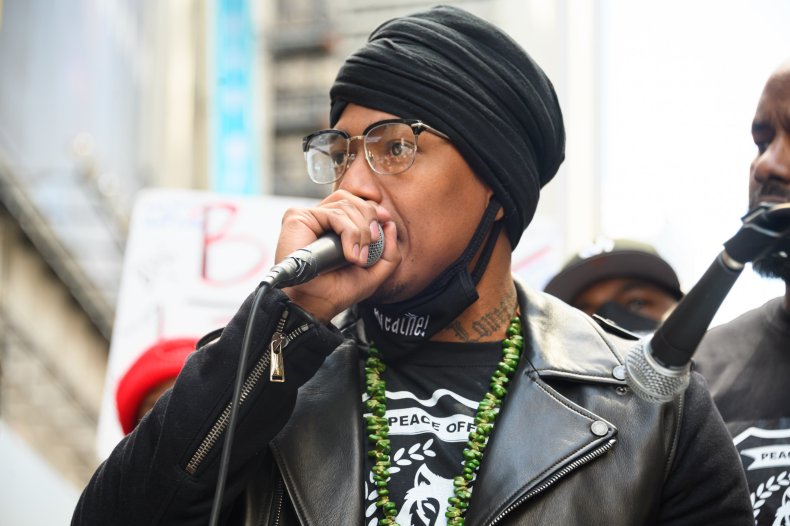 Hikind, a former New York state Democratic assemblyman, also posted a tweet on Monday condemning Cannon's comments, saying that Americans Against Anti-Semitism "is calling for @FOXTV to take immediate action against @NickCannon for his nasty anti-Semitic diatribe."
"You cannot remove Farrakhan one week and allow his followers to spew the very same filth in the next without consequence," the tweet continued, referring to streaming channel Fox Soul's decision to cancel a July 4 speech by Nation of Islam leader Louis Farrakhan, who has been widely criticized for being anti-Semitic in the past.
Greenblatt tweeted that it was "truly disturbing @NickCannon would use his platform to perpetuate false anti-Semitic conspiracy theories and lift up vehemently anti-Semitic Louis Farrakhan."
"He should apologize immediately and educate himself on why his comments are so harmful," Greenblatt continued.
The criticism from many in the American Jewish community come after Cannon made several during his podcast, Cannon's Class, on YouTube. During a recent episode, he said that "the Semitic people are Black people."
"You can't be anti-Semitic when we are the Semitic people," Cannon said. "When we are the same people they want to be. That's our birthright." Cannon added that Black people were the "true Hebrews."
Shortly after his comments, Cannon was dropped by ViacomCBS, where he previously had a long-standing relationship, hosting programs on the company's TV networks, MTV and Nickelodeon.
"While we support ongoing education and dialogue in the fight against bigotry, we are deeply troubled that Nick has failed to acknowledge or apologize for perpetuating anti-Semitism, and we are terminating our relationship with him," a Tuesday statement from ViacomCBS said.
Following that statement, Cannon took to Facebook to say that he meant no harm in his comments.
"Anyone who knows me knows that I have no hate in my heart nor malice intentions," Cannon said in a Monday Facebook post. "I do not condone hate speech nor the spread of hateful rhetoric. We are living in a time when it is more important than ever to promote unity and understanding."
In his post, Cannon also said that "African Americans and the people of the Jewish community have partnered to create some of the best, most revolutionary work we know today."
Newsweek reached out to If Not Now, a Jewish American activist group, and the Jewish Community Action group for comment but did not receive a response in time for publication.
Newsweek also reached out to Cannon for comment but has not heard back.