Jewish Student Files Discrimination Claim Against Columbia University in Test of Trump's Anti-Semitism Executive Order
Empowered by President Donald Trump's executive order broadening what constitutes discrimination against Jewish people, a student at Columbia University is taking up his claims with the U.S. Education Department's Office for Civil Rights (OCR).
"In all my years of experience as an education attorney, I have not come across an environment this hostile for such a prolonged period of time without effective administrative intervention," Lori Tucker, legal coordinator for the Lawfare Project's Campus Civil Rights Project, said in a statement, referring to Columbia.
Trump's December 13 executive order defines certain anti-Semitic acts as discrimination under Title VI of the Civil Rights Act of 1964. Experts told Newsweek that broadening protections for Jewish students could create an influx in discrimination claims. A week after Trump signed the executive order, Jonathan Karten, an Israeli-American student, asked the OCR to investigate Columbia.
On December 18, the Lawfare Project, an organization of legal professionals that defend Jewish people's civil and human rights, filed a complaint with the OCR on Karten's behalf. The organization alleges that he and other Jewish students endured "systemic discrimination" from anti-Israel groups on Columbia's campus, including Students for Justice in Palestine (SJP).
Brooke Goldstein, executive director of the Lawfare Project, said in a statement that Trump's executive order gave the organization a "legal avenue to stop this type of hatred from being perpetuated in our schools."
In April, SJP participated in Israel Apartheid Week at Columbia, which consisted of lectures, rallies and events that compared Israel to South Africa when it was an apartheid state. Israel Apartheid Week contributes to creating a hostile environment for Jewish students, according to the Lawfare Project's statement. Under Trump's executive order, it could constitute discrimination.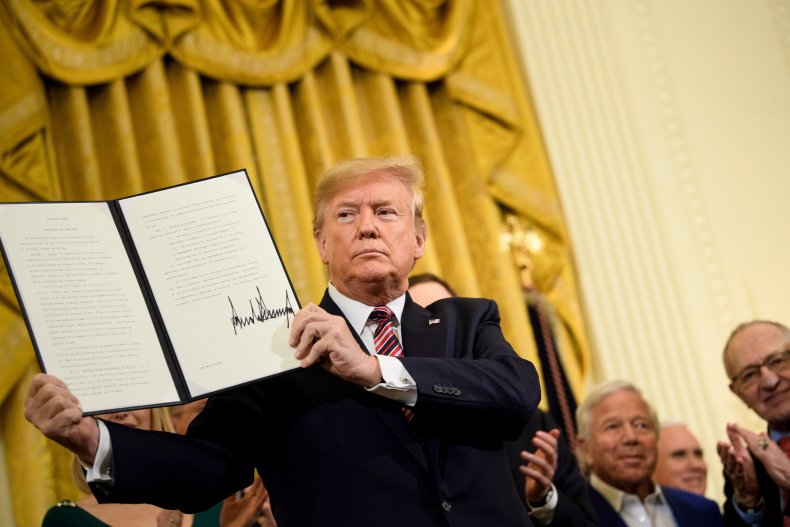 Angela Morabito, press secretary for the U.S. Department of Education, told Newsweek the measure made it "clear" that Jewish people were covered under Title VI.
The executive order requires the OCR to consider the International Holocaust Remembrance Alliance's definition of anti-Semitism and contemporary examples when investigating claims. Claiming that Israel is a "racist endeavor" is one of those anti-Semitic acts, according to the IHRA. SJP and the larger Boycott, Divestment and Sanctions movement characterize Israel as an "apartheid state," and critics of the executive order claim it was intended to silence criticism of Israel.
"Attacks on pro-Palestine activism under the guise of protecting Jewish students will continue to be dismissed by judges who understand that freedom to protest is a constitutional right," Jenny Neuman, a Jewish student and member of SJP at New York University, told Newsweek.
Newsweek reached out to SJP at Columbia by email but did not receive a response in time for publication.
Neal Sher, a former Nazi war crimes prosecution officer for the U.S. Justice Department who filed a complaint on behalf of a Jewish student at NYU in April, told Newsweek the line between fair criticism of Israel's policies and anti-Semitism is crossed when Israel's right to exist is questioned. He and other supporters of the executive order, including the Lawfare Project, say Trump's order provides necessary protections for Jewish students, putting them on par with other minority students.
Karten's complaint asks the OCR to open a formal investigation into his claims that there is "pervasive, ongoing discrimination" occurring at Columbia that's not being addressed. If the OCR determines Karten's claims warrant an investigation and investigators conclude the school violated Title VI, Columbia will likely have the opportunity to make changes to comply with a resolution agreement. If an agreement can't be reached or the school doesn't comply, the OCR can withhold federal funding.
"This is our message to universities: If you want to accept the tremendous amount of federal dollars that you get every year, you must reject anti-Semitism. It's very simple," Trump said during a signing event for the executive order.
Robert Hornsby, associate vice president for media relations at Columbia, told Newsweek the school had no comment on the student's claims.