Jewish Teen Attacked in Comments of Viral Video Viewed Nearly 11 Million Times
A viral video posted earlier this month showing a Jewish teen laying tefillin for morning prayer sparked a slew of antisemitic comments online.
The video, which was posted by the teenager's aunt on her popular TikTok account My Orthodox Jewish Life, or @therealmelindastrauss, received more than 10.7 million views and 14,300 comments since it was posted on November 1.
In the video, Melinda Strauss shows her nephew Izzy putting on his tefillin for morning prayer. She showed him laying the leather of the tefillin around his left arm. She explained that this is something Jewish boys start doing at their bar mitzvah.
"Tefillin (Phylacteries) are worn once a day during prayer by Jewish men," the caption of the video read. "The Torah command is in Deut. 6:8."
In the comments, people commented that wrapping tefillin in the morning was one of their favorite parts of being Jewish.
"It feels like I am embraced by the Divine," one user wrote.
But many others began commenting about how they were disappointed by the amount of antisemitic comments they were seeing. Some compared the Tefillin to a VR set, others said it reminded them of a GoPro camera.
Others users began commenting crude jokes about the Holocaust and referenced antisemitic rhetoric.
"Zey are in ze attic," one user wrote.
On Strauss' Instagram, she wrote that she will not stop sharing about Judaism and that she will call out antisemitism when she sees it.
"I believe it is so important we continue to call out antisemitism and the platforms that allow it to happen with no consequences because people actually think it's cool to make fun of Jews," she wrote on Instagram. "That is very scary."
She told Newsweek that since her video went viral, she's received more antisemitic comments on her TikTok page than ever before.
"I recently had to shut the comments off on a video of my 11-year-old daughter because the Holocaust 'jokes' just kept on coming," she told Newsweek. "TikTok says it's working hard to protect Jewish creators but the Antisemitic comments on my videos say otherwise...I honestly don't know any Jewish people on TikTok who don't receive antisemitic comments."
A recent study showed that antisemitism on TikTok rose by more than 912 percent from 2020 to 2021. The four-month-long study found an increase in not only rhetoric but also antisemitic tropes and imagery. It was also discovered that the amount of antisemitic usernames spiked from 4 in 2020 to 59 this year.
Recently, the American Jewish Committee called for action against the "severe problem" of antisemitism in the United States. In a survey conducted by the AJC, about 39 percent of respondents said they changed some of their behaviors in the past year to avoid antisemitism.
The AJC said this is done by avoiding items that are identifiably Jewish and avoiding posting content online that would identify them.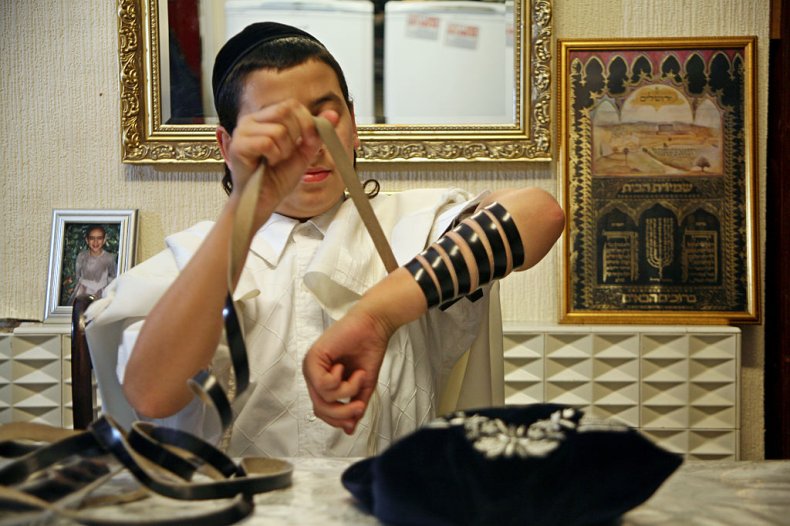 In an article written by Izzy's mother, Jessica Russak-Hoffman, she said that her son was not at all surprised by the cruel comments he received on the viral video.
"And that is why I am angry: As a mother and as a Jew, I am angry that Izzy was not surprised, and I am angry that this is the norm," Russak-Hoffman wrote online. "I cling to a tiny glimmer of hope, thanks to the non-Jews in the replies defending Jews and defending Izzy. And to Bear Jews everywhere, laying tefillin every morning and refusing to cower."
Updated 11/19/2021, 3:30 p.m. ET: This story has been updated with comments from Melinda Strauss.