90 Jewish Tombs Painted With Swastikas in France as Government Warns Anti-Semitism 'Spreading Like Poison'
Thousands of French citizens have taken to the streets to march in support of their country's sizable Jewish community after a wake of anti-Semitic attacks, the most recent being in a cemetery where more than 90 tombs were vandalized with swastikas.
"Whoever did this is not worthy of the French Republic and will be punished," French President Emmanuel Macron said on Tuesday as he visited the desecrated cemetery in eastern France, France 24 reported. "We'll take action, we'll apply the law and we'll punish them," he promised.
Prime Minister Édouard Philippe joined marchers along with other ministers and politicians, who warned that anti-Semitism is "spreading like poison" across the country, The Guardian reported. Macron will visit France's Holocaust memorial and hold a moment of silence. France is home to the third largest Jewish population in the world, following Israel and the United States.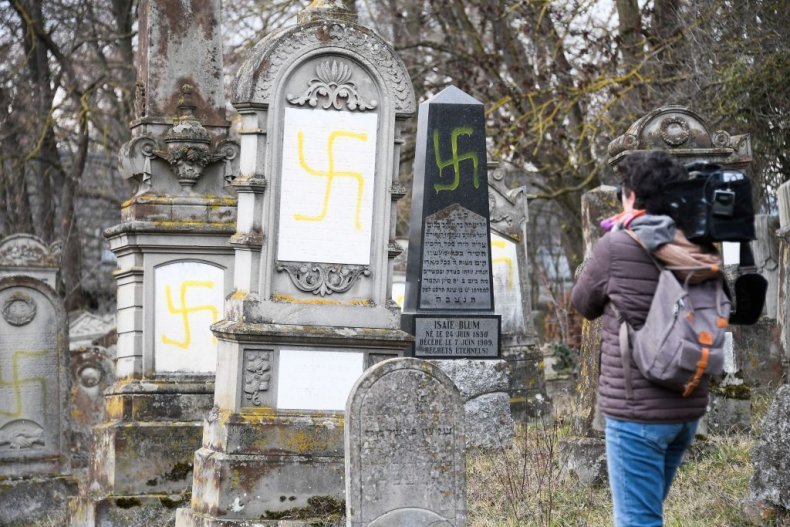 Nearly every day in the past two weeks has seen an anti-Semitic attack take place in France. On Friday, two teenagers were arrested by authorities after they fired an air gun at a Paris synagogue. Swastikas were painted on mailboxes with portraits of Holocaust survivor and former Minister of Health Simone Veil (Veil died in 2017) earlier this month in Paris. A bagel shop was also graffitied with the German word for Jew–Juden.
Some in the French media have pointed fingers at the Gilet Jaune (Yellow Vest) movement, which has attracted fringe groups and members who promote anti-Semitic symbols and images. Analysts have taken pains to point out that the movement as a whole is not anti-Semitic, but its lack of centralized leadership has allowed for some anti-Jewish groups and individuals to exist on its fringes.
"The Yellow Vests aren't an anti-Semitic movement," Jean-Yves Camus, of the Political Radicalization Observatory in Paris, told Agence France-Presse. "But it's a leaderless, horizontal movement ... and extremist elements have been able to drown out the voices of its high-profile figures in the media."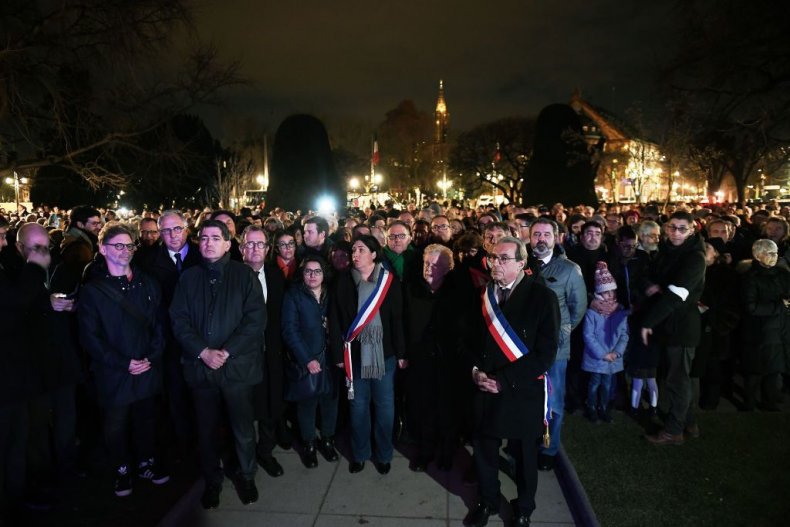 The Yellow Vest protest movement has rocked the country for months, raising concerns about Macron's plans to cut social services, decrease taxes on the wealthy and liberalize the economy.
Rabbi Delphine Horvilleur, in Paris, said she has asked Yellow Vest leaders to denounce anti-Semitism within their ranks, reported The Guardian. She also said she believed many from the group would join demonstrators against the anti-Jewish attacks.
The rise in anti-Semitism has also hit elsewhere in Europe. Jewish organizations have raised alarm bells about growing far-right movements that promote anti-Semitism, and racism against other groups, the BBC reported. In Germany, the government recently released crime data that showed anti-Semitic attacks rose by 10 percent in 2018. That number also included a 60 percent increase in physical attacks.