After a Party Leader Denies Hitler Was 'Absolutely Evil,' German Political Party Promises to Protect Jews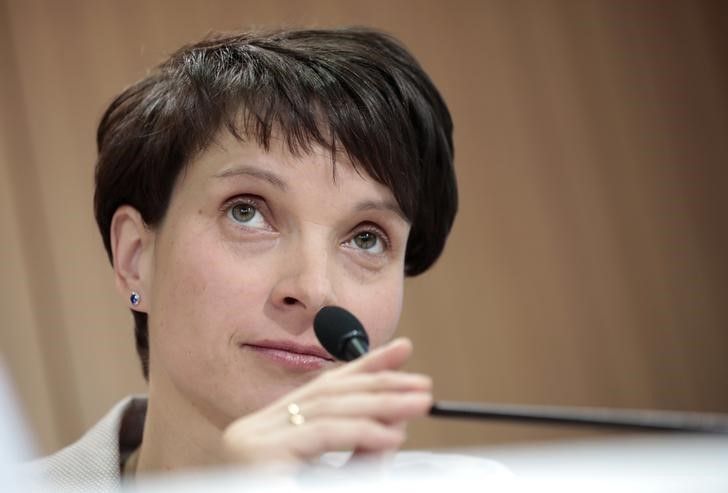 The leader of Germany's far-right Alternative for Germany (AfD) party has defended it against charges of anti-Semitism by claiming it is "one of the few guarantors of Jewish life" in the country. Frauke Petry was responding to comments from the President of the World Jewish Congress, Ronald Lauder, who called the AfD a "disgrace for Germany."
"As a Jewish representative, he should above all realize that the AfD is one of the few political guarantors of Jewish life, also in times of illegal, anti-Semitic migration to Germany," Petry told German newspaper Die Welt in an interview published Thursday.
The AfD had seen a surge in its popularity ahead of September's federal election, at one point climbing as high as 15 percent in the polls. But infighting in recent weeks precipitated by charges of anti-Semitism against party members has pushed its numbers below 10 percent.
A branch leader for the party, Björn Höcke, called Berlin's Holocaust memorial a "monument of shame" and in an interview with the Wall Street Journal rejected the notion that Nazi leader Adolf Hitler was "absolutely evil."
"The big problem is that one presents Hitler as absolutely evil," he said. "But of course we know that there is no black and no white in history."
Lauder called those comments "shocking and repulsive" and said Höcke "sounded like an apologist for Hitler." He added: "It is clear to me that the AfD party panders to the extreme right. They are playing with fire."
Amid dropping poll numbers, Petry has since tried to expel Höcke from the party. However, in her latest interview, she sought to defend his comments, calling for a more "nuanced" view of World War II.
"In the AfD, it is a political matter of course to recall the horrors of the Holocaust," she said. "But it is not enough to put all of that on the socially controversial Berlin Holocaust Memorial."
The former president of the Central Council of Jews in Germany was unwilling to accept Petry's defense. Charlotte Knobloch, in remarks reported by Deutsche Welle, said the AfD stands for "openly and inconspicuously expressed racist, xenophobic and anti-Semitic statements, falsification of history, relativization or even denial of the Holocaust, as well as open closeness to the neo-Nazi scene."
Another party member, Wolfgang Gedeon, last year claimed the Holocaust was given too much attention in Germany. A regional chairwoman for the party, Elena Roon, in February, was found to have posted a photo of Hitler in an AfD Whatsapp group with the phrases: "Missed since 1945" and "Adolf please get in touch! Germany needs you! The German people!"
Such statements have come amid a sharp rise in anti-Semitism in Germany, which saw incidents of anti-Semitic abuse surge 200 percent in 2015.
The AfD has also been a strong opponent of Muslim immigration to Germany. The chapter of the party's manifesto concerning Muslims is titled "Islam is not a part of Germany."