Even Jewish Americans Think Trump's Embassy in Jerusalem Decision Is a Bad Idea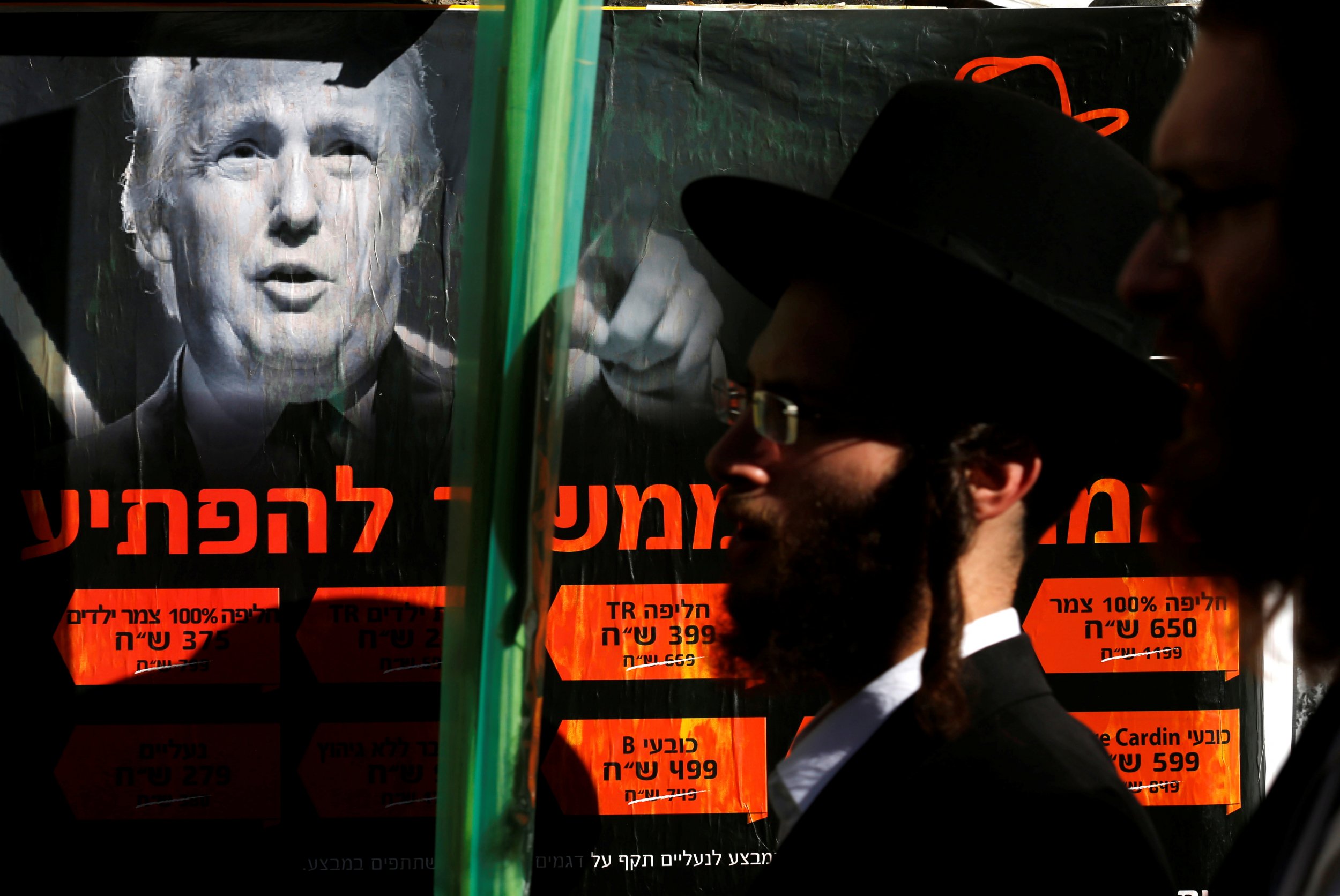 Many Jewish groups from across the United States expressed serious concern and consternation at the news that President Donald Trump will move the U.S. embassy in Israel from Tel Aviv to Jerusalem.
On Tuesday, Trump said that the decision to move the embassy would be made official on Wednesday. The announcement caused outcry from leaders across the Arab world, but also from progressive Jews and members of the Reform Jewish movement in the United States.
"For 70 years, the US has given Israel tacit approval to steal Palestinian land, build illegal Jewish settlements, and deny Palestinians in East Jerusalem and elsewhere their rights," Rebecca Vilkomerson, executive director of Jewish Voice for Peace, said in a statement.
"Trump's decision takes these ongoing policies to the next level and is reckless, irresponsible and endangers the lives of Palestinians and Israelis."
Moving the U.S. embassy to Jerusalem is a controversial choice because it signals that the U.S. recognizes Jerusalem as the capital of Israel. Currently, Israel controls the entire city, but half of Jerusalem—East Jerusalem—is envisioned as the future capital of a Palestinian state, if a two-state solution is reached between Israel and Palestine.
The president's son-in-law and adviser Jared Kushner has been dispatched to broker an Israeli-Palestinian peace deal. But it's unclear how such a deal will be reached if the U.S. moves its embassy to Jerusalem. Diverse leaders such as Jordan's King Abdullah II and Turkey's President Recep Tayyip Erdogan said the move would be disastrous for the Middle East, and would "throw the region and the world into a fire."
In this context, progressive Jews have spoken out against the move. The liberal Jewish advocacy group J Street, for example, called it "an unhelpful step with no tangible benefits, only serious risks."
On Twitter, Senator Bernie Sanders, who is Jewish, outlined reasons for opposing the move, saying it would "undermine the prospects for an Israeli-Palestinian peace agreement and severely, perhaps irreparably."
Congress in 1995 required that the U.S. move its embassy from Tel Aviv to Jerusalem, but every administration has treated that act as a symbolic one and all have resisted physically moving the embassy out of fear that it would alienate Arab allies and damage the Israeli-Palestinian peace process.
But not all Americans oppose Trump's decision. Republicans and conservative Jews, who are generally supportive of Israel, say it is time that the U.S. took this bold and controversial step.
"I applaud the President's decision to officially recognize Jerusalem as Israel's capital, fulfilling a campaign promise made to the Jewish Community. Jerusalem is the 3000-year capital of the Jewish people, and Israel's current capital," Kevin Cooper, a member of the Republican Executive Committeeman for Miami, said in a statement.
"It is time America's foreign policy catch up with reality, and President Trump should be commended for this brave decision."