Human rights activists don't often think first of countries like France, Germany, Belgium, Montenegro, Bulgaria and the Netherlands when they worry about religious freedom violations.
This is a mistake.
Conditions across the European continent are getting worse for believers of many types. It's time for advocates to stop giving Europe a "free pass" on human rights.
Last year, four in ten European Jews reported that they considered emigrating from their home country because they are concerned for their safety. The same survey indicated that nearly half of those interviewed had been a victim of at least one anti-Semitic incident in the past twelve months. The incidents are not isolated.
As noted in our 2020 Annual Report of the U.S. Commission for International Religious Freedom, anti-Semitism is on an alarming rise in Europe in virtually every country with a sizable Jewish population. France, with the largest Jewish population on the continent, had a 27 percent increase. There was a seven percent increase in anti-Semitic sentiments in the United Kingdom, while the Labour Party also experienced a historic reckoning on growing anti-Semitic attitudes within its ranks. Germany saw an increase of about 12 percent. And the Netherlands, the home country of Anne Frank, saw a 35 percent increase compared to 2018.
But statistics can obscure the life-or-death nature of this problem. Physical assaults on Jews occurred in many European countries. In perhaps the most brazen anti-Semitic attack of last year, a gunman in Halle, Germany sought to break into a local synagogue during a Yom Kippur service—this after German authorities turned down a request for police protection. Only a special security door that the murderer could not blast his way past saved fifty-plus Jews at prayer from being massacred.
Many European Jews also feel that their religious practices are under legal attack. Just this week, the president of the Conference of European Rabbis, Rabbi Pinchas Goldschmidt, issued a statement warning about a bill proposed by Belgian lawmakers that would ban shechita, the method of slaughtering animals in accordance with Jewish law. Some European countries have also sought to ban the slaughter of animals according to Muslim traditions. U.S. Special Envoy to Monitor and Combat Anti-Semitism Elan Carr has called these laws "disgraceful."
All of this is happening within living memory of the Holocaust. But declining religious freedom conditions in Europe also extend beyond anti-Semitism.
Pew Research reported that Europe saw one of the largest increases in government restrictions on religious activities from 2007 to 2017, much of which also reflects an increase in violent attacks and discrimination directed at Muslims across the continent. For example, France banned full facial coverings in 2011 and Moldova banned public Muslim worship in 2012.
The discriminatory actions of governments aren't just for Europe's Jews and Muslims, either.
In Montenegro, it's the Christians who are under attack. Since December, there have been ongoing protests following the passage of a law on religion that many believe will allow the government to confiscate religious properties. The Serbian Orthodox Church rightfully fears that the law is a pretext to seize its property. These concerns have led to large and sustained protests across the country. With restrictions on religious gatherings during the COVID-19 pandemic further exacerbating tensions, these protests have led to clashes and the repeated detention of some of the country's most well-known Orthodox leaders—including the interrogation this week of Metropolitan Amfilohije of Montenegro (the second time the archbishop has been interrogated this year).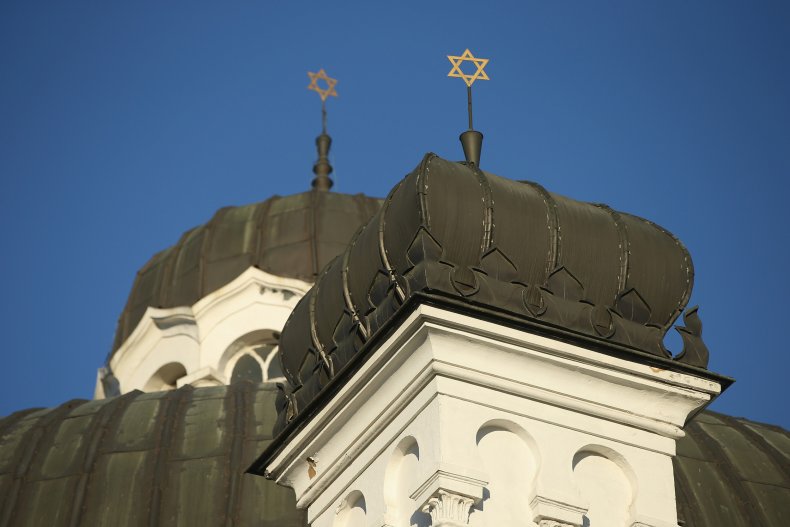 Instead of being a champion for international religious freedom, Europe's commitment to this fundamental human right abroad is also being neglected. The European Commission recently decided not to extend the position of the European Union's (EU) special envoy, whose mandate has been the promotion of the freedom of religion and belief.
Then there is European foreign policy, especially as it relates to China. As China continues to escalate its anti-Muslim and anti-Christian domestic policies, it is granted a license by certain European leaders—best illustrated by the truly absurd and cowardly words of the EU's senior official for foreign affairs, Joseph Borrell, "I don't think that China is playing a role that can threaten the world peace."
While some European leaders have issued statements at the U.N. condemning China's assault on religious freedom, the sad truth is that the actions of other European governments have rarely matched those words.
Bulgaria, for example, was willing to repatriate five Uyghurs back to China, where the government has detained millions of Uyghur and other Muslims in concentration camps. They aimed to do so until the European Court of Human Rights blocked the move in February.
Suffice it to say the human rights situation in Europe is deteriorating rapidly.
History reminds us that religious persecution is a precursor to cultural annihilation and ethnic cleansing—and yes, also genocide. Europe—because of its history—ought to know better. As commissioners at the U.S. Commission on International Religious Freedom, and knowing full well America's own struggles and shortcomings, we are obligated to put Europe on notice: You are not exempt from the obligations you call the world to embrace.
Rev. Johnnie Moore and Nury Turkel are commissioners on the United States Commission for International Religious Freedom appointed by President Donald Trump and House Speaker Nancy Pelosi (D-CA), respectively.
The views expressed in this article are the writers' own.